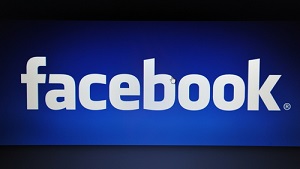 At Facebook's June 20 shareholder meeting, shareholders voted to approve a Facebook stock split. That's why today we're discussing the best way to play Facebook stock prior to the stock split.
Before we get to that, here are the most important details about the Facebook stock split in 2016…
CEO Mark Zuckerberg controlled the majority of the voting power, so the vote was simply a formality. The Facebook Inc. (Nasdaq: FB) stock split vote passed, but there is no official date for the FB stock split.
The Facebook stock split vote approved a 3-for-1 stock split. That means for every share of FB stock you own, you will receive three new Class C shares. The only difference between these shares and your old shares is Class C shares don't have any voting power.
So on the day of the Facebook stock split, the Facebook stock price is going to change. The value of Facebook stock, though, is going to stay the same.
For instance, if Facebook stock trades at $115 before the split, FB shares would be worth $38.33 on the day of the split. Investors would own a total of three Facebook shares, making their investment still worth $115.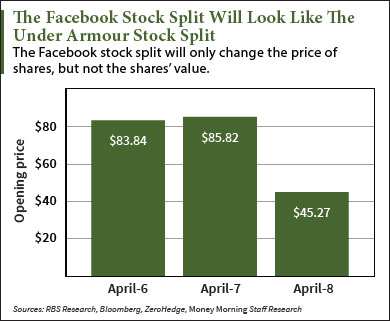 We can take a look at a recent stock split as a comparison. Under Armour Inc. (NYSE: UA) offered a 2-for-1 stock split on April 8, and this will be just like the Facebook stock split.
The only difference is FB shareholders will receive three shares instead of two.
Now that we've explained how the FB stock split will work, here's how to invest ahead of the official Facebook stock split date…
What to Do Before the Facebook Stock Split Date Is Announced
In the last 12 months, the Facebook stock price has climbed 33.47%. Money Morning projects it will climb even higher for three reasons:
WhatsApp/Messenger
Oculus Rift
Instagram
WhatsApp and Messenger don't generate revenue yet. But Zuckerberg is steadily preparing the communication platforms for monetization.
WhatsApp and Messenger are each closing in on 1 billion users. Through Messenger, users can order food, book hotels and flights, and even send money to family and friends directly through the app.
By 2020, analysts from Deutsche Bank AG (USA) (NYSE: DB) believe WhatsApp and Messenger will bring in a combined $10 billion in revenue annually.
But Zuckerberg wasn't satisfied with just one billion-dollar revenue source…
In 2014, Facebook paid $2 billion for Oculus VR. Wall Street couldn't understand why and scoffed at Zuckerberg, but Facebook's CEO will have the last laugh.
Virtual reality (VR) is mainly used for games right now. But Zuckerberg believes the future capabilities of VR technology will greatly advance. The 32-year-old CEO believes we will eventually use VR technology to:
Have front-row seats for sporting events just by putting on a headset
Create face-to-face interactions with doctors and patients
Allow students and teachers to connect all across the world
Market intelligence firm Tractice projects sales revenue from VR content, accessories, and head-mounted displays will reach $21.8 billion by 2020.
And while Zuckerberg will add billions in revenue for Facebook through his communication platforms and virtual reality, he's currently turning picture app Instagram into a massive revenue source…
When he purchased Instagram in 2012, Instagram had 30 million total users and didn't make money. Today, Instagram has 500 million monthly active users (MAUs). Analysts project the picture app brought in up to $750 million in revenue for 2015.
Research site eMarketer projects Instagram could account for as much as 10% of Facebook's total global revenue by 2017.
But investors have been worried about FB stock following the Brexit vote…
It's true Facebook stock is subject to volatile price swings due to global events. After the Brexit vote, FB stock fell by 2.5% on June 24. But from today's opening price of $116.65, it's climbed 7.77% since the Brexit results.
Over the last year, any temporary sell-off of Facebook stock has not lasted long. And savvy investors who have bought at the dips have been able to profit.
Because of Zuckerberg's visionary leadership and new revenue sources, Money Morning Director of Tech & Venture Capital Michael A. Robinson believes Facebook stock will trade for $250 by 2020.
That's a potential profit of 114% in less than four years.
The Bottom Line: The Facebook stock split doesn't have an exact date, but we recommend adding Facebook stock to your portfolio before the split. WhatsApp, Messenger, Oculus VR, and Instagram will add billions in revenue for Facebook. And whenever Facebook stock experiences a sell-off, savvy investors can buy cheaper shares of one of the best stocks to own.
Jack Delaney is an associate editor for Money Morning. You can follow him on Twitter and follow Money Morning on Facebook. 
Up Next: How to Beat Wall Street at Its Own Game