Silver prices have now climbed more than 40% in 2016, prompting investors to call for a silver price forecast for the remainder of the year and beyond. Today (Thursday), silver prices have pulled back slightly to $19.77, but we see this as only a short-term slide.
Several factors lead us to an encouraging silver price forecast for the rest of 2016. Let's take a look.
Silver Price Forecast Affected by Economic Conditions
Investors snapped up silver throughout June for several reasons. Investors sought safe-haven assets, particularly precious metals, in the wake of the June Federal Open Market Committee Meeting (FOMC) amid fears that interest rates could be hiked. When it was confirmed that interest rates would not be raised, an indication that our economy remains in sufficient turmoil for delay, there was a slight surge in silver prices.
On June 23, the historic Brexit vote took place and uncertainty leading up to the vote was pushing investors to buy silver. It's a good thing because the "Leave" side won by a slim margin, 51.89% to 48.11%, and the worldwide financial markets reacted accordingly. Just 24 hours later, the Dow was down over 611 points, the British pound plunged more than 12%, and Japan's Nikkei took a 6.7% hit. London's FTSE Index lost $164 billion in value in just the first 10 minutes of trading on June 24. As the situation has become more contentious, silver prices will continue to rise in response to investor demand for a safe haven.
Here's our specific silver price forecast for 2016…
Silver Price Forecast Response to Supply & Demand
Money Morning Resource Specialist Peter Krauth predicts that silver prices will reach $22 an ounce by the end of 2016. While uncertain economic conditions will help drive the price of silver further north, there are other factors at play as well. Simple supply and demand for the precious metal can account for a great deal of the future silver price forecast.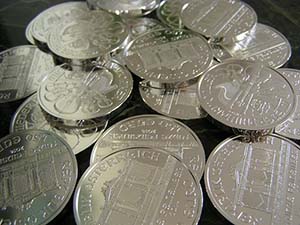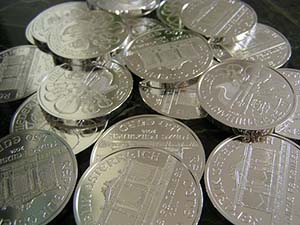 Our worldwide supply of silver is tightening at a time when demand is continuing to surge. In fact, 2016 is expected to show the first reduction in silver production in the past five years, according to reports from CPM Group. There is projected to be a global shortfall of silver played against surging demand. Not only is silver in demand as a safe-haven investment, but it is also one of the few precious metals that is consumed for industrial uses such as solar panels, batteries, and electronics. This continuing demand for a commodity in short supply is nothing short of good news for silver prices going forward.
Investing in Silver in 2016 and Beyond
If you wish to invest in silver in 2016 and beyond, there are several ways to do this. Physical silver can be purchased in silver coins and bars. You can buy silver coins in the United States, Canada, and Australia directly from major mints, and silver bars can be purchased from reputable dealers. Other popular silver investments are silver ETFs.  Money Morning  recommends several ETFs: ProShares Ultra Silver ETF (NYSE Arca: AGQ) and Sprott Physical Silver Trust ETF (NYSE Arca: PSLV). There are also several other ways to invest in silver and profit from precious metal investing.
Money Morning Global Credit Strategist Michael Lewitt recently urged investors to buy into precious metals ahead of this market event creates market turmoil. This upcoming event could devastate your portfolio if you're not prepared…
Follow Money Morning on Facebook and Twitter.