North Korea flaunted on Thursday that it is fully capable of countering the U.S.' newest military strategy…
Known as the Pentagon's "Third Offset Strategy," U.S. Deputy Secretary of Defense Bob Work recently laid out the tech-heavy approach to national security to the American public.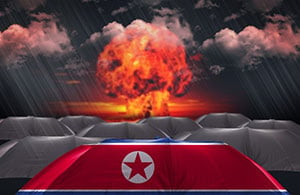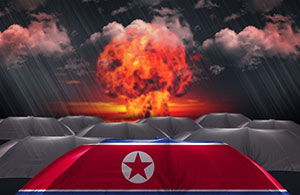 In the wake of President Barack Obama's decision yesterday to impose the first-ever U.S. sanctions on the small communist country, North Korea warns that Washington will face dire consequences if it continues to raise tensions.
North Korea Warns About Being Targeted by New DoD Strategy
The United States first started to rattle its global relations in January 2015 when Deputy Secretary of Defense Bob Work laid out the key components of the "third offset program," which included autonomous "deep learning" machines and systems, human-machine collaboration, assisted-human operations, advanced human-machine teaming, and semiautonomous weapons.
The offset program itself was — and still is — a budget strategy for "offsetting" the Pentagon's shrinking budget. It consists of investments that fall into six targeted defense areas spearheaded by private companies in terms of research and development for later use by the U.S. military. Those targeted areas are:
anti-access and area-denial development
guided munitions
undersea warfare
cyber and electronic warfare
human-machine teaming
wargaming and development of new operating concepts.
Work, alongside Secretary of Defense Ashton Carter, has pushed the "Third Offset Strategy" as a means to counter multiple enemies across a variety of technological fronts…
For example, China and Russia are closing the advanced weapons gap, Chris Harmer, senior naval analyst at the Institute for the Study of War, told The Hill on April 30. Iran, too, is making progress (though Harmer claimed the country still lacks precision with their offensive weapons).
And then there's North Korea, with its double-standard of absolute secrecy except when its state-run media proclaims the country's made another successful ballistic missile launch. While the U.S. Department of Defense rightly considers the DPRK (Democratic People's Republic of Korea, the North's official name) dangerous, it hasn't explicitly focused its research and development on the country and its missile launches.
Which brings us to today. According to a report from The Korea Times this morning, "U.S. officials' and experts' latest claim that the Third Offset Strategy should be applied to the Korean Peninsula" is what prompted Pyongyang to issue its stark warning.
"[America's claim] is a manifestation of the extreme hostile moves of the U.S. to stifle the DPRK by mobilizing not only conventional and nuclear forces but also ultra-modern war hardware," an unnamed DPRK spokesman told the Korean Central News Agency today. He added, "The DPRK is fully capable of making any strategy of the U.S. go belly-up determinedly, to say nothing of the Third Offset Strategy."
North Korea's warning is just one of several being launched at the U.S. of late. For more coverage, follow us on Facebook and Twitter.
Showdown in the South China Sea: On July 12, the International Tribunal for the Law of the Sea – dubbed "The Hague Tribunal" – will issue its ruling on China's claim to practically all of the South China Sea. But China has already promised to disregard whatever the tribunal decides, which means tensions in the South China Sea will continue to grow tenfold. Here's more…
Related Articles: