By the time you're done reading this one sentence, roughly 20 people will have been born. In fact, around 200,000 new babies will have joined us by midnight tonight, mostly in the global East, where economic growth, along with the population, of course, is far outpacing that of the global West.
That's obviously a lot of hungry mouths to feed. The difference is that now, thanks to that economic growth, there's an increasing amount of wealth with which to buy food – and quality food, at that.
One thing that isn't increasing, however, is the amount of arable farmland on the planet. That's actually shrinking fast.
And so one of the world's most pressing challenges is the need to dramatically improve crop yields across every possible square foot. Solving this challenge is the single biggest focus in farming today.
The company I want to tell you about today is in the best possible position to profit as it helps meet the challenge head on.
But it will pay to move quickly, though. The company is paying a $0.25 dividend on Aug. 2, it's true, but there are some very good reasons why this company could be bought in the near future…
The "Big Feed" Can't Happen Without This Commodity
Fertilizer is absolutely critical to sustaining life on our world, ranking up there with water.
Now consider this: According to the International Fertilizer Development Center, "no country has been able to expand agricultural growth rates and eliminate hunger without increasing fertilizer use."
Even in the "developed" world, on an annual basis, the United States alone exports about 80 million tons of grains which contain nitrogen, phosphorus, and potassium. In order to replace these in the soil, so it can again contribute to healthy and nutritious crops, we require ever more fertilizers.
Today's fertilizers have such a significant impact on agricultural productivity that they're now responsible for a whopping 40% to 60% of the global food supply.
Nutrients like nitrogen, phosphorus, and potassium are embedded in fertilizers. These elements replenish soils used to harvest, while augmenting the nutritional value of food.
Now, here's the challenge and the opportunity: As developing nations modernize and become more affluent, they are seeking to "expand agricultural growth rates and eliminate hunger," and their appetites for higher quality, more nutritious foods like fruits and vegetables are increasing, too.
That requires growers to employ increasingly larger quantities of fertilizers.
One of the most sought after fertilizers is potash. Most potash comes from large deposits that were formed when ancient seabeds dried out millions of years ago.
It's a key agricultural commodity, used to boost crop yields, plants' water retention, and resistance to disease, and it's increasingly becoming a staple of the food-growing process.
Potash is found and produced in a number of nations today, like the United States, Russia, China, Belarus, and Israel. But the single largest producer, by far, is Canada, whose output reached 11 million tons last year. While respectable, the second place falls to Russia, whose output is considerably lower at 7.4 million tons.
Given the massive lead Canada has over other potash producers, it makes sense that's where some of the most attractive opportunities lie.
The commodities market certainly backs that up.
Tightening Supply Points to a Bull Run
In 2015, world consumption of potash reached 35.5 million tons. By 2020, that number should reach 39.5 million tons.
Since potash prices have been challenged in recent years, much like a number of other commodities, producers have been cutting back on production to better meet demand levels.
Just look at how the gap between crop prices and fertilizer prices has widened recently…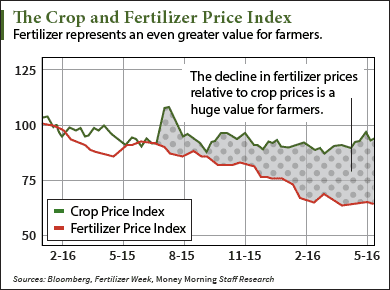 That's created an opportunity for the farming community to increase its use of fertilizers as they have, relatively speaking, become a cheaper part of the harvest.
Secondly, look at what the potash-producing industry has in store for the next five years.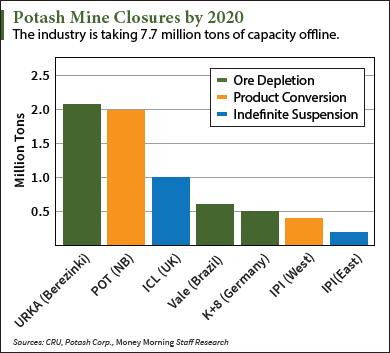 A significant amount, 7 million tons of capacity, should be removed from the supply side by 2020.
That's likely to go a long way toward supporting higher fertilizer prices as demand firms on climbing food prices.
Indeed, we've seen some important milestones recently in that department, and it's setting the stage for higher prices in the months and years ahead.
So here's the play, and why it's on my list of likely takeover targets.
The World's Biggest Producer Is On Sale
Belarusian Potash Co. recently inked a deal to sell 700,000 tons to India at $227 per ton, a considerable reduction from last year's $297 per ton agreement. Still, the price is above earlier analyst estimates.
Konstantin Yuminov, a Raiffeisenbank analyst, commented that China could pay above $200 per ton this year, which would also surpass previous estimates. He continued, "The agreed terms are very good for the market as they signal that the demand on potash will be healthier."
So as demand firms up and production trails off, potash prices are set to rise handsomely, and Potash Corp. of Saskatchewan (NYSE: POT) is by far the best way to play the trend.
It's the world's largest fertilizer producer by capacity; the 800-pound gorilla of the fertilizer world. Potash Corp. produces potash, nitrogen, and phosphate.
The company's Canadian operations alone represent 20% of the entire global capacity. Further, the company is invested in potash companies in South America, Asia, and the Middle East, rounding out its operations and interests in seven countries.
Management recently said H2 2016 would see buyers return. Right now, Potash Corp.'s operating margins are an envious 25.7% and profits run 18.3%. While the P/E is a reasonable 13.62, the shares pay a dividend yielding a generous helping of 5.9%.
That alone makes the shares a smart buy right now, but there could be an even bigger catalyst out on the horizon, although it's got nothing to do with the positive agriculture outlook.
On June 30, rumors that Potash Corp. engaged with an investment banker upon receiving a takeover proposal sent the shares surging by 6% in one day. The company is mum, but there's a really compelling case to be made for a takeover.
The company is returning close to 15% on equity at the moment despite the recent global downturn in commodities prices, including potash.
And remember, commodities mammoth BHP Billiton Ltd. (NYSE ADR: BHP) once offered nearly $40 billion in an unsuccessful bid to acquire Potash Corp. during the last bull cycle, when the company was worth more than $76 per share.
Before much longer, the value Potash Corp. offers to even bigger companies who are looking to consolidate in a beaten-down sector in order to make the most of this bull just might prove to be irresistible.
Michael Lewitt is tracking another supply/demand imbalance taking shape. In fact, demand for this commodity just soared by 50%… but there's only enough supply to fill your living room. Investors who get in now could be looking at 300% profits before supply catches up (if it ever does), so this is the perfect time to get in for maximum gains. Click here to find out what Michael's looking at in Sure Money, and you'll get his 2016 Gold Profit Playbook, too. There's no charge for our Members.
Follow Money Morning on Twitter and like us on Facebook.
Join the conversation. Click here to jump to comments…
About the Author
Peter Krauth is the Resource Specialist for Money Map Press and has contributed some of the most popular and highly regarded investing articles on Money Morning. Peter is headquartered in resource-rich Canada, but he travels around the world to dig up the very best profit opportunity, whether it's in gold, silver, oil, coal, or even potash.