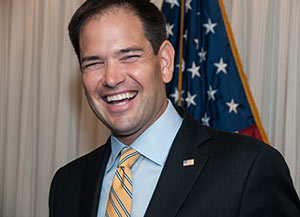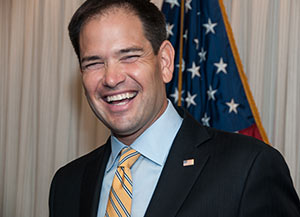 On March 17, Sen. Marco Rubio (R-FL) told reporters on Capitol Hill he was done with politics for now. It seems he meant the "now" part quite literally...
That's because on June 27, the former GOP presidential nominee announced he would seek re-election as a U.S. senator. This was particularly surprising, as attacks on Rubio during GOP debates showcased some red flags about the 45-year-old politician to the voters in his home state of Florida.
Donald Trump, in particular, successfully homed in on his opponent's weaknesses...
The ad says that
Rubio has been a total no-show
in the U.S. Senate. And it does have some truth...
According to free legislation tracking site Govtrack, Rubio missed 234 out of 1,599 roll call votes between January 2011 and June 2016. That means Rubio missed 14.6% of roll call votes.
The median missed lifetime roll call votes of senators currently serving is 1.7%, putting him strikingly above the average.
Rubio also hasn't been able to shake issues regarding his spending habits with a credit card issued to him by the Republican Party of Florida. According to Business Insider, investigations showed Rubio used the credit card inappropriately. Some of the charges included:
$135 haircut
$10,000 family vacation
$527 for food and drinks at Disney
$953 spent at a steakhouse
While Rubio claims he has reimbursed his personal charges, the Miami Herald pointed out in November 2015 that Rubio purchased items that were hard to prove (or disprove) were for business expenses. For instance, the publication found that the senator spent $1,200 on local meals costing $30 or less, which included 13 charges of $10 or less.
With Rubio's flaws at the forefront right now, why would he choose to run for re-election?
For one thing, Republicans have reportedly begged him to return. The only other viable candidate in the Republican Party for the Florida Senate position appears to be Carlos Beruff, a real estate developer many have compared to Trump.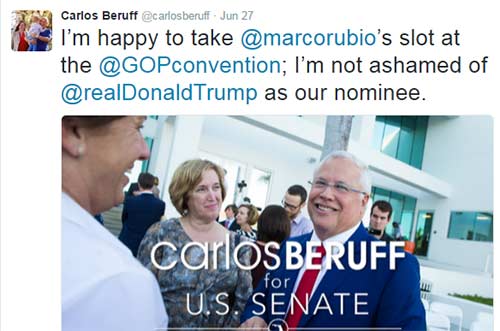 Rubio's other motivation for re-election may simply be revenge...
According to The New York Times, Rubio believes the Senate plays a vital role in checking the executive branch. That means as senator, he would be able to make it difficult for Trump to pass bills if he becomes president.
"If he is elected, we will need senators willing to encourage [Trump] in the right directions, and if necessary, stand up to him," Rubio said.
Also, Republicans will want to try and maintain control of as many positions in the Senate as possible if Hillary Clinton is elected.
While Rubio may very well feel a duty to help the Republican Party, like many politicians, the truth is Rubio likely seeks re-election for a far more selfish reason...
Here's What Marco Rubio Gains from a Re-Election
Other sites have questioned or alluded to it, but Chris Cillizza came outright and said it in his article: "Marco Rubio is running for Senate again. So that he can run for president again."
Strategically, Rubio didn't have much of a choice but to get back in the political ring...
If Rubio still wants to be POTUS, losing this re-election will most likely dash those dreams. It will be hard for the GOP to rally around a politician who was an unsuccessful presidential candidate and lost his Senate re-election in the same year.
Losing twice would hurt his long-term ambitions.
But if Rubio had passed on re-election altogether, he could be completely forgotten as a nominee in 2020 or 2024. Cillizza said in his article that it's "better to decide your own fate than have it decided for you."
And keeping his Senate position gives Rubio two ways to improve his track record before his next presidential bid: a favorable voting record and a better foothold in Florida.
In addition, whether Clinton or Trump wins, Rubio could try to block bills that are controversial or the majority of the Republican base is not in support of. When 2020 rolls around, he can say that he stood up to Clinton or Trump.
To avoid critics in 2020 or 2024, one would assume Rubio would attend more voting sessions. But even if Rubio doesn't, he can specifically point out ways he voted to stop decisions by Clinton or Trump.
And by staying in the Senate, Rubio can try and endear himself more to the people of his state. You see, he lost 66 out of 67 counties in Florida's 2016 Republican presidential primary to Trump. Florida is tied for the third-most electoral votes, which makes it a critical state to win in an election.
If it looks like he can win the hometown vote in 2020 or 2024, he will have real momentum heading into a presidential race.
Did you think Marco Rubio will run for president in 2020 or 2024? Let us know on Twitter @moneymorning and Facebook.
Up Next: Hillary Clinton Student Loan Plan Could Cost Uncle Sam $1 Billion
Related Articles: