Ahead of the still unknown Uber IPO date, the leading car-hailing firm just raised another $1.15 billion. This is the latest move for Uber, which has been stockpiling cash as regulatory and competitive pressures keep mounting.
We'll get into these issues that Uber is facing in a minute, but first, here's what you need to know about today's funding.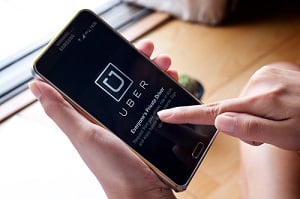 Uber raised the $1.15 billion today with a new leveraged loan. This is a first in this type of fund raising for Uber. The leveraged loan offering helps existing shareholders avoid stock dilution. By issuing debt rather than equity, Uber is aiming to preserve shareholders' stakes in the company.
The leveraged loan will pay an attractive yield of about 5%, according to The Wall Street Journal, first to report the news. Morgan Stanley (NYSE: MS) led the loan arrangement, with help from Barclays Plc. (LON: BARC), Citigroup Inc. (NYSE: C), and Goldman Sachs Group  Inc. (NYSE: GS).
The extra funding is a major news story because the Uber IPO is one of the most highly anticipated public offerings on the market. And that's even though there has been no set Uber IPO date…
The average yield of these types of loans hovers between 3.9% to 5.5%. That's according to S&P Global Market Intelligence LCD data. If it is the issuer's first time with one of these loans, the yield is usually higher.
Leveraged loans are private, modified versions of junk bonds. Banks make the loans to companies with below-investment-grade credit ratings and then peddle them to professional investors including mutual funds, hedge funds, and insurance companies. Issuers of the loans don't have to publicly report financial information because the debt is sold privately to investors deemed sophisticated.
Tech startups rarely use these leveraged loans. That's due to the fact that institutional investors typically reject loan applications from unprofitable companies like Uber. Debt investors are very concerned with a company's ability to repay the loan.
This latest round of funding brings the amount Uber has raised in debt and equity to more than $15 billion. Uber's varied investor base includes venture capital firm Benchmark, mutual funds including Fidelity Investments, and the Saudi and Qatari governments.
Last month, Uber disclosed a $3.5 billion investment from Saudi Arabia's sovereign wealth fund. Some 80% of Uber's customers in Saudi Arabia are women, since women are not allowed to drive themselves.
Uber CEO Travis Kalanick said the funding is a "vote of confidence" in Uber. He also said that Uber wants to be a part of the country's social and economic reforms.
While the CEO views the funding as bullish, investors awaiting the Uber IPO in 2016 are less thrilled…
Uber IPO Date Looms, but It May Be Postponed Again
Uber's cash burn rate is still unknown.
But the company is spending millions of dollars to attract riders and drivers – and to keep them. Uber offers cash bonuses to new drivers and subsidizes the cost of lower-priced rides.
Uber is also fighting to maintain its presence in cities around the world. Officials are worried about the quality and background of drivers, as well as protecting local cab companies.
Uber maintains it's profitable in its most developed markets.
Uber has been spending heavily in China, where it faces heated competition with the Asian nation's largest ride-sharing company, Didi Chuxing Technology Co.
Didi Chuxing's valuation was pegged at $28 billion last month. Uber's valuation was recently estimated at $68 billion. The leveraged loan offering will not change that.
Also not changed is the timing of the Uber IPO.
Kalanick continues to indicate the company is unlikely to go public for at least another year.
Chief Financial Officer Gautam Gupta said at an investor conference in May the company honestly doesn't have a timetable for an Uber IPO.
"We literally spend no time internally as a management team thinking about an IPO," Gupta said. "The fact of the matter is we're just so busy trying to build an amazing company that we haven't gotten to it."
Gupta added "there will come a time" for an Uber IPO. CEO Kalanick, however, has said he's "going to make sure it happens as late as possible."
Follow us on Twitter @moneymorning and like us on Facebook.
Related Articles: