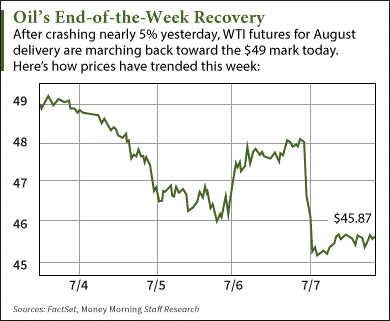 The WTI crude oil price today (Friday, July 8) is bouncing back from its lowest settlement since May 10.
At 9:00 a.m. this morning, West Texas Intermediate (WTI) crude oil prices were up 1.6% and trading at $45.87 a barrel. Yesterday, the U.S. benchmark fell 4.8% to close at a two-month low of $45.14 after the EIA reported a smaller than expected decline in U.S. oil supply. Futures for August delivery are now down 5.1% in July.
The Brent crude oil price was also rebounding this morning. Futures for September delivery gained 0.9% to trade at $46.82 a barrel. Despite today's gains, the global benchmark is down 5.8% so far this month.
Here's the biggest reason why crude oil prices are recovering today…
One Reason Why the WTI Crude Oil Price Is Moving Toward $46
Oil prices today are rebounding because of the weakening U.S. dollar.
You see, the movement in WTI crude oil prices has been dictated by currency markets ever since the Brexit vote last month. After the UK voted to leave the EU, the British pound fell to its lowest level since 1985. It has been trading near that $1.28 level for two weeks.
The crash in the pound sent the U.S. Dollar Index (DXY) – which measures the dollar against a basket of foreign currencies – on a rally. Since the Brexit vote on June 23, the dollar has gained 3.4% to 96.40 basis points – the highest since March.
The dollar's surge has dragged the WTI crude oil price down 8.5% over the same period since a rising dollar lowers the value of commodities traded in dollars. That's because a strong dollar makes oil more expensive to traders using other currencies.
However, the dollar reversed course last night and fell toward 96 basis points, which sent oil prices toward the $46 mark. Oil stocks are also ticking higher today, with supermajors like Exxon Mobil Corp. (NYSE: XOM) and Chevron Corp. (NYSE: CVX) up 0.1% and 0.4%, respectively.
Although commodity group Argus upgraded Exxon stock to a "Buy" in May, Money Morning Global Energy Strategist Dr. Kent Moors recommends avoiding Big Oil stocks like XOM for one reason…
Despite the Rising WTI Crude Oil Price, Don't Touch These Big Oil Stocks
One big reason why investors shouldn't buy Big Oil stocks is their declining profits.
Although oil prices are up 24% this year, the 75% plunge in prices from mid-2014 to the bottom back in February ruined the balance sheets of these huge energy firms. Companies like BP Plc. (NYSE ADR: BP) and Chevron saw profits plunge by 51% and 76% in 2015, respectively.
And these oil giants' Q1 earnings reports were the worst in over 10 years. Exxon posted a profit of $1.8 billion from January to March – the worst quarterly profit since 1999. BP went negative and lost $583 million during the same period. That was way down from a profit of $2.6 billion in Q1 2015.
But Moors – a 40-year veteran of the oil and gas industry who has advised U.S. and Russian officials on energy policy – says falling profits is just one of several reasons why investing in the oil majors is a huge mistake right now.
A second reason deals with a dangerous number on their balance sheets that's increased tenfold over the last 10 years.
Another concerns the questionable exploration budgets of these companies…
These risk factors are why Moors just recommended another way to make market-beating returns from the oil sector.
This new investment allows you to play the long-term rise in oil prices without actually playing the oil market.
Moors found this stock pick for readers four months ago. Shares have surged more than 55% since then, and several analysts think it could soar another 81% over the next 12 months.
Click here and we'll email you this new investment report showing you how to bank big profits from this energy stock. You'll also receive every Oil & Energy Investor briefing – absolutely free.
Alex McGuire covers the energy market for Money Morning. You can follow him on Twitter at @AlexMcGuire92 for constant updates on oil and gas prices.
Like us on Facebook: Money Morning