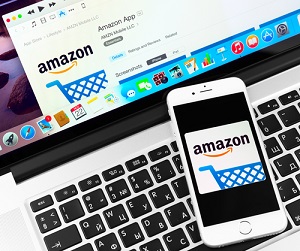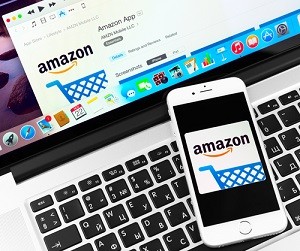 When Amazon.com Inc. (Nasdaq: AMZN) hosted its inaugural Amazon Prime Day on July 15, 2015, the Amazon stock price climbed 2.68% in one day.
And because Amazon said it sold more products on its first Prime Day than any Black Friday in the company's history, the excitement for the event is even bigger this year. And that could help the Amazon stock price climb after the event once again.
Trending: Are Pot Stocks a Good Investment in 2016?
Today, we are going to show Money Morning readers why the AMZN stock price can climb even more after Amazon Prime Day 2016. But first, we want to make sure our readers know more about why Amazon Prime Day is so important for Amazon stock.
Last year, Amazon introduced Prime Day for its Prime members to commemorate its 20th anniversary. Amazon offered deals on electronics, home appliances, and baby products.
And it turns out consumers didn't mind purchasing items on a made up shopping holiday…
According to online retail tracker ChannelAdvisor, sales in the United States on Prime Day climbed 93% on July 15, 2015. Research firm MKM Partners projected sales on Prime Day totaled between $375 million and $400 million.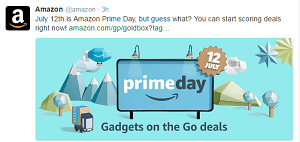 Across the globe, Amazon said 398 items were ordered per second on Prime Day 2015.
Prime Day is an ingenious way to increase sales for one day, but it actually helps boost sales for the long term…
Amazon keeps its Prime member totals a secret. But Consumer Intelligence Research Partners projects there are roughly 54 million Prime members who spend an average of $1,100 per year.
Non-Prime members spend $600.
So not only is Amazon making more money through sales on Prime Day, it's also making more money over the long haul when people sign up to be a Prime member.
Now that we've explained how Prime Day works, here's how to invest in Amazon stock ahead of July 12…
How to Invest in Amazon Stock Before Prime Day
Last year, the Amazon stock price opened at $463.04 on July 15. By the next day, AMZN stock closed at $475.49 per share.
That's a 2.68% gain in just one day.
The excitement of the day and the fact that Amazon has promised a dramatic increase in inventory means sales could be even higher this year.
That would likely boost the Amazon stock price in the short term.
While the short term is enticing for Amazon stock, we at Money Morning are also focused on the long term.
Because of CEO Jeff Bezos' visionary leadership, Amazon is one of the best stocks to buy for long-term growth. He turned Amazon from an online bookseller in 1995 into an e-commerce giant worth $350 billion dollars today.
Bezos has completely revolutionized how we shop. Because of Amazon, consumers can easily check prices and have unlimited access to a wide variety of options.
But his next move is conquering a $14.4 trillion industry: The Internet of Things (IoT).
The IoT sector focuses on connecting devices to the web to make products more efficient and easier to use. Examples include using your phone to start your car or control the thermostat in your home.
In October 2015, Bezos launched Amazon Web Services (AWS) IoT. This will allow users to connect their devices to cloud-based apps and create interactions between the two.
And Bezos is already showing early examples of this through Amazon Echo.
Through the speaker-like device, users can order a pizza from Dominos or hail a ride through Uber.
Amazon stock is already up 73.14% over the last 12 months, but analysts believe it has further to climb. FactSet has a consensus target price of $817.59 for Amazon stock. From today's opening price of $740.14, that's potential profit of 10.46%.
The Bottom Line: The Amazon stock price climbed 2.68% after last Prime Day. With more awareness of the shopping day and more products on sale, Prime Day 2016 could be another huge success. This could help AMZN stock climb in the short term, but this is one of the best stocks to own for long-term investors because of CEO Jeff Bezos' visionary leadership. With a price target of $817.59 from FactSet, investors could profit over 10% from today's opening price.
Jack Delaney is an associate editor for Money Morning. You can follow him on Twitter and follow Money Morning on Facebook. 
Up Next: How to Beat Wall Street at Its Own Game