After a two-week lull that saw only two firms go public, this week's upcoming IPO calendar includes four deals set to raise a combined $1.6 billion.
And most of those proceeds will come from the biggest tech IPO of 2016 – Line Corp. (NYSE: LN).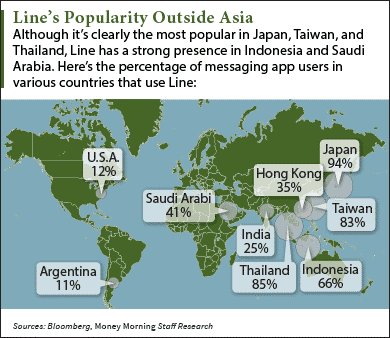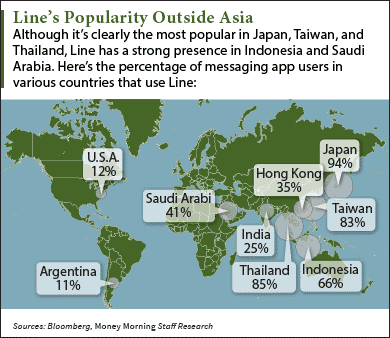 Line is a Japanese tech company that owns the messaging application of the same name. It's the biggest mobile messaging platform in Southeast Asia with more than 218 million users across Thailand, Japan, and Taiwan. The app was created when Japan's 2011 earthquake and tsunami damaged the country's telecom infrastructure, leaving people unable to use their phones.
Despite the app's regional dominance, its user base is small compared to its competitors. According to the latest data from Statista, Facebook Inc.-owned (Nasdaq: FB) WhatsApp and Facebook messenger had a combined total of 1.9 billion users in February.
But Line has seen immense user growth over the last two years. The number of users soared nearly 30% since the first quarter of 2014. Plus, the company posted $1.1 billion in sales from in-app games and animated stickers that users can send in their messages.
Earlier today (Monday, July 11), the Line IPO raised $1.1 billion by selling 35 million shares for 3,300 Japanese yen (equal to $32.84) per share. Renaissance Capital, manager of IPO-focused ETFs, reported the deal size makes it the biggest tech offering of the year. At the Line IPO price, the company commands a $6.9 billion valuation. LN stock will begin trading in the United States on Thursday, July 14, and in Japan on Friday, July 15.
Now, here are the rest of the new IPOs this week on the IPO calendar, including this 70-year-old company that's one of the country's largest distributors of ready-to-eat sandwiches…
Three More Deals on the Upcoming IPO Calendar (July 11 – July 15)
AdvancePierre Foods Holdings Inc. (NYSE: APFH) is a national supplier of food products. The company offers more than 3,000 products and is the industry leader in supplying beef, chicken, and pork products. It's also the leading U.S. provider of ready-to-eat sandwiches, selling them to big-name distributors like Sysco Corp. (NYSE: SYY) and recent offering U.S. Foods Holding Corp. (NYSE: USFD).
Founded in 1946, the firm posted $1.6 billion in sales from March 2015 to March 2016. The AdvancePierre IPO is set for a $400 million deal by offering 18.6 million shares at a price range of $20 to $23 each. The company is valued at $1.7 billion and will hit the market on Friday, July 15.
Tactile Systems Technology Inc. (Nasdaq: TCMD) is a Minnesota-based medical firm that manufactures devices used to treat several types of lymphedema. That's a condition when the lymph nodes are damaged and cause the arms or legs to swell. Tactile's leading product is the Flexitouch, which uses compression therapy to maintain oxygen delivery typically interrupted by the swelling. Unlike other medical device firms that have gone public in 2016, Tactile Systems is profitable. From Q2 2015 to Q2 2016, the company raked in $66 million in sales. That's much more than close peer Viveve Medical Inc. (Nasdaq: VIVE), which earned only $3 million in sales over the same period.
Tactile Systems is set for a $60 million deal by selling 4 million shares for $14 to $16 each. The company is valued at $262 million and has delayed its debut for three weeks. Since the company has yet to announce an official offering date, it's listed as a day-to-day offering which could hit the market sometime this week.
Gemphire Therapeutics Inc. (Nasdaq: GEMP) is developing treatments for cardiovascular disease. The company is currently making a drug that will effectively reduce high triglyceride and cholesterol levels. Gemphire was founded back in 2008 and is majority owned by biotech titan Pfizer Inc. (NYSE: PFE). The Gemphire Therapeutics IPO will raise $45 million by offering 3.75 million shares at a price range of $11 to $13. According to Renaissance Capital, it has a $113 million valuation. After multiple delays, the offering is listed as day-to-day and will hopefully debut sometime this week.
Alex McGuire writes about initial public offerings for Money Morning. Follow him on Twitter for updates on the Line IPO when it launches later this week.
Like us on Facebook: Money Morning
Next Up: The Five Most Important IPOs to Keep on Your Calendar in 2016