The Nintendo stock price is soaring 33.6% to $27.66 today (Monday) following the successful release of its new smartphone game, Pokémon Go.
Today's sharp Nintendo Co. Ltd. (OTCMKTS ADR: NTDOY) stock price gains are following strong advances Thursday and Friday. The company has added roughly $7.5 billion to its market cap, which is now up to $26.5 billion.
Nintendo's new game, which has fans chasing Pokémon characters through real-life city streets, has resulted in an unexpected craze.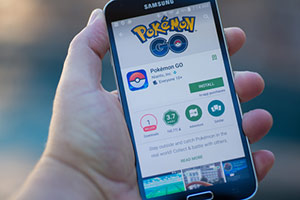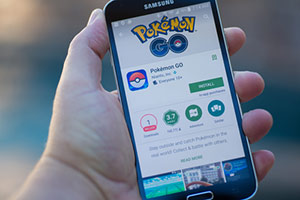 The game lets players search parks, buildings, subway stops, and other natural environments for Pokémon characters. It's heavy on "augmented reality," merging a person's view of the real world via the smartphone's camera with digital images of the game's colorful characters.
The game was released last Wednesday and is only available in the United States, New Zealand, and Australia. Launches in other countries throughout Europe and Asia are expected within a few days.
Since the launch of the game, the Nintendo stock price has soared nearly 55%.
Pokémon Go is a collaboration by the Pokémon Company (32% owned by Nintendo) and Niantic Inc., a spin-off from Alphabet Inc. (Nasdaq: GOOGL).
While free to download, the Pokémon Go app brings in revenue by selling in-game add-ons. Those add-ons include balls costing $1 and higher, which help catch the game's animated creatures.
In less than one day, Pokémon Go became the most downloaded and highest-grossing app in the countries where it is available. That's according to market data provider App Annie.
Data firm SimilarWeb said Monday the app is set to leapfrog Twitter Inc. (NYSE: TWTR) among U.S. Android users as far as the number of daily active users.
How long the craze will continue is anyone's guess. But Pokémon Go could have some staying power.
It is part of one of the most widely recognized and loved global gaming franchises. And there is room to update the app with more engaging experiences.
Here's everything investors need to know about NTDOY stock now, including whether this Nintendo stock price rally can continue from here…
What's Next for the Nintendo Stock Price in 2016
While the Nintendo stock price is soaring on the game's reception, there have been some concerns as well.
Police in the United States and Australia have issued safety warnings, alerting game-players to be aware of their surroundings.
In Missouri, there have been reports of Pokémon Go users luring players to locations and then robbing them. The app has a "Lure Module" that players can use to attract both Pokémon and other users to their locations. Pokestops are locations where players can collect items and level up faster.
Still, Nintendo plans to monetize Pokémon Go as much as it can.
Later this month, Nintendo will release an optional $35 portable device called Pokémon Go Plus. The device is designed to help players capture "pocket monsters" more easily with the push of a button instead of a smartphone tap.
Also expected are new Pokémon games for Nintendo's still popular but maturing handheld 3DS game device.
How the Nintendo stock price reacts relies on how the Japan-based company's mobile games perform. The Nintendo stock price has suffered from slumping sales in its traditional console game business. Prior to last week's release, the Nintendo stock price had fallen 13% in the previous year.
Its first mobile app launch in March was a disappointment, and the Nintendo stock price slumped. Called Miitomo, the app allows users to converse with friends by answering various questions and features Twitter Inc. (NYSE: TWTR) and Facebook Inc. (Nasdaq: FB) integration.
The company is expected to release four new smartphone games by the end of fiscal 2017. The company said it expects mobile gaming to help drive annual operating profit to 45 billion yen ($438 million). Nintendo will also release its next console in March 2017.
Analysts are maintaining a cautious stance on Nintendo stock now until more data is collected about the Pokémon Go release.
Morgan Stanley MUFG Securities analysts say the Pokémon Go success may not directly relate to Nintendo's core business. You see, Nintendo owns a small stake in the Pokémon Company. And the Pokémon Company was operating under an independent strategy from Nintendo in the app business. The Pokémon Company already had apps before Nintendo's venture into the space.
Bloomberg used the launch of the Nintendo Wii in 2007 as a comparison. The Wii helped the Nintendo stock price surge short term, only to fall back later on.
IG market strategist Evan Lucas said investor speculation around the app is "amazing," but added Nintendo will need to do more to justify the jump in its share price.
At $27.30, the Nintendo stock price is now up 56.30% year to date.
Follow us on Twitter @moneymorning and like us on Facebook.
Brexit Triggers Rush to "Insure" Life Savings: Billionaires are sinking millions into "crash insurance" in an effort to protect themselves against another 2008-style meltdown. If you haven't shielded your holdings you better act now before all hell breaks loose. Read more…
Related Articles: