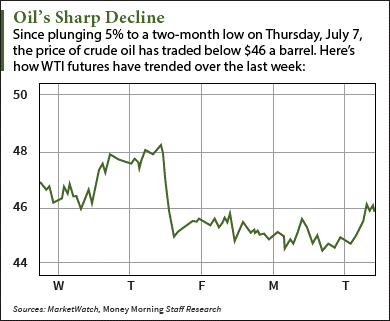 The price of crude oil today (Tuesday, July 12) rose above the $46 level for the first time in three days thanks to a weakening U.S. dollar and bullish monthly OPEC report.
Around 9:30 a.m., West Texas Intermediate (WTI) crude oil prices were up 3% and trading at $46.14 a barrel. Today marks the first time since Thursday, July 7 that the U.S. benchmark trades above the $46 level. Still, futures for August delivery are down 4.5% so far this month.
This Is the Best "Retirement Stock" of 2016… And the good news is, it's trading for "pennies." But it won't be for long… its revenue is set to surge 4,709%. Learn the details of this $5 stock today while it's still "on sale." Read more…
The global price of crude oil saw even more gains in early morning trading. The Brent crude oil price – which is the global benchmark priced in London – added 3.5% to trade at $47.85 a barrel. Futures for September delivery have fallen 3.7% since the start of July.
Here's more on why the dollar and OPEC are boosting crude oil prices today…
Why the Price of Crude Oil Jumped Above $46 Today
The decline in the U.S. Dollar Index (DXY) is one reason why oil prices are up today.
Earlier this morning, the dollar was down 0.5% and trading at 96.10 basis points. Today's performance breaks the greenback's three-session rally since Thursday, July 8.
When the value of the dollar falls, commodities that are globally priced in dollars – like oil – typically receive a boost. That's because they become cheaper to buyers who use foreign currencies. For example, someone in China trying to buy oil with the Chinese yuan will spend less yuan per dollar to buy oil.
But the bigger news moving the price of crude oil is the release of OPEC's June market report.
The cartel said total output from all 14 members rose 264,000 barrels to roughly 32.9 million barrels a day last month. Although that's above the average monthly demand of 31.9 million, OPEC expects demand for the cartel's oil to increase to 33 million barrels a day next year.
The report also said non-OPEC supply is projected to decline by 900,000 barrels to 56 million a day in 2016. Further down the road, non-OPEC supply is projected to fall another 100,000 barrels to 55.9 million a day in 2017.
Money Morning Global Energy Strategist Dr. Kent Moors – an oil market veteran who's served in the highest levels of U.S. and Russian energy agencies – says both of these trends will continue this year.
That's why he just made these revisions to his Brent and WTI crude oil price forecast. Here's how high he sees crude oil prices climbing this year…
This Is Our Target for the Price of Crude Oil in 2016
According to Moors, the fallout from the Brexit vote will likely cause more oil price volatility.
When it eventually leaves the EU, the UK will descend into a second-tier economic power and global energy investments will move from London to New York City. This adjustment will pull both London-based Brent crude oil prices and New York-based WTI crude oil prices lower over the short term.
"The lingering uncertainty around the pound will have an adverse impact on Brent oil futures," Moors noted following the June 23 Brexit vote. "Since most of these contracts are denominated in dollars, the exchange problems will also affect WTI futures in the United States."
Despite these bearish indicators, Moors sees the WTI price of crude oil reaching $58-$60 by the end of 2016. As for Brent crude oil, he believes it'll hit $62-$65 by the same time.
This rise will come from two strong fundamentals – falling U.S. supply and increasing global demand.
Last week, the U.S. Energy Information Administration (EIA) reported supply levels stood at 526.6 million barrels. That's down 2.6% from 540.6 million roughly two months ago. This steep decline is largely thanks to the falling number of active oil rigs, which is down from 645 to 351 over the last 12 months.
Although the count has increased for two straight weeks, U.S. drillers won't be able to profitably boost output until WTI nears $65 a barrel. That's because these firms burn through money if oil trades for anything less. After all, many of their wells can cost as much as $3 million to drill and maintain for the entire production cycle.
Since drilling new wells is incredibly expensive, producers will be forced to get their output from what's known as drilled-but-uncompleted (DuC) wells. These are older wells drilled anywhere from six to 18 months ago that provide less output. As more companies use these DuCs, overall U.S. supply will gradually fall until WTI hits $65, which will be a high enough price to cover the operating costs of drilling new wells.
While this is happening, global demand will be steadily rising.
The Paris-based International Energy Agency (IEA) says global oil demand will hit roughly 95.8 million barrels a day this year. That's considered the highest demand level in history. The EIA similarly says worldwide consumption will reach 96.7 million a day by next year.
Both of these fundamental oil market forces will send WTI and Brent on big long-term rallies.
Stay tuned to Money Morning for opportunities on how to make money from the rebounding oil market.
Follow us on Twitter and like us on Facebook.
Next Up: This Company Is Leading One of Europe's Biggest Energy Revolutions