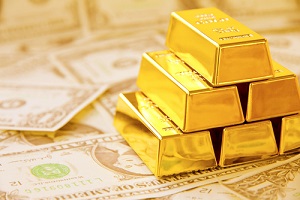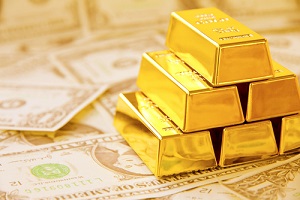 Gold prices have climbed roughly 6.5% since the United Kingdom voted in favor of Brexit on June 23. But our newest gold price projection shows the yellow metal climbing even higher...
In just the next three and a half years, Money Morning Resource Specialist Peter Krauth predicts the price of gold will surge 260%. This puts gold prices at roughly $5,000 per ounce by 2020.
The Starter Guide to Buying Gold & Silver: Click here to get a free primer about precious metal investing...  
Krauth's prediction, while bold, isn't unjustified. There are three big catalysts that will cause gold to reach his price projection of $5,000 per ounce in three and a half years.
Let's look at these three huge gold price catalysts now...
Gold Prices Catalyst No. 1: A Fragile Global Economy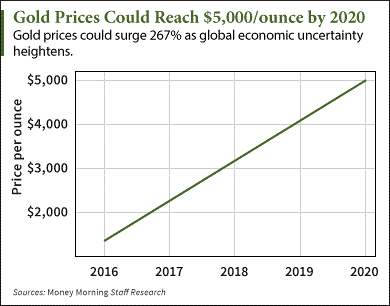 Whenever the global economy faces uncertain prospects, gold prices benefit.
And the post-Brexit economic uncertainty we're currently seeing should continue for years.
Since the June 23 Brexit vote, economists and prominent investors have raised important questions like which will be the next countries to drop out of the European Union? Some are even questioning whether the EU will completely dismantle over the next decade...
This geopolitical uncertainty, along with skyrocketing debt-to-GDP ratios, makes gold a smart safe haven for investors.
At the end of Q1 2015, the Eurozone's debt to GDP ballooned to 92.9%. That was the highest amount of debt in the Eurozone ever. And you can expect the Eurozone's debt to grow with the absence of the UK. That's because the UK was a huge contributor to previous European Central Bank bailouts. Brexit will put more economic pressure on wealthier member states, like France and Germany, to fund bailout efforts.
Another development crippling the global economy is falling bond yields. The 30-year and 10-year U.S. Treasury yields have dropped to 2.14% and 1.43% in 2016 through July 11, respectively. These are close to record lows.
And the Eurozone isn't doing much better. Its bond yields are slipping into low or negative territory thanks to the ECB's negative-interest-rate policy. For example, France's 10-year bond yield is at -0.13%, while Germany's is at -0.18%.
Low bond yields cause investors to seek out commodities like gold as alternative long-term investments.
Gold Prices Catalyst No. 2: More Interest Rate Cuts
Rate cuts generally lower the value of a currency. That makes gold look more enticing as a store of value.
Already, the ECB has cut interest rates to -0.4%, which is a record low. And in April, ECB President Mario Draghi left the door open for even deeper rate cuts if necessary.
And there's talk of new stimulus and rate cut efforts from the UK since Brexit. On June 30, the head of the Bank of England, Mark Carney, said that new monetary easing efforts and rate cuts could weaken economic impediments post-Brexit.
Japan was also in the news recently after its finance minister, Taro Aso, said he'd consider yet another fiscal stimulus package, which could include a rate cut. Aso said he'd make a final decision about the details of the package later in July.
Over in the United States, the chance of a rate cut was just raised from 0% to 10%, according to Krauth. That puts the probability of a rate cut nearly higher than a rate hike this year. Krauth also said a lot of traders are actually predicting an even higher chance of a rate cut - at 20% - this year or in early 2017. This wasn't even on the radar just a few week ago.
With the ECB and the United States unlikely to raise rates significantly in the near future, expect low and sub-zero rates across the globe. That will help fuel gold's spike to $5,000 per ounce.
But our third catalyst for gold prices is the most important and most time sensitive. It shows that the window for buying gold at bargain prices will quickly shut...
Gold Prices Catalyst No. 3: Gold Is Trading at a Discount
Gold is trading at a generous discount right now, based upon one of Krauth's most reliable and go-to technical indicators: the Dow/gold ratio.
This ratio can be found by dividing the Dow index by the price of gold. And it tells us how many ounces of gold are necessary to buy the Dow.
The indicator last peaked back in August 1999, when it reached 42. Based upon this reading, gold is trading at a big discount given its current ratio of 13.3, Krauth said.
In the next few years, however, gold will be trading at a much higher premium, Krauth said.
The demand for gold is already rising, especially in Asian countries. For example, India imported 1,000 metric tons of gold last year, up from 900 in 2014, according to Krauth.
Gold demand in the United States is also rising. Sales of the American Buffalo one-ounce gold coin touched 112,500 over the past six months, Krauth said. That's up 16,000 from the same period last year.
So the discount won't last as gold buying accelerates...
Up Next
The marijuana industry has been neglected by investors for years.
But that's about to change. In fact, it has already grown into a $7.1 billion industry. And that's just the start.
Click here to read our free marijuana penny stocks report...
Follow us on Twitter @moneymorning and like us on Facebook.