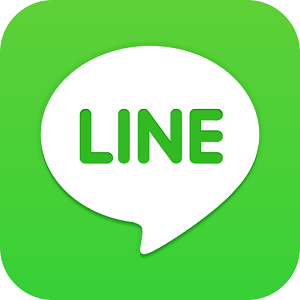 The Line IPO is the most highly anticipated tech debut of the year. After raising $1.1 billion on Monday, July 11, it's already considered the biggest tech IPO of 2016.
With such high demand for LN stock, retail investors are dying to get a piece of the company once it starts trading in the United States today (Thursday, July 14).
But IPO investing is extremely risky for investors like you and me. By the time we're able to buy into a new stock, Wall Street insiders have already inflated the price. This means we're forced to buy in at a high price that will eventually drop once the IPO hype fades.
This Is the Best "Retirement Stock" of 2016… And the good news is, it's trading for "pennies." But it won't be for long… its revenue is set to surge 4,709%. Learn the details of this $5 stock today while it's still "on sale." Read more…
That's why we're going to show you one of the best IPO exchange-traded funds (ETFs) to buy today. This fund not only lets you profit from LN stock's high demand but also lets you make money from the strength in the broader IPO market.
In other words, the fund we're recommending is much less risky than investing in the Line IPO itself.
First, here's a breakdown of why the Line IPO has been a massive success so far…
Everything You Need to Know About the Line IPO
On Monday, Line Corp. (NYSE: LN) priced its shares at $32.84 each. The initial public offering raised $1.1 billion by selling 35 million shares at that offer price. The deal size makes it the biggest tech IPO of the year and smashes former titleholder Twilio Inc.'s (NYSE: TWLO) $150 million debut. According to Renaissance Capital, a manager of IPO-focused ETFs, Line is valued at nearly $7 billion.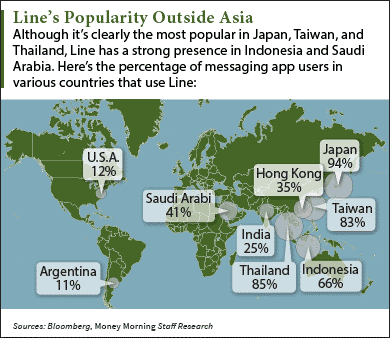 Line is a Tokyo-based tech company that develops mobile apps and provides other Internet services. The firm is widely known for its eponymous smartphone messaging app, which is the biggest messaging platform in Southeast Asia. There were roughly 20.4 billion messages exchanged through Line every day in March.
According to the Line IPO filing, the app has 218 million monthly active users across Taiwan, Thailand, Japan, and Indonesia. But its regional dominance is still dwarfed by globally known competitors like WhatsApp and Facebook Messenger. According to Statista, WhatsApp and Messenger boast a combined 1.9 billion users as of February.
Although Line has seen strong revenue growth in recent years, its profit has been trending in the opposite direction…
By selling in-app stickers and downloadable games, the company raked in 120.4 billion yen ($1.1 billion) last year. That's a 39% increase from 2014 and 204% increase from 2013. But Line swung from a profit of 2 billion yen ($19 million) in 2014 to a loss of 8 billion yen ($71 million) last year.
Despite no profitability, the company will likely see a massive surge in share price after it hits the market today. That means any early investor who bought shares at the Line IPO price on Monday will see instant gains once the stock starts trading.
But Money Morning Director of Tech & Venture Capital Michael A. Robinson says newly issued stocks always experience volatility during their first few months of trading. That means we could see big losses if we buy in at today's inflated price.
Robinson – a leading tech analyst with decades of experience in Silicon Valley – says investors should buy one fund to profit from new IPOs like Line.
One reason this fund is a great investment is its tech holdings, which include one stock set to soar 114% to $250 a share.
Another reason is the fund's exposure to several high-growth industries, including biotech and retail.
Here's how you can make money from initial public offerings this year…
The Best Way to Profit from the Line IPO Without Buying LN Stock
The best way to profit from the IPO market is by investing in the First Trust IPOX-100 Index Fund (NYSE Arca: FPX).
FPX tracks the IPO market by following the biggest initial public offerings of mid-cap companies in the United States. It measures the average performance of these newly issued stocks and updates its list of constituents every quarter.
The ETF offers a large assortment of stocks from different sectors. With roughly 100 stocks in its portfolio, FPX exposes investors to the finance, auto, retail, and energy industries, among many others.
But Robinson especially likes the fund because of its exposure to the burgeoning tech sector. About 52% of the fund's holdings related to the tech or life sciences sectors. These are good holdings to own considering the tech-centric Nasdaq is up 10.7% over the last six months.
"Tech investors everywhere should consider holding this fund for a long time," Robinson told Money Morning readers on July 11. "By investing in FPX, you'll make money from the upside and excitement that IPOs provide without the big risks and volatility that come with trying to 'pick' new issues to buy."
The biggest reason for the fund's 14.3% surge over the last six months is the performance of its top holdings, most notably Facebook Inc. (Nasdaq: FB).
The social media titan has been FPX's top holding since 2014, accounting for roughly 10% of the fund's value. FB stock has rewarded investors with 11.7% returns just this year alone and continues to be one of the best long-term investments in the tech sector. In fact, Money Morning sees FB stock climbing to $250 by 2020.
Other notable holdings include AbbVie Inc. (NYSE: ABBV) and PayPal Holdings Inc. (Nasdaq: PYPL), which are up 9.2% and 9.5% in 2016, respectively.
Since FPX adds new stocks after seven days and holds more than 50 tech stocks, the fund will likely add Line stock.
The Bottom Line: The Line IPO is the biggest tech offering of the year, which has stoked hype among retail investors looking to get in on the action as LN stock starts trading today. But IPOs are risky for retail investors due to Wall Street manipulation and volatility characteristic of newly issued stocks. Instead of buying shares of Line stock, we recommend investing in the First Trust IPOX-100 Index Fund. The ETF lets you play new and exciting tech stocks like Line without exposing your portfolio to volatility.
Alex McGuire covers IPOs for Money Morning. Follow him on Twitter for updates on the Line IPO and the year's biggest debuts.
Like us on Facebook: Money Morning
Next Up: The 5 Biggest IPOs to Watch For in 2016