Line Corp. (NYSE ADR: LN) stock started trading today (Thursday, July 14) and shares are soaring. As of 12:45 p.m., the Line stock price was trading at $41.72 a share.
On Monday, the Line IPO priced 35 million shares at $32.84 each, raising $1.1 billion in proceeds. That means any early investor who owned Line stock has seen a return of 27% in just over three hours of trading. That 27% gain is one of the biggest first-day "pops" of 2016.
But shares of LN stock could fall lower over the long term if the company doesn't improve one crucial metric. This number – which is essential to tech companies like Line – could push early investors to immediately sell their shares once the Line IPO lock-up expires during the week of Jan. 9, 2017.
First, here's everything you need to know about Line stock's debut today…
Why Investors Are Pouring Money into LN Stock Today
The Line IPO is the biggest tech IPO of 2016 so far. With a deal size of $1.1 billion, the offering surpassed the $150 million deal size of former titleholder Twilio Inc. (NYSE: TWLO). At its current share price of $41.72, Line commands a valuation of at least $8 billion.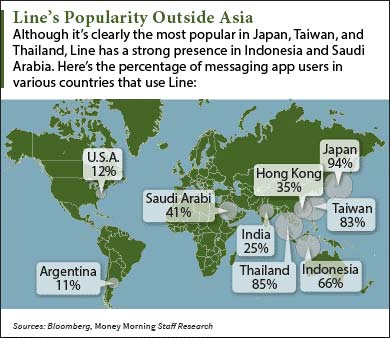 Line is a Japanese tech firm that develops smartphone apps. It's widely known for its messaging app of the same name, which is the most popular messaging platform for smartphones in Southeast Asia. The Line IPO filing stated about 20.4 billion messages were exchanged using Line every single day back in March.
According to the filing, Line boasts 218 million monthly active users (MAUs) across four countries – Taiwan, Indonesia, Japan, and Thailand. But the app's dominance in Southeast Asia pales in comparison to global competitors like Facebook Inc.'s (Nasdaq: FB) Messenger and WhatsApp. Statista reported that WhatsApp and Facebook Messenger had a combined user count of 1.9 billion during the first quarter.
While Line's revenue has steadily risen in recent years, the company's profit sharply declined last year…
By selling in-app games and stickers to users, Line raked in revenue of $1.1 billion in 2015. That's up 39% over 2014 revenue and 204% over 2013. But the company posted a loss of $71 million last year – down from a profit of $19 million the year earlier.
And Line's losses stem from one problem that the firm needs to figure out before its losses grow even worse.
As this chart shows, there's one metric that demonstrates how Line may have already peaked…
This Chart Shows Why LN Stock Could Be in Trouble
The most troubling metric for Line stock right now is user growth, which has seen a huge decline over the last two years…
As you can see, global user growth started to decline during the first quarter of 2014. Since then, user growth in Taiwan has fallen from roughly 90% to 25%. The decline is less pronounced in Line's home country Japan, where more than 60 million Line users are concentrated. Still, Japan's user growth is down from roughly 40% in Q1 2014 to 10% in Q1 2016.
But the most dramatic drop comes from the rest of the world. The company's figures show user growth outside of Taiwan and Japan fell from roughly 225% to 25% in just 2014 alone. As of the first quarter of 2016, it's in the negative. That means 25% of users are ditching the Line messaging app altogether.
If Line hopes to become profitable again, it will either have to revive its user growth or rake in more sales from the users it already has.
Next Up: These 5 Companies Could Change the IPO Market Forever
Alex McGuire covers the IPO market for Money Morning. Follow him on Twitter for the biggest updates on LN stock.