The gold price per ounce is falling sharply today (Thursday) as global stock markets continue to rally. Both the Dow and S&P 500 have hit record highs this week, causing the gold price per ounce to fall $18.30, or 1.36%, to $1,324.00 today.
While the price of gold is down this week, we are maintaining our extremely bullish long-term prediction for the price of gold. In fact, we see triple-digit gains for the price of gold before 2020.
Before we get to that, here's a look at this week's price drop for gold…
Why the Price of Gold per Ounce Is Down Now
Also weighing on gold prices today was the Bank of England's (BOE) decision to leave interest rates unchanged.
Today's drop has the gold price per ounce sitting at a new weekly low. Gold prices did rebound slightly in morning trading, however, down just $12.40, or 0.92%, at $1,330.90 an ounce before noon.
The gold price per ounce has been under pressure all week as investors pile back into equities and out of risk-off assets like gold.
The broad-based S&P 500 Index closed at a record Monday and continued to climb throughout the week. The Dow logged an all-time closing high on Tuesday. The Nasdaq entered positive territory on Tuesday after spending much of the year in the red.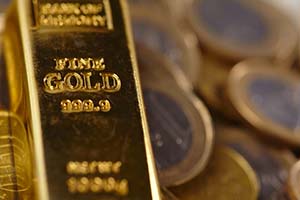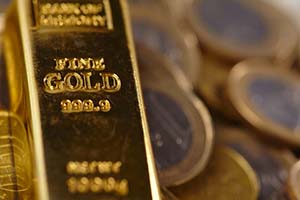 The three key benchmarks were all solidly higher today. Shortly before noon, the Dow was up 150 points, or 0.82%. The S&P 500 was higher by 15.49 points, or 0.60%. The Nasdaq was up 28 points, or 0.55%.
An earnings beat from JPMorgan Chase & Co. (NYSE: JPM) was one of the reasons the market opened up today. JPMorgan reported earnings per share of $1.55, handily better than the $1.43 expected. Revenue came in at $25.2 billion, comfortably better than consensus estimates of $24.16 billion. The Dow member was up 2.28% at $64.59 by midday.
Another headwind for gold prices Thursday was the BOE's announcement it left its benchmark interest rate steady at 0.5%. A 0.25% cut was expected.
Markets initially slipped on the news and then reversed when it became clear a rate cut is highly likely next month.
BOE officials said they expect to launch fresh stimulus on multiple fronts in August as the effects of the UK's decision to leave the European Union become clearer. The BOE noted the UK economy is slowing in the wake of Brexit. But the BOE decided to wait until August to move on rates so it has more data and better insight on the state of the economy. A rate cut next month will mark the first time since 2009 the BOE has cut rates.
The gold price per ounce experienced some added selling pressure after the BOE news.
While this has been a down week for gold prices, there are still major catalysts in the market that will continue driving the yellow metal. And one Money Morning expert just unveiled a new gold price prediction that is incredibly bullish.
You won't want to miss this triple-digit profit prediction…
Gold Price per Ounce Has Triple-Digit Profit Potential
Worries about volatility and the health of the global economy have driven gold prices 26% year to date.
And that's just the start…
Money Morning Resource Specialist Peter Krauth predicts the price of gold will surge 260% to $5,000 per ounce by 2020.
Some of the biggest reasons to be bullish on the price of gold include:
Roughly $13 trillion in negative-yielding debt, according to The Wall Street Journal.
The repercussions from Brexit will take years to unfold, keeping investors and monetary policymakers on edge.
Bonds no longer provide safe and steady returns.
Interest rates in the United States are expected to stay lower for longer. Minneapolis Fed President Neel Kashkari said Tuesday the U.S. Federal Reserve should not be in any hurry to raise U.S. rates. Traders see zero chance of a rate hike this month and are wagering the Fed will wait to raise rates until mid-2017. In fact, more traders are wagering on an interest rate cut before we get a rate hike.
China's central bank is expected to implement stimulus measures in response to weak demand data and its slowing economy. The Bank of Japan is likely to cut already negative rates again.
Uncertainty over the U.S. political landscape is a growing global concern. Many believe there is no good outcome. A Hillary Clinton win means at least four more years of Obama policies. A Donald Trump win means far-reaching uncertainty on trade, immigration, and U.S. debt.
Continue following Money Morning for frequent gold price per ounce updates and gold price predictions.
Up Next
The marijuana industry has been neglected by investors for years.
But that's about to change. In fact, it has already grown into a $7.1 billion industry. And that's just the start.
Click here to read our free marijuana penny stocks report…
Follow us on Twitter @moneymorning and like us on Facebook.
Related Articles: