There are four new IPOs this week set to generate a combined $876 million in proceeds.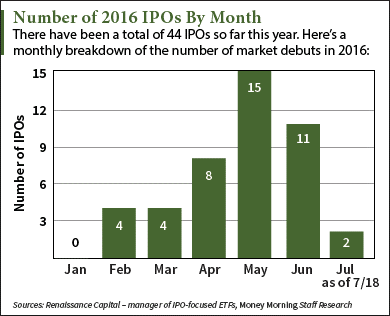 These four upcoming IPOs come on the heels of a banner week for the U.S. stock market. [Editor's Note: The biggest IPO in history is set to launch next year. Check out our guide to this $3 trillion company.] On Friday, July 15, the Dow Jones Industrial Average closed at an all-time high of 18,513.64. Both the S&P 500 and Dow Jones posted weekly gains of 1.5% and 2%, respectively.
With U.S. indexes at record highs, the 2016 IPO market will keep rebounding from the seven-year lows seen in the first quarter. And that rebound continues this week with the fourth-largest IPO of the year…
Patheon NV (NYSE: PTHN) is one of the biggest contract drug manufacturers in the world. The Amsterdam-based firm develops and creates prescription and over-the-counter treatments for more than 400 biotech companies. These pharmaceutical clients include globally recognized firms like Merck & Co. Inc. (NYSE: MRK) and Novartis AG (NYSE ADR: NVS).
The healthcare sector has been the most active IPO sector this year. Renaissance Capital, which is a manager of IPO-focused ETFs, reports there have been 23 healthcare IPOs in 2016. That makes up roughly 52% of the 44 total IPOs so far this year. The Patheon IPO marks the 24th.
From April 2015 to April 2016, Patheon raked in $1.8 billion in sales. The company will raise $625 million by selling 30.5 million shares for $19 to $22 each, which makes it the fourth-biggest IPO of the year. Patheon is valued at $2.9 billion and will hit the market on Thursday, July 21.
Here are the three other firms on this week's IPO calendar, including a leading provider of radio-frequency ID tags commonly used to prevent shoplifting…
Three More New IPOs This Week (July 18 – July 22)
TPI Composites Inc. (Nasdaq: TPIC) is the largest manufacturer and distributor of wind blades in the United States. The company primarily supplies blades to 10 wind turbine facilities in the U.S. and China. TPI Composites' revenue surged 83% to $586 million last year as the clean-energy industry continues to grow in large energy-consuming countries like China. From March 2015 to March 2016, total sales came in at $666 million.
The TPI Composites IPO is set to generate $116 million by offering 7.3 million shares at a $15 to $17 price range. The company commands a $548 million valuation and will start trading on Thursday, July 21.
Audentes Therapeutics Inc. (Nasdaq: BOLD) is a biotech company focused on developing gene therapies. The company has four drugs entering phase 1 trials that target various rare and serious diseases. These include Crigler-Najjar syndrome (CNS) – a disorder that can cause brain damage in infants – and Pompe disease – which destroys muscles and nerve cells throughout the body.
Editor's Note: The Twilio IPO was one of the biggest tech deals of 2016. Shares have soared a whopping 170% from their offer price. But hot IPOs like this can lead to big losses for regular investors like you and me. That's why we developed this safe three-step strategy for investing in Twilio stock.
Audentes follows other gene therapy developer AveXis Inc. (Nasdaq: AVXS), which is up 80% from its $20 IPO price in February and is the best-performing biotech IPO of 2016. The Audentes IPO is set for a $75 million deal by selling 5 million shares at a price range of $14 to $16. The company is valued at $341 million and will debut on Thursday, July 21.
Impinj Inc. (Nasdaq: PI) is the dominant U.S. provider of radio-frequency identification (RFID) location tags. These devices are commonly used in retail stores and can track clothing and other products to prevent shoplifting. Last year, market research firm IDTechEx reported the total RFID market is worth roughly $10.1 billion. That's up from $9.5 billion in 2014 and $8.8 billion in 2013.
The company has been profitable since 2013 and saw Q1 2016 sales grow by 34% to $22 million. The Impinj IPO will raise $60 million by offering 4.6 million shares at a $12 to $14 price range. Impinj is valued at $247 million and will start trading on Thursday, July 21.
Next Up: Invest in the Line IPO With This ETF – Not LN Stock
Like Money Morning on Facebook.