Netflix stock is already down 13.98% year to date, and the company is preparing to release Q2 earnings after the bell today (Monday).
Netflix Inc. (Nasdaq: NFLX) is notoriously volatile after earnings. That's why we're bringing Money Morning readers our specific investment advice for how to play the Netflix stock price after earnings.
Give Your Portfolio a 326% Performance Boost: This guide has everything you need to build your wealth like never before. It includes a strategy to outperform the S&P 500 by triple digits. You'll also get five stocks for solid gains in any market conditions. Click here to start boosting your profit potential today…
Before we get into our Netflix stock recommendation, here's what to look for in the earnings report…
The streaming-media giant is expected to post earnings per share (EPS) of $0.03, according to FactSet. That would mark a 50% decline from the same quarter a year ago, as well as a 50% decline compared with Q1 2016.
But don't be surprised if Netflix beats earnings. The company has beat FactSet's EPS consensuses in eight of the last 10 quarters.
And while EPS is always in focus, the biggest thing to watch from the Netflix earnings report is subscriber growth…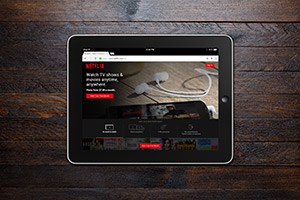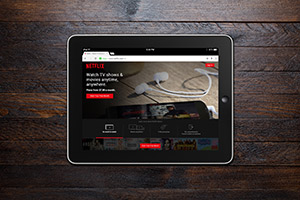 Netflix has spent heavily to boost its subscriber base with new and original content. The biggest emphasis this quarter will be on international subscriber growth.
Any disappointing numbers regarding international subscribers will surely send the Netflix stock price lower in the short term.
Earlier this year at CES in Las Vegas, Netflix CEO Reed Hastings announced a global expansion with the launch of service in 130 new countries. Netflix is now available in nearly all countries except China and a smattering of smaller countries under sanctions or otherwise inaccessible to Netflix.
Netflix's aim is to become a "global Internet TV Network."
Still, Netflix has tempered expectations about its overseas prospects and acknowledges its services are not for everyone. The company is targeting more affluent customers with access to credit cards.
Yet the pressure is on Netflix to show its substantial international spending is paying off as domestic growth (its cash cow) slows. U.S. subscriber growth is believed to have peaked. That's why international expansion is so important.
In April, Netflix forecast it would only add 0.5 million paid subscribers in the United States in Q2. That's down from 0.9 million during the same quarter a year ago.
Netflix's growth tends to slow in the second quarter. And that fact that Netflix has hiked prices for long-term subscribers should only exacerbate that problem. Competition has also increased, particularly from Amazon Prime.
Netflix projected in April that international growth in Q2 would be 2 million new subscribers. That would be slightly below Q2 2015.
Some analysts question Netflix's ambitious global expansion.
"Launching in more than 100 markets simultaneously introduces execution risk," Raymond James analyst Aaron Kessler wrote in an investor note last week. "It's possible that the company may have spread itself too thin, unable to identify and invest in relevant local content for these new markets," he cautioned.
Five "Must-Watch" Companies in 2016… Some of the biggest companies in the world are set to go public 2016. Here are the five we're keeping an eye on right now…
RBC Capital Markets analyst Mark S. Mahaney told investors that "international markets could fail to meaningfully adopt Netflix, hindering the company's ability to take share abroad."
Netflix shares have not fully recovered from their 13% slump following Q1 results in April. A notable increase in subscriber growth in Q2 could send shares higher.
Beat or miss, a volatile reaction to Netflix earnings is expected. Here's how we recommend playing Netflix stock in 2016…
Should I Buy Netflix Stock? Here's Your Full Answer
The Netflix stock price is notoriously volatile after earnings reports. Shares have moved 12.4% on average over the last eight quarters, according to Schaeffer's Research.
Traders are positioning for a similar move when NFLX reports Q2 results after today's close. Options traders expect a 12.4% swing Tuesday, Schaeffer's notes.
But traders are largely bullish on the Netflix stock price, with call buying outpacing puts.
The majority of analysts who cover Netflix also remain upbeat on the Netflix stock price. Out of 27 brokerage firms that cover NFLX, 16 maintain a "Buy" or better rating.
"Right now, they [Netflix] are going through an Amazon.com growth period," Money Morning Director of Tech & Venture Capital Michael A. Robinson said back in October 2015. "It's the Bezos model – build, build, build – then the profits will follow."
Netflix remains the dominant leader in the streaming-video space. An earnings miss and new rivals are not likely to upset Netflix's commanding lead.
Despite this year's uninspiring performance, the Netflix stock price is up 180% over the last three years.
We remain bullish on Netflix long term. Any drop in the Netflix stock price following earnings should be considered a buying opportunity for investors with a long-term outlook.
Bank Profits on Gold Prices No Matter Where They Move: Precious metals are must-have investments for your portfolio right now. You see, they're the perfect "crisis insurance" from volatility. But most investors don't know how to trade gold or get their hands on it. Here's your essential guide to investing in gold and silver…
Follow us on Twitter @moneymorning and like us on Facebook.
Related Articles: