With a majority of voters saying they're unhappy with the two major-party candidates, America may be ripe to consider a third choice in 2016 — Libertarian Party candidate Gary Johnson.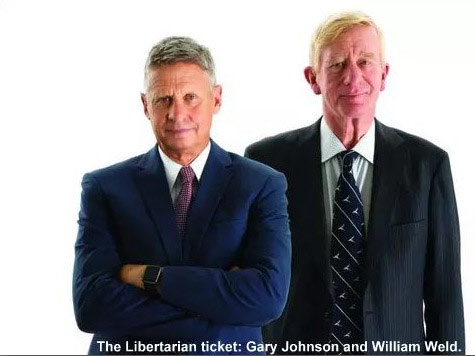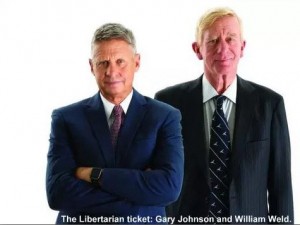 Unlike most third-party candidates, Johnson and running mate William Weld have real political credibility. As a Republican, Johnson served two terms as governor of New Mexico from 1995-2003. Weld, also a former Republican, served two terms as governor of Massachusetts from 1991-1997.
That's the same time spent in an elected office as Democratic presumptive nominee Hillary Clinton, who served eight years as a senator from New York (of course, Clinton also served four years as U.S. Secretary of State, an appointed position).
Meanwhile, GOP presumptive nominee and billionaire Donald Trump has never held a political post of any kind.
But it's the extraordinary degree of dissatisfaction with the two major candidates that's driving an increasing number of voters to consider an alternative like the Libertarian Party…
Why the Libertarian Party Has a Rare Opportunity
A New York Times/CBS poll, taken from July 8-12, found that voters had an equally unfavorable view of both Clinton and Trump – they tied at 54%. Two out of three voters (67%) don't consider Hillary Clinton honest and trustworthy, while 62% don't think Donald Trump is honest and trustworthy.
How Negative Interest Rates Will Finally Kill America's Free Market: The Fed never lets real data get in the way of a bad decision – which is why investors must prepare for negative rates now. Here's what you can do…
Among GOP voters, 36% are disappointed or upset with Donald Trump as their party's nominee; 31% of Democrats are disappointed with Hillary Clinton as their party's nominee.
Missouri voters are so unhappy with the two main choices that in a recent Public Policy Polling poll, 12% said they'd prefer a "giant meteor hitting the Earth" to voting for either Trump or Clinton.
The giant meteor option won't be on any ballots in November, but Gary Johnson will – for most, if not all voters. The Libertarian Party has secured ballot access in 36 states so far and has a good chance to make all 50.
But assuming you can vote for the Libertarian ticket, the next question is whether you should.
Why a Libertarian Vote Is Not a Wasted Vote
Of course, the cynics will argue that voting Libertarian is a "wasted" vote. That thinking assumes each voter needs to have a shot at casting the deciding vote for their vote to "matter." But most states are decided by large margins known in advance. By that logic, voting in states like California, New York, and Texas is a waste of time.
No, the essence of democracy is that every voter casts their ballot for who they think is best for the office. That could be Trump, Clinton, Gary Johnson, or even Green Party candidate Jill Stein.
Voters who don't want to vote for Trump or Clinton owe it to themselves to vote for someone else, and Gary Johnson happens to be the most obvious alternative.
The problem is, most folks don't know much about the Libertarian Party. So here's the Money Morning primer on the Libertarian platform…
A Guide to the Libertarian Party Platform
The Libertarian Party doesn't fit neatly into the left-right spectrum we've grown used to from the endless squabbles between the Republicans and Democrats.
The shorthand version of the Libertarian platform is "fiscally conservative and socially liberal," a political mash-up that's probably closer to where the average American voter falls.
The guiding principal of Libertarianism is personal freedom. In other words, the less government the better. Here's how that plays out with respect to the issues:
Climate Change: Libertarians want minimal government regulations, arguing that social pressure and free-market forces will drive businesses to make responsible decisions.
Taxation: Libertarians favor the repeal of the income tax and the abolishment of the Internal Revenue Service.
Government Debt: The Libertarian platform opposes government debt and calls for a balanced budget amendment.
Wall Street: The Libertarian Party favors free-market banking with little regulation. But the platform opposes government bailouts.
A Scary Lesson from 1896 on Big Money in Politics: The rapid increase of big money spending on political campaigns in recent years has raised concerns that the rich are "buying" elections. It's a valid concern because it's happened before. Here's how big money bought a president 120 years ago…
Healthcare: Libertarians prefer a free-market healthcare system that includes the ability to buy insurance across state lines.
Social Security: The Libertarian platform calls for an end to Social Security, saying "retirement planning is the responsibility of the individual." Social Security would be replaced by a private, voluntary system.
Foreign Policy: The Libertarian Party wants the United States to stop acting as the world's policeman. It condemns the use of force and recommends against "foreign entanglements."
Trade Policy: The Libertarians favor free trade.
Immigration: The Libertarian platform calls for free migration across borders, with exceptions for "foreign nationals who pose a credible threat to security, health, or property."
Gay Marriage: The Libertarian platform favors gay marriage, saying that sexual orientation or gender should not affect how the government treats an individual.
Drug Legalization: The Libertarians are against "crimes without victims" and so favor the legalization of marijuana.
Death Penalty: Opposed.
Gun Ownership: Libertarians support Second Amendment rights while opposing most gun control laws.
Abortion: Viewing abortion as a personal decision, Libertarians believe government should be "kept out of the matter."
Privacy Rights: The Libertarian Party strongly supports privacy as outlined in the Fourth Amendment and is committed to "ending government's practice of spying on everyone."
For voters who find themselves agreeing with much of the Libertarian platform, one more question remains: How can Gary Johnson possibly win?
While the Libertarian ticket almost certainly can't win the 270 electoral votes required, a quirk in the U.S. constitution opens a crack of a possibility.
Here's how Gary Johnson could end up the White House…
Follow me on Twitter @DavidGZeiler or like Money Morning on Facebook.
Related Articles:
Join the conversation. Click here to jump to comments…
About the Author
David Zeiler, Associate Editor for Money Morning at Money Map Press, has been a journalist for more than 35 years, including 18 spent at The Baltimore Sun. He has worked as a writer, editor, and page designer at different times in his career. He's interviewed a number of well-known personalities - ranging from punk rock icon Joey Ramone to Apple Inc. co-founder Steve Wozniak.
Over the course of his journalistic career, Dave has covered many diverse subjects. Since arriving at Money Morning in 2011, he has focused primarily on technology. He's an expert on both Apple and cryptocurrencies. He started writing about Apple for The Sun in the mid-1990s, and had an Apple blog on The Sun's web site from 2007-2009. Dave's been writing about Bitcoin since 2011 - long before most people had even heard of it. He even mined it for a short time.
Dave has a BA in English and Mass Communications from Loyola University Maryland.