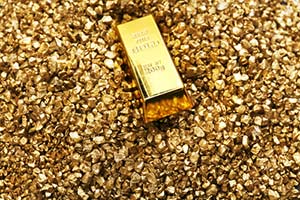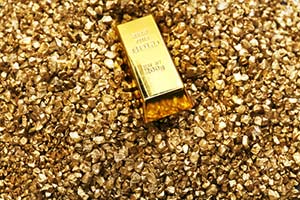 Gold has seen a tremendous rally this year, and Money Morning Executive Editor Bill Patalon sees prices moving even higher in 2016.
That's why we're going to show you the best gold stock to buy now to benefit from the continued rally in gold prices.
Before we reveal our gold stock pick and its double-digit profit potential, here's why the gold price has rocketed more than 25% this year and will continue higher…
Why Surging Gold Prices Make This Gold Stock a Winner
The main reason for the gold price rally is stock market volatility, which typically sends investors into safe-haven assets like gold.
Earlier this year, U.S. markets took a nosedive as Wall Street got spooked by the oil price crash. When WTI crude oil prices fell to a 13-year low of $26 in February, the Dow Jones Industrial Average dropped to its lowest level since 2013. This volatility drove investors away from stocks and into gold, which saw prices surge 10.6% in February.
Bank Profits on Our Gold Stock Recommendations No Matter Where Prices Move: Metals like gold and silver are must-have investments for your portfolio. That's because they serve as "crisis insurance" from volatility in the broader market. But most investors don't know how to trade gold or get their hands on it. Here's your essential guide to investing in gold and silver…
The markets were shaken up again last month after the Brexit vote. Once the UK voted to leave the EU on June 23, the Dow Jones and S&P 500 declined 3.4% and 3.6% in one day, respectively. This volatility and uncertainty regarding the long-term performance of U.S. markets have since sent gold prices up 5.1%.
Another reason for the surge in the price of gold has been the U.S. Federal Reserve.
The policymakers say they plan to keep interest rates lower for longer in the wake of the Brexit vote. Since low interest rates depress the U.S. dollar, dollar-priced commodities like gold receive a boost.
Many traders are now betting the U.S. central bank will cut rates before it hikes them. That "lower-for-longer" stance will continue to be a long-term boon for gold prices.
"Gold is already the 'Winner and World Champion' of the post-Brexit market, thanks to a truly global flight to safety," said Patalon, a senior research analyst with more than 22 years of experience.
The yellow metal started 2016 with strong gains and hasn't let up yet. The gains in the gold price have bested stocks, treasuries, bonds, currencies, and major U.S. indexes.
And the best part is many analysts believe the gold rally is just getting started…
According to UBS analyst Joni Teves, gold prices could easily run up to $1,400 an ounce due to all of the macroeconomic uncertainty plaguing markets. That would be a 5% gain from today's gold price of $1,329.
Last week, Jeffrey Gundlach, chief executive of DoubleLine Capital who's dubbed the "new bond king," supported buying gold. He said the metal is the best investment to own as EU instability and central bank ineffectiveness affect global markets.
Money Morning has been bullish on gold since the start of the year and we maintain that stance.
We've also recommended one type of gold stock – mining companies. The gains from companies in this sector have far outshined the gains in the gold price.
Among the 28 gold mining stocks with a market valuation of at least $300 million, each is outperforming the S&P 500. In fact, 20 of the 28 have at least doubled, with 10 of the 28 having at least tripled in value.
"I don't say this often, and I don't say it lightly, but you could have literally thrown a dart at gold miners in 2016 and picked a winner," Patalon said.
Patalon shared his favorite gold miners back in February. They have logged gains of 25% so far, with more upside expected. Before the "serious gains start," Patalon is sharing his best gold mining stock to buy now.
That's because this gold stock is projected to gain 38% in the next year…
This Gold Stock Offers a 38% Upside Potential
Patalon's pick is Goldcorp Inc. (NYSE: GG).
Goldcorp is a Canadian company engaged in the acquisition, exploration, development, and operation of precious metal properties. It has operations across the United States, Canada, Mexico, and Central and South America.
"Thanks to its adept, industry-beating use of technology and new mining techniques, it's the best way to get paid whenever gold surges forward," Patalon explained.
This Penny Stock Could Double – and Save a Dying Industry… It's not easy to find a truly compelling penny stock, which is why this one is so remarkable. Not only is this stock capable of a 100% gain, but the company is rolling out technology that could rescue the U.S. coal industry. This success story is just getting started, and now's the perfect time to buy…
In 2015, high operating costs caused many investors to lose interest in Goldcorp. But the company has been aggressively cutting costs since then. Management aims to cut $500 million in mine-site costs and corporate expenses over the next two years. It's also ramping up output at two new production sites that began commercial production last year.
Goldcorp will produce 2.8 million to 3.1 million ounces of gold this year and says it can profitably sustain those operations even if gold were down to $850 per ounce. It also boasts a clean balance sheet. The company carries $2.7 billion in debt, which is far less than its $3.2 billion in available liquidity.
"With a market cap of $15.75 billion, this firm has a high-water price target of $26.50, which would be 38% up from its current price of $19.26 and 79% up since mid-February," Patalon said.
But Patalon believe the gold run is still in its early stages. And that means Goldcorp has a bright (and extremely lucrative) future on the horizon. It remains our favorite gold stock in 2016.
Up Next: Here's Three More of the Best Gold Stocks to Buy in 2016
Follow us on Twitter @moneymorning.