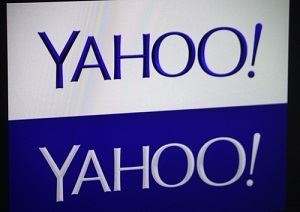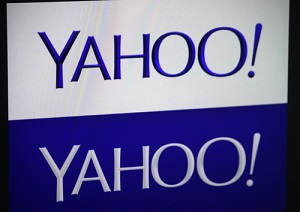 The Yahoo stock price today (Monday) is up slightly in intraday trading ahead of the company's Q2 2016 earnings report after the closing bell.
That's despite the fact that Yahoo! Inc. (Nasdaq: YHOO) suggested weak guidance for Q2 in its last earnings report on April 19.
Trending: Will We See an Interest Rate Hike in 2016?
But there's more important information than just EPS and revenue to focus on in this earnings report that will ultimately determine the direction of the YHOO stock price in 2016.
We'll discuss the biggest catalyst for the Yahoo stock price for the rest of 2016 today. But first, we wanted to make sure our readers had revenue projections handy before the earnings call.
According to FactSet estimates, Yahoo will most likely report an earnings drop from Q2 2015. FactSet projects Yahoo will report earnings per share (EPS) of $0.10 compared to EPS of $0.16 reported the same time a year ago. That would be a decline of 48%.
Revenue is also expected to fall…
According to Yahoo! Finance, Yahoo is projected to report $1.08 billion in revenue. From Yahoo's revenue of $1.24 billion in Q2 2015, that would be a 13.4% decline.
But Yahoo had earlier issued even lower Q2 guidance of $810 million to $850 million.
Since reporting Q1 earnings, the Yahoo stock price has dropped 3.2%.
YHOO stock has traded between $35 and $37 per share in the last three months, and it has been unable to surpass its 52-week high price of $39.98 set on July 20, 2015.
While those EPS and revenue numbers may grab headlines after earnings, here's the biggest catalyst that will move the YHOO stock price in 2016…
Here's What Yahoo Stock Owners Should Expect from Q2 2016 Earnings Report
The biggest catalyst for Yahoo stock in 2016 will be its imminent sale. You see, Yahoo is expected to announce a sale by the end of the month. The company already has a handful of bidders, including:
AT&T Inc. (Nasdaq: T)
Verizon Communications Inc. (Nasdaq: VZ)
A joint bid between Warren Buffett's Berkshire Hathaway Inc. (NYSE: A, BRK. B) and Cleveland Cavaliers' owner Dan Gilbert
Equity firm TPG
It's still unclear if Yahoo will sell itself in its entirety, certain patents, or just its Internet business. But analysts project that bids will come in between $5 billion to $7 billion.
The winner of the auction will also determine the future of CEO Marissa Mayer. According to Bloomberg, Verizon already has a succession plan if it wins the bidding war, replacing Mayer with a combination of Verizon Executive Vice President Marni Walden and AOL CEO Tim Armstrong.
Warren Buffett of Berkshire also feels a change is needed. While he's not a fan of Mayer's potential $55 million severance package if she leaves the company, Buffett said in a CNBC interview at the beginning of May that Yahoo's acquisition strategy to grow the business has not worked.
"Something has to change there, obviously," Buffett said in the interview.
Back in April, Barron's believed that Yahoo's stake in Alibaba was worth roughly $31 a share, its Yahoo! Japan stake was worth $9 a share, net cash was $6, and the core Internet business was worth $5 a share.
But because of the difficulty of valuing shares in Alibaba and Yahoo! Japan because of tax implications, Barron's believes a conservative estimate for Yahoo's net asset value is $43 per share.
From today's opening price, that would be a potential profit of 43%. But that's not a guarantee, as Yahoo is only worth what someone is willing to pay for it.
The Bottom Line: The YHOO stock price is slightly up ahead of Yahoo's Q2 2016 earnings report. Yahoo has warned shareholders that revenue is declining through weak forward guidance. The most important thing for YHOO shareholders to watch for during the earnings call is news on the bidding process for Yahoo's Internet business, patents, or business as a whole.
Next Up: How to Beat Wall Street at Its Own Game
Jack Delaney covers technology stocks for Money Morning. Follow him on Twitter for updates on all the news that's moving the markets.