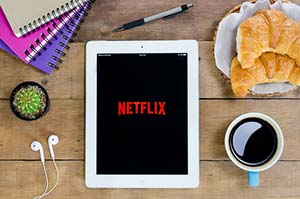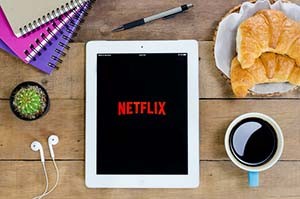 The Netflix stock price tanked 13% to $85.52 today (Tuesday) after a disappointing Q2 earnings report last night.
But is today's drop in the Netflix Inc. (Nasdaq: NFLX) stock price a selling point or a buying opportunity?
We'll answer that question in just a bit. But first, here's everything investors need to know about the Netflix earnings report.
Editor's Note: This Penny Stock Could Double… It can be difficult to find a truly compelling penny stock. That's why this one is so remarkable. Not only is this stock capable of a 100% gain, but the company is rolling out technology that could rescue a dying U.S. industry. This success story is has only just begun, and now's the perfect time to buy…
As we reported Monday, Netflix stock is notoriously volatile after earnings reports. Over the previous eight quarters, the average swing in NFLX shares was 12.4%. With today's action, we can make that nine quarters.
Now, let's dive into the earnings report and its impact on the Netflix stock price…
Why Earnings Caused a Netflix Stock Price Drop Today
Netflix posted earnings per share (EPS) of $0.09 on revenue of $2.11 billion. That easily topped consensus estimates from Thomson Reuters for EPS of $0.02 on $2.11 billion in revenue.
But the strong earnings beat was overshadowed by subscriber numbers that fell short of the company's previous guidance.
Netflix added a cumulative 1.7 million subscribers in Q2, below the company's projections of 2.5 million additions. U.S. subscriber count grew by 160,000, while 1.52 million subscribers were added internationally. That is having the biggest impact on the Netflix stock price today.
One of the biggest issues for Netflix was its recent price hike from $7.99 per month to $9.99.
People don't like price increases, Netflix noted. But the company said it was a "necessary evil" it had to get through.
For Q3, Netflix expects to add 2 million subscribers internationally, which includes an impact from the Summer Olympics.
Netflix also said despite new rivals, it is confident that competition was not a factor for the subscriber count shortfall. If it was, saturation would be seeing a hit to gross ads instead of subscriber turnover, which the company says is not the case.
Trending Now: China just warned of "disaster" if it's challenged in the South China Sea  
Netflix also says that China's regulatory climate has grown more challenging. Walt Disney Co.'s (NYSE: DIS) streaming service, launched in conjunction with Alibaba Group Holding Ltd. (NYSE: BABA), was closed down. Apple Inc.'s (Nasdaq: AAPL) movie offering was shuttered as well. Netflix said it continues to explore options in the region. In the meantime, Netflix acknowledged it has plenty of work to do in newly opened markets.
Company officials say Netflix will reach its 60 million to 90 million U.S. membership tally goal. The company also said it expects to run around break­even on a net income basis in 2016. By 2017 and beyond it expects to generate a profit.
Following Q2 results, a number of analysts cut their Netflix stock price predictions. But not everyone is bearish on Netflix stock in 2016. In fact, today's pullback could be considered a great buying opportunity for long-term investors…
Is This Netflix Stock Price Drop a Buying Opportunity?
RBC Capital maintained its "Outperform" rating on Netflix but lowered its price target to $130 from $140 following NFLX's Q2 results.
That would represent a 53% increase from the Netflix stock price today.
The firm noted a number of positives were apparent in the quarter. Some bullish numbers were the rising U.S. contribution to margins and streaming gross margin expansion. RBC also said Netflix's Q3 guidance for accelerating U.S. revenue growth indicates Netflix has some pricing power.
There's no denying that Netflix stock has been crushed in 2016. The Netflix stock price is down 24.78% year to date.
It's a completely different story from 2015. Netflix beat all 500 stocks in the S&P 500 Index to end 2015 as the best-performing stock of the year with a blistering 134% gain.
Money Morning Director of Tech & Venture Capital Michael A. Robinson admits that Netflix has made some errors, but the company still has long-term potential. And today's sell-off looks like a buying opportunity for long-term investors.
"Reed Hastings needs to sharpen his econ pencil and dig deeper into the principle of elasticity to demand," Robinson said today. "I say that because he's blaming the slowdown in growth on higher prices. He should have known by some type of forecasting how much demand would drop for each percentage point increase in price."
"Netflix is the best in the business at online streaming but users have new options with Apple TV, Hulu, and even free YouTube entertainment. Having said that, I still expect shares to rebound and for the company to gain more global growth. Though that segment missed forecasts, overseas subscription is still showing solid growth in a challenging global environment."
Keeping following Money Morning for Netflix stock price updates.
Bank Profits on Gold Prices No Matter Where They Move: Precious metals are must-have investments for your portfolio right now. You see, they're the perfect "crisis insurance" from volatility. But most investors don't know how to trade gold or get their hands on it. Here's your essential guide to investing in gold and silver…
Follow us on Twitter @moneymorning and like us on Facebook.
Related Articles: