As you may recall from last week, I said that I wouldn't be surprised if prices move higher this week. I also said to keep your eyes on three different events that had the potential to drive the markets higher or lower.
And so far, the news has been good…
We haven't gotten any bad earnings surprises from the big banks yet, jobless claims are holding at nearly a 43-year low, and last week's Bloomberg Consumer Confidence Index report revealed that consumer confidence in the United States is the highest it's been since October 2015.
This Penny Stock Could Double – and Save a Dying Industry… It's not easy to find a truly compelling penny stock, which is why this one is so remarkable. Not only is this stock capable of a 100% gain, but the company is rolling out technology that could rescue the U.S. coal industry. This success story is just getting started, and now's the perfect time to buy…
Now I already showed you how to "use a rectangle" to track the current price trend in the stock market.
But I also mentioned that there are additional price patterns you may find in the charts – three, in particular…
So today, I'm going to show you exactly what they are – and how they'll signal when it's time to make money…
Triangle, Zigzag, and Flat Continuation Patterns Will Show the Best Buy and Sell Prices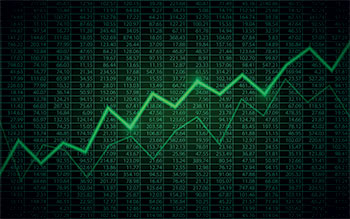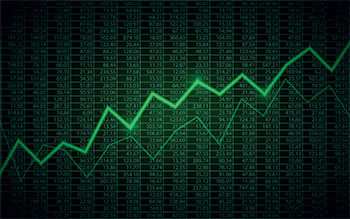 The last time we spoke, I urged you to be patient instead of chasing trades. Even though we've seen new record highs this week, these profit-making opportunities are kind of like buses. If you miss one, there's another one coming soon after.
I'm pretty sure the last thing you'd want to do is run after that bus you missed… and that applies to running after trades in the markets, too. When chasing after these higher prices, you run the risk of being the person who ends up buying the high of the run… only to see it retrace… or even worse, reverse substantially.
Instead, what you should look for on a breakout is for the stock to take breather. You should also look for the stock to possibly settle back down in price before continuing in the direction of the break.
And that's why I want to talk to you about continuation patterns further…
The patterns we're going to look at today are also, to a degree, consolidation patterns because the stock first breaks out or breaks down.
If the break fails, then it means that the stock fell back into its price range without continuing higher or lower. If the stock price can settle back down to the resistance line from where it broke out and start moving higher, then you're looking at old resistance becoming new support.
Now let's get into each of the three most common continuation patterns you may see in pricing. Being able to recognize them helps you stay calm and wait for the pattern to form before you spend – and lose money – jumping into a trade too early.
Price Pattern No. 1: Triangle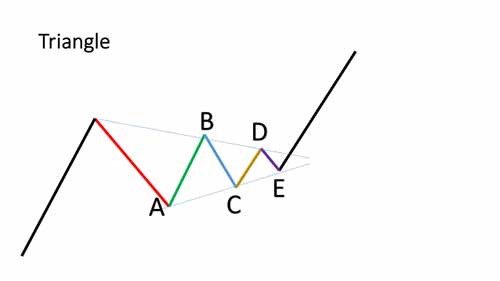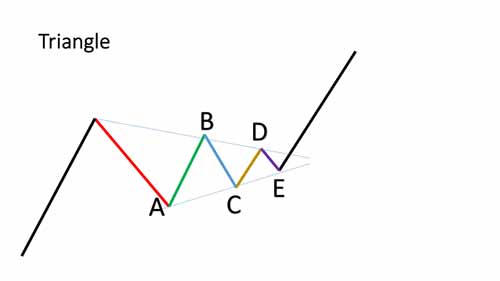 The triangle pattern is formed when the support and resistance lines converge in a way that you see the support ascending and the resistance descending.
You Might Also Like: How to Make a (Stress-Free) Killing with Options
Last week, we looked at old resistance becoming new support on Phillip Morris International Inc. (NYSE: PM), and we're going to use that stock again to look at a triangle formation. This formation is a triangle that signals higher-moving prices instead of falling or reversing prices.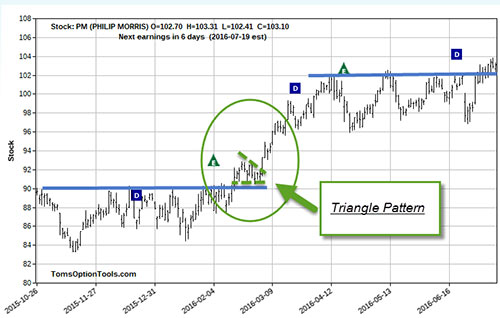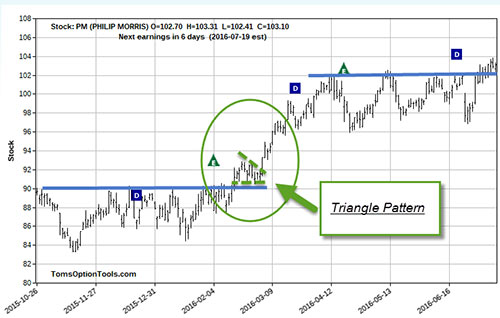 The triangle pattern can be symmetrical, ascending, or descending (where it has a horizontal support or resistance with the opposite side of it ascending or descending).
The pattern resolves itself by thrusting out of the triangle. Ideally, it will thrust out of the triangle in the direction of the breakout. So if the underlying broke out to the upside, it will thrust up out of the triangle to the upside.
Price Pattern No. 2: Zigzag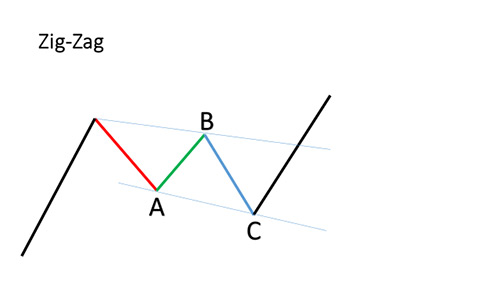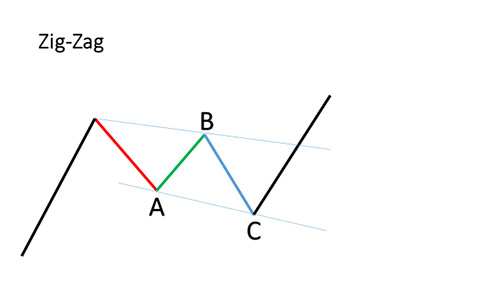 Used a lot in Elliott Wave theory, the zigzag pattern looks like a countertrend formation. It's a pattern deemed a trend-following or trend-retracing indicator that should resume its course once the stock breaks higher out of the pattern.
The image above shows how a zigzag consolidates a bit before continuing in the direction of the break, forming a lightning bolt, if you will. It's usually built of three legs in which the last leg is lower than the first leg in a breakout (the reverse happens on a breakdown or down-trending stock).
Price Pattern No. 3: Flat
This is different from a zigzag, where the three legs of the consolidation take place with a horizontal support and resistance rather than sloping.
With the flat, as you see below, this is where the stock breaks out (or breaks down) and then consolidates sideways before breaking out of the sideways range, or rectangle, to continue its trend.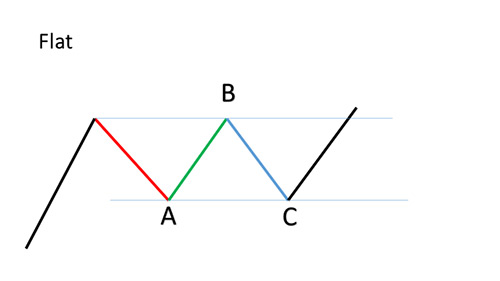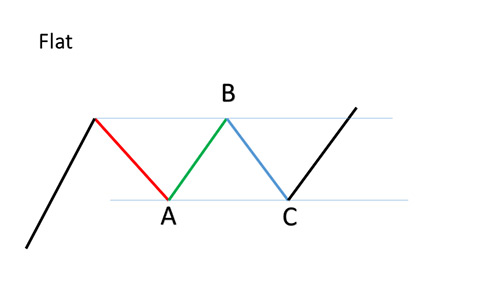 Now these are the three most common patterns you can use to get in and out of your trades at the best prices. There are also other patterns I encourage you to take a look at, such as pennants and wedges.
Regardless of which of these you use…
Now you're ready to identify them so that you can make the most money – while spending the least.
Up Next: This easy-to-read chart can give you – literally – the shape of things to come…
Follow Money Morning on Facebook and Twitter.
Join the conversation. Click here to jump to comments…
About the Author
Tom Gentile, options trading specialist for Money Map Press, is widely known as America's No. 1 Pattern Trader thanks to his nearly 30 years of experience spotting lucrative patterns in options trading. Tom has taught over 300,000 traders his option trading secrets in a variety of settings, including seminars and workshops. He's also a bestselling author of eight books and training courses.