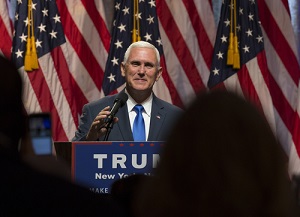 Hillary Clinton stands to gain a lot more from Trump's VP pick, Mike Pence, than Trump himself.
That's because Pence stands for many political policies that Trump has attacked Clinton for.
You see, about the only two big-ticket issues that Donald Trump and Pence agree on are their positions against abortion and terrorism.
The rest of the two's differences - and there are many - could be used as fodder against Trump by the Hillary Clinton camp.
But before we look at how Clinton could leverage these differences to her advantage, let's look at just how much Trump and his VP pick differ...
On Foreign Policy
Pence spent 12 years in Congress before he was elected governor of Indiana. During his time in Congress, Pence's political worldview was heavily shaped by the neoconservative era that dominated the Republican Party at the time.
Trending Now: China just warned of "disaster" if it's challenged in the South China Sea...  
Neoconservatives are known most for advocating an aggressive foreign policy. The ideology influenced both George H.W. Bush and George W. Bush. The latter's push into Iraq in 2003 was widely applauded by staunch neoconservatives, like Paul Wolfowitz, Donald Rumsfeld, and Dick Cheney.
Pence, too, advocated for the U.S. invasion in Iraq under Bush's tenure. Trump, meanwhile, spoke vehemently against the United States entering Iraq and has harped on what a mistake it was for almost his entire presidential campaign.
More recently, Trump said this year that he'd like to stay neutral on the Israeli-Palestinian conflict, whereas Pence advocates taking a more aggressive, pro-Israel approach, according to The New York Times.
On Trade
On trade, Pence expressed approval of the Trans-Pacific Partnership - a trade deal that Trump has staunchly condemned as being unfair to the United States on the campaign trail. Pence is a free trader through and through, whereas Trump advocates for free trade, but only if he can make sure it benefits the United States. Pence has also spoken in favor of the North American Free Trade Agreement, which Trump in the past has said is outdated and needs to be reformed, according to The New York Times. Back in December, Pence said that he agreed with President Bill Clinton that "the right course is not to turn back the clock, to close our borders, but rather to recognize that trade means jobs," according to The New York Times.

On Immigration
The two also have differed in the past on immigration. Back in December, Pence tweeted out his distaste for Trump's call to temporarily ban Muslims from entering the United States. Pence has since switched his position in favor of temporarily banning people from terrorist safe havens, which Trump also supports, according to CNN. Pence did come out and say he was in support of Trump's proposed wall on the border.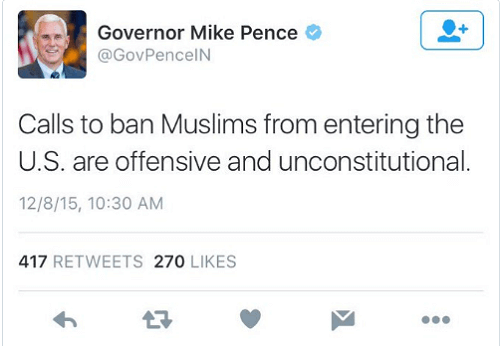 The Trump camp is trying to spin the two's differences into a positive, saying that Trump doesn't want a "yes man," but rather someone who will help him get things done in Congress, according to CNN.
While that's a good public relations effort on behalf of the Trump campaign, it won't be enough to stop Hillary Clinton from using Pence against Trump.
Here's how she could do it...
How Hillary Clinton Could Use the Pence VP Pick Against Trump
During the Republican primaries, Trump railed against Clinton as a Washington insider. In a speech on June 22, he tore apart her record, arguing that she benefits from Washington's "rigged" system, according to The Washington Post.
The problem here: Pence is the very definition of a Washington insider. In fact, that's one of the main reasons that Trump picked him, because Pence knows his way around Congress. And the Republican establishment has lauded Trump's VP pick because he's one of their own. Hillary Clinton could easily turn one of Trump's main arguments against her by using Pence as a shield.
Clinton, like Pence, also supported the 2003 invasion in Iraq. If Trump attacks Clinton on her decision-making ability during the War on Terror, he'll also be attacking the judgement of his vice president pick.
The same goes for Pence and Clinton on trade, where both are big free-trade advocates. Both Pence and Clinton expressed support for the Trans-Pacific Partnership. If Trump hits Clinton on her trade during debates, as he's done on the campaign trail, she'll be able to use Pence to undermine Trump's attacks.
Indeed, an argument can be made that Pence and Clinton have just as many similarities on policy positions as Trump and Pence.
And that's a fact that Hillary Clinton could use as a weapon.
Up Next
Gold prices could spike $5,000 by 2020, according to our gold expert, Peter Krauth.
Think that's crazy? Well, Krauth lays out three points that give a candid explanation for gold's future climb.
Follow Money Morning on Facebook and Twitter.
Related Articles: