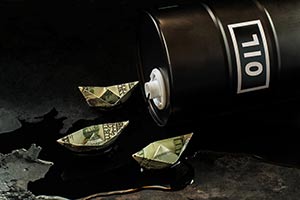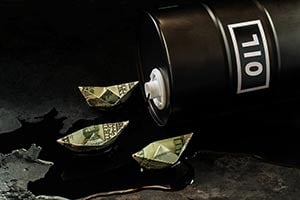 Top Oil ETF to Buy 2016: West Texas Intermediate (WTI) crude oil prices saw exceptionally violent swings last week. Although they posted a weekly gain of 1.2%, they surged 4.6% to $46.80 on Tuesday, July 12, before plunging 4.4% to $44.75 on Wednesday, July 3.
Despite day-to-day volatility, Money Morning Global Energy Strategist Dr. Kent Moors says oil prices are stabilized in the $40 range. And he just found the top oil ETF for playing that type of price environment. [Editor's Note: Want to know about the single largest oil deal in history that will change the energy market? Get Moors' guide here.]
In fact, this oil ETF is projected to gain 15% in the next year, providing steady gains to investors who are patient enough to wade through the oil price volatility.
First, here's why this short-term volatility is actually stabilizing the oil market…
Why Current Crude Oil Prices Make This Top Oil ETF a Buy
Although the WTI crude oil price traded below $50 a barrel last week, the benchmark has come a long way from the levels seen in February.
Oil prices crashed to a 13-year low back in February due to market volatility and fears of slowing demand. On Feb. 11, WTI futures closed at $26.21 – the lowest settlement since May 6, 2003, according to FactSet Research Systems Inc. (NYSE: FDS). Brent – the global benchmark priced in London – settled at $30.06 a barrel.
But both benchmarks have seen a massive rebound from those abysmal lows. As of July 19, Brent and WTI crude oil prices are up 56.2% and 75.3% since February, respectively.
According to Moors, a 40-year veteran of the energy industry who's advised top-level U.S. oil agencies, this long-term rebound will continue – but with a catch…
Prices will follow what he calls a "ratcheting" pattern.
You see, a ratcheting pattern means crude oil prices will face short-term volatility while maintaining an overall upward trajectory. Since oil is priced in U.S. dollars, several short-term factors can lower prices. These include statements from the U.S. Federal Reserve and volatility in foreign currencies, the latter of which can raise the value of the dollar and lower dollar-priced oil.
Despite these short-term drawbacks, Moors predicts WTI will hit the low $60 range by the end of the year. For Brent, he expects it to reach the mid-$60s by the same time.
Editor's Note: Most people don't realize it, but low oil prices affect our general spending habits. This chart shows how they influence consumer spending in the United States.
"The rise in price will be characterized by an overall move up that's accentuated by occasional reversals," Moors said on July 15. "In other words, the oil situation is stabilizing but in a much different environment than we've experienced before."
Moors recommends select exchange-traded funds (ETFs) to profit from this range-bound, ratcheted price climate. These investments let you play the entire oil market without investing in underlying oil futures or individual oil stocks.
And there are several reasons why you should invest in his newest top oil ETF recommendation…
One reason this oil ETF is set for a 15% return this year is its direct exposure to one of the best-performing oil indexes of 2016.
Another reason is the fund's top holdings, which include some of the largest and most stable oil producers in the United States…
The Top Oil ETF to Buy in 2016 That Could Return 15% or More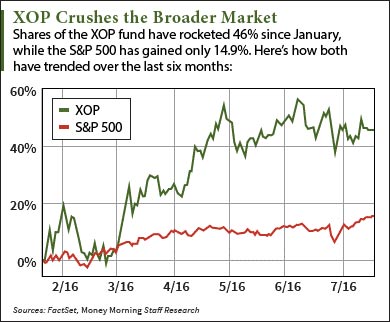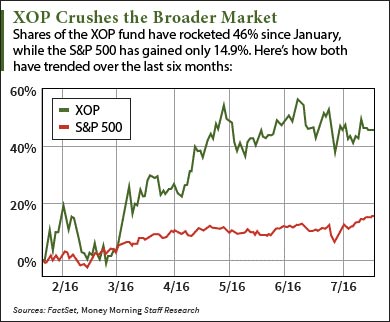 One of Moors' favorite oil ETFs right now is SPDR S&P Oil & Gas Exploration & Production ETF (NYSE Arca: XOP).
XOP specifically follows the S&P Oil & Gas Exploration & Production Select Industry Index (SPSIOP). This index tracks the performance of 58 mid-cap and large-cap U.S.-based oil producers. Some of the index and oil ETF's largest constituents include Marathon Oil Corp. (NYSE: MRO), Continental Resources Inc. (NYSE: CLR), and Exxon Mobil Corp. (NYSE: XOM).
These types of ETFs are good for the current range-bound oil price environment because they don't hold many small oil companies. Since most producers can't profitably drill for oil when it costs less than $50 a barrel, it's best to invest in larger firms with more cash because they'll be able to weather losses better than smaller firms.
"A rule of thumb when using ETFs in the current price climate is to stay away from funds focused on small companies," Moors said. "These smaller firms are riskier given the ongoing debt crisis happening in the U.S. energy market."
Investors are catching on to this rule and pouring money into this top oil ETF. Over the last six months, XOP has surged a whopping 46% to $35.02. That smashes the S&P 500's return of 14.9% over the same period.
According to Nasdaq.com, the average 12-month target among analysts is $40.30 – a gain of 15.1% from yesterday's closing price of $35.02. That's a sensible target considering the share prices of top two holdings Continental and Marathon are expected to rise 4.3% and 17.5%, respectively, over the same period.
Next Up: What Nobody Gets About the "Oil Glut"
Alex McGuire writes about oil prices and oil ETFs for Money Morning. Follow him on Twitter for more updates on our top oil ETF picks.