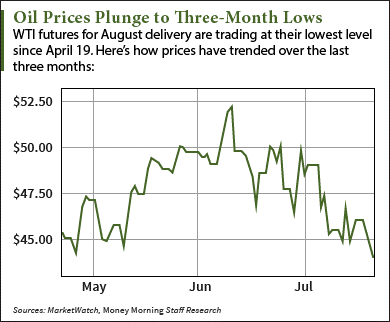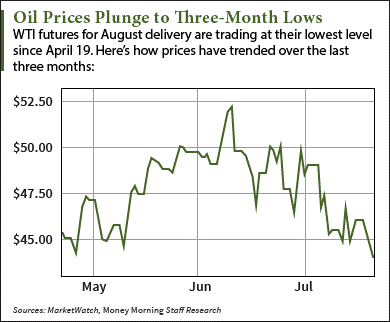 The West Texas Intermediate (WTI) crude oil price today declined for the third straight session, and there are two big reasons why the benchmark fell this morning.
At 9:20 a.m., the WTI crude oil price today was down 1.9% and trading at $43.80 a barrel. According to FactSet Research Systems Inc. (NYSE: FDS), that's the lowest level since April 19. Yesterday, the U.S. benchmark settled at its lowest since May 9. Futures for August delivery are now down 9.4% in July. [Editor's Note: Today's dip in oil prices won't last. Here are the five reasons why.]
The Brent crude oil price was also trending lower this morning. The global benchmark – which is priced in London – tumbled 1.4% to $46.01 a barrel. Futures for September delivery have fallen 8.6% so far this month.
Here are the two biggest factors causing the decline in crude oil prices today…
Two Reasons for the Drop in the Oil Price Today
The first factor dragging down prices is the surging U.S. dollar.
The U.S. Dollar Index (DXY) – which tracks the dollar against six other foreign currencies – jumped to a four-month high today on the heels of strong data from the U.S. Commerce Department. Yesterday, the government said U.S. housing starts – a key indicator of economic strength – increased by 4.8% last month. This strong data sent the dollar above 97 basis points, which is the highest level since March 10.
When the dollar increases, commodities like oil that are globally priced in dollars usually decline in value. That's because oil becomes more expensive to buyers who use other currencies. For example, someone in Japan trying to purchase oil with the yen has to spend more yen per dollar to buy a barrel of oil or futures contract.
And the second reason why crude oil prices are falling today is the expiration of the August futures contract.
You see, oil futures contracts expire on the 20th or 21st of every month. Crude oil prices are typically volatile on these dates as traders scramble to sell their positions before the contracts roll over into the next month's contract. The next month's contracts are usually more expensive. The oil price today is declining since the front-end August contract expires at market close.
Editor's Note: Oil demand is surging in one specific Asian country. And no, it's not China. Find out which nation will be the center of global oil demand for decades.
Despite today's drop, crude oil prices are stabilized in the $40 range. And Money Morning Global Energy Strategist Dr. Kent Moors – a veteran of the oil market with four decades of experience – says there's a way to play this "range-bound" price environment.
In fact, Moors recently recommended one of the best oil exchange-traded funds (ETFs) you can buy in 2016. This fund is poised to gain 15% this year due to its exposure to one of the highest-returning oil indexes of 2016.
The fund's largest holdings also include some of the most stable oil producers in the United States, all of which are set for handsome gains this year…
Make Money from the Oil Price Today with This Oil ETF
One of the best oil ETFs to buy is the SPDR Oil & Gas Exploration & Production Fund (NYSE Arca: XOP).
The XOP fund tracks 58 mid-cap and large-cap oil exploration and production firms based in the United States. Some of the fund's biggest and best-performing holdings include Exxon Mobil Corp. (NYSE: XOM), Continental Resources Inc. (NYSE: CLR), and Marathon Oil Corp. (NYSE: MRO). All three are up 20.7%, 99.5%, and 17.2% in 2016, respectively.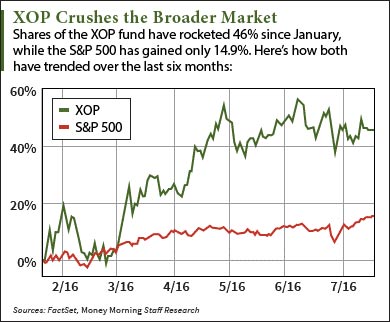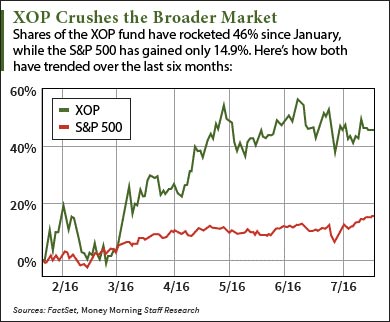 This fund is perfect for the range-bound WTI crude oil price climate because it plays the entire oil-producing sector without buying futures or individual stocks. XOP also doesn't hold many small oil producers, which are riskier due to their higher debt levels than big producers with more cash.
"A good rule to follow when investing in oil ETFs in the current oil price climate is to stay away from funds that hold small companies," Moors explained. "These smaller producers are riskier given the debt crisis happening in the U.S. oil industry right now."
Since January, the XOP fund has soared a massive 45.9% to $34.61. That beats the S&P 500's 17% gain over the period.
Nasdaq.com reports the average one-year price target among analysts is $40.30. That would be a 16.2% increase from yesterday's closing price of $34.67. The $40.30 target makes sense considering shares of top two holdings Continental and Marathon are projected to gain 4.5% and 18%, respectively, over the same period.
Next Up: What Big Banks Won't Tell You About Their Oil Price "Forecasts"
Like us on Facebook: Money Morning