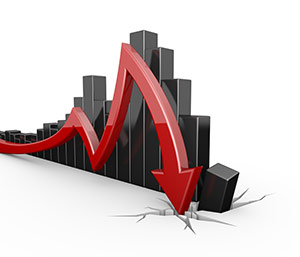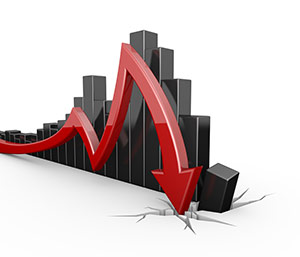 This latest stock market rally, although welcoming, has many investors on edge that the next stock market crash is coming.
That's because the rally doesn't seem to be driven by typical market catalysts, like solid earnings reports or higher global or domestic growth.
No, there's only one force behind this stock market rally. And it's not one you want to rely on.
We'll look at this force and whether it could cause the next stock market crash in a moment. But first, let's look at where the markets are at, despite poor market fundamentals and economic conditions...
Here's Where the Markets Are at Right Now
So far for the second quarter, the blended earnings decline is about 5.5%, according to FactSet data on July 15. This marks the first time we've had five consecutive quarters of year-over-year earnings declines since Q3 2008 through Q3 2009. As of July 15, only 32 companies have issued positive earnings per share (EPS) guidance for Q2 2016, compared to 81 companies that have issued negative guidance.
Next Up: Technology Is Your "Workaround" for Wall Street's Rigged System
On Tuesday, the International Monetary Fund lowered its global growth expectations from 3.4% to 3.1%. Meanwhile, the U.S. economy is crawling along, only logging 1.1% gross domestic product growth in the first quarter, with most economists expecting 2% GDP growth in the second. That's far from impressive.
Yet, despite these negative developments, markets are still moving higher. Much higher.
Wednesday marked the seventh straight record close for the Dow Jones Industrial Average and fifth straight for the S&P 500, at 18,559 and 2,173, respectively.
The VIX volatility index - the market's supposed fear indicator - hit 11.77 on Tuesday. That's the lowest point it's been at all year.
Consider that the VIX is at this record-low level despite: the Brexit aftermath, the failed Turkey coup, the terrorist attack in Nice, France, and many more events that should be causing the VIX to stay elevated.
So what's actually behind this stock market rally? Well, there's only one force pushing markets higher right now.
And it's the very same force that will cause the next stock market crash...
The One Force Behind This Rally Could Spark a Stock Market Crash
Central banks are behind the latest stock market rally. It's that simple.
Global central bank buying is at the highest level it's been since 2013, according to Money Morning Chief Investment Strategist Keith Fitz-Gerald.
"Every central bank in the world is in on this," said Fitz-Gerald. "Yellen, Kuroda, Draghi - they've all got their hands in the cookie jar now, which means that stocks and bonds are going to run higher at the same time."
On July 21, the European Central Bank issued a statement saying that it will keep its interest rates and stimulus efforts unchanged. The current ECB deposit rate stands at -0.40%, which means that banks are charged for keeping money at the central bank.
The ECB cut its deposit rate deeper into negative territory back in March, and expanded its asset buying program. Currently, the ECB is buying 1.74 trillion pounds ($2.29 trillion) of assets to try to induce growth in the Eurozone.
Up Next: Record Highs Don't Mean Smooth Sailing
And over in the United States, although the Fed ended its quantitative easing program years ago, it's still buying U.S. Treasury securities. It currently has about $2.46 trillion in U.S. Treasury bonds - the highest it's ever had. Interest rates in the United States are also still close to zero, at 0.50%.
The market-moving power of central banks isn't new. For the past 30 years, markets have become desensitized to geopolitical tension and more dependent on the actions of central bankers, according to Money Morning Technical Trading Specialist D.R. Barton.
"Sometimes it seems," Barton said, "short of the outbreak of World War III, the world could go to hell in a handbasket and, so long as central bankers kept the printing presses stuck on 'ON,' stocks would trend higher."
So while markets are reacting favorably to low interest rates and central bank buying right now, the central banks' money spigot won't stay on forever.
And once it turns off, there could be some serious trouble ahead...
Will Central Banks Cause the Next Stock Market Crash?
Central bank buying has pushed bond yields across the world to record lows.
So it's no wonder investors are piling into stocks. But that may not be such a good thing.
The next time central banks raise rates or curb asset purchases, the stock market is likely to sharply recoil. And one of those market-busting moves could happen soon.
According the CME Group's FedWatch tool, there's a 43% chance of a Fed rate hike by December.
While the Fed's next interest rate hike likely won't cause a full-fledged stock market crash, it could cause a correction like we saw after the Fed's last rate hike in late December 2015. Remember: After that quarter-percentage point rate hike, the S&P 500 fell almost 10% between January and mid-February 2016.
We could be looking at a similar correction sooner rather than later, especially considering how high the markets are. If anything, investors could see the next rate hike as a good excuse to take profits.
Even if it turns out there isn't a drop, it's always best to be prepared for one.
The Bottom Line: Don't expect a stock market crash anytime soon, but do be prepared for a small correction or market pullback after the Fed's next rate hike. According to the CME Group, there's a high probability of a rate hike in December.
Up Next
So, the markets keep going up...
And as a savvy investor, you know not to work against the tide, but to use it to your favor.
Here are some of the best profit-making opportunities to take advantage of current market conditions.
Follow Money Morning on Facebook and Twitter.