The beautiful, post-Brexit "Blue Light Special" on equities has been great news for every buyer – especially those who grabbed SPDR Gold Shares, which has gone as high as $131.15 this month.
The sale was really great, though, because it was followed by a monster rally that saw the major indexes hit highs.
However… like all good things, the market sale has most definitely come to an end.
If you had a chance to participate in some of these gains, congratulations – and get ready for more. On the other hand, if you missed out on any of it, don't worry…
Because I'm looking at a really juicy opportunity in gold's "baby brother" right now…
Gold Is Good… but Silver Is Doing Better
The post-Brexit chaos sent gold on a rocket ride, but the often-overlooked correlated "white metal," silver, actually had a longer and, percentage-wise, higher ride, peaking at $19.39 on July 13.
Stocks have largely behaved the same way, of course, but that's not a bullish sign for gold and silver. We're experiencing a "breather" right now – in stocks and, to a degree, metals – that could become a full-scale swoon before the next move higher.
But before I get you set up for that move, let me show you what has gone on with both silver and gold by looking at the gains they've made since their December 2015 lows.
Take a look at this chart on SPDR Gold Shares ETF (NYSE Arca: GLD):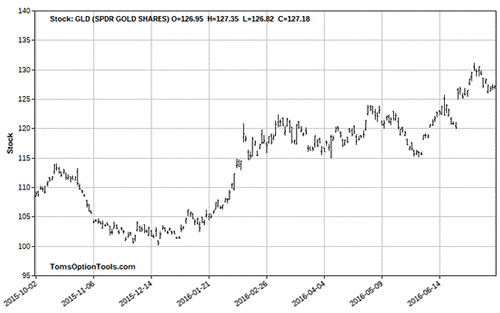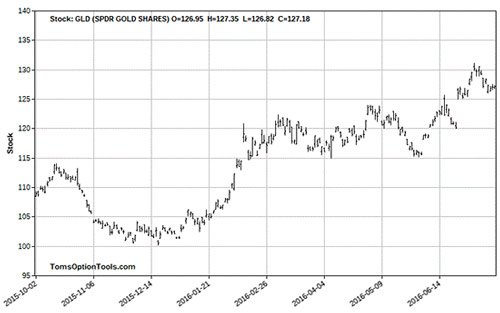 GLD is trading around $127, which is a 27% gain off its lows in December of about $100 and a 3% loss from its recent 52-week high.
Now let's compare that to silver's move on a percentage basis using a chart on iShares Silver Trust (NYSE: SLV). As you'll see, silver is outperforming GLD.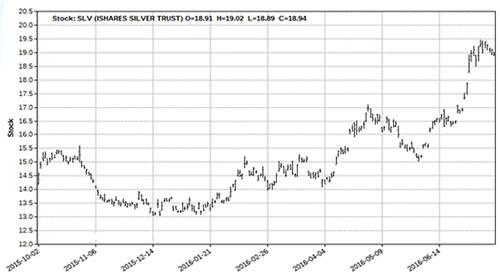 SLV is trading at $19, up from December lows of about $13, and down 2.5% from 52-week highs, for peak gains of around 46%.
Silver is much lower in price. That has much to do with its higher percentage gains when, truthfully, it correlates pretty well with gold most of the time.
While gold has some industrial uses, silver is far more widely used as an industrial metal, and for an increasing variety of uses, too.
For traders' purposes, that means it's not just being mined to sock away in vaults awaiting a rainy day apocalypse. Silver is being used more, so it's a bit more scarce than gold.
And as we know, both silver and gold are investment vehicles, assets. But if we ever come face to face with another recession, foreign central banks will focus almost exclusively on gold.
This makes silver somewhat more sensitive to the global economy, and it's one of the reasons why it's more volatile than gold.
But during times of global economic weakness, real or perceived, we just might see silver decouple from gold and begin to outperform it once again.
What Silver Needs to Do to Double Your Money
When using my proprietary Money Calendar tools and looking at the green on the screen for SLV, I see the potential for a slight bounce higher in price of about two-and-a-half points over the next 30 days.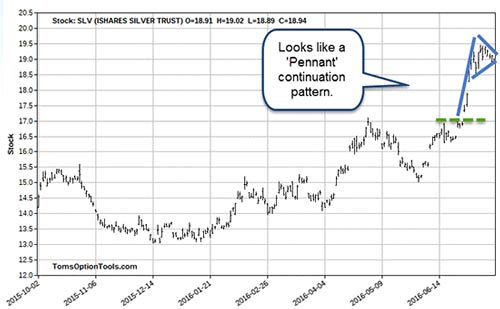 Look at the technical pattern on SLV, and you can make a case for this recent formation being a pennant. A pennant is another type of continuation pattern, similar to the ones we discussed last week.
The pattern can help you assess a target to the upside by taking the differentiation in price between the bottom and the top of the pattern, as represented by the green dash line. This price differentiation has it pegged about two-and-a-half points higher, based on the pole at $17 to the top of the pole at $19.
Isn't it uncanny that Money Calendar also shows about a two-and-a-half-point move over this time frame?
This is confirmation that we'll want to look at long call options trading opportunities…
These aren't necessarily trading recommendations, but you'll get a good idea of the trades that need the smallest move in order to double in value – in both cases, SLV needs to move 8.28% for you to make at least 100%.

To make the most profit from this kind of move, consider buying-to-open four $18.50 calls and six $19 calls, risking no more than $500 per trade, maximum. Since both "legs" need roughly the same price move (as a percentage) in the underlying stock, you stand to take in more profits if you manage your trades this way.
Tom's Making a Bet… You'll Want to Get "In": It's the most outrageous guarantee ever. Tom Gentile just committed to giving anyone prepared to follow along 20 opportunities to double your money by Dec. 31, 2016. And he's placing a $1 million wager today to prove it. See exactly what Tom has in the works right here…
Follow Tom on Facebook and Twitter.
Join the conversation. Click here to jump to comments…
About the Author
Tom Gentile, options trading specialist for Money Map Press, is widely known as America's No. 1 Pattern Trader thanks to his nearly 30 years of experience spotting lucrative patterns in options trading. Tom has taught over 300,000 traders his option trading secrets in a variety of settings, including seminars and workshops. He's also a bestselling author of eight books and training courses.