The silver price today (Monday, July 25) is falling for the second consecutive session. As of 9:30 a.m., silver prices were down 0.9% and trading at $19.50 per ounce.
Despite this morning's decline, silver prices have outperformed gold prices over the past several months.
It's true that gold has risen, but on a relative basis, silver has risen more.
Over the medium and longer term, I expect that outperformance to continue. However, we could be due for a pause in the near term.
The silver market may not be all that big, but it's driven by several factors that both push and pull on prices at any given point in time.
Don't Miss: Voters unhappy with both Donald Trump and Hillary Clinton are clamoring for a third option. They may not know it, but they already have one…
I expect the price of silver to continue heading higher in the months and years ahead. Like gold, silver is a haven from the financial and geopolitical turmoil that seems to be increasing.
On balance, that will help support higher silver prices. But we're also looking at four other fundamental factors influencing the silver price path in 2016.
First, let's look at silver's action last week, then we'll explore some of these factors that will shape silver's future…
Why the Silver Price Today Continues Last Week's Decline
After peaking at $20.47 on July 4, the silver price has struggled a bit. Since then, it's been moving sideways with a downward bias.
On Monday, July 18, silver prices opened for trading near $19.75 – down from the previous close of $20.32. By the end of the day, prices were down 0.8% and closed at $20.01.
The price of silver saw more weakness the following session, opening at $19.95 and trending lower throughout the day. It settled at $19.88 for a 0.6% loss on the day. That marked its first close below the psychologically significant $20 threshold since July 4.
Not coincidentally, the U.S. Dollar Index (DXY) closed higher, creating headwinds for the silver price.
Here's how the dollar traded last week…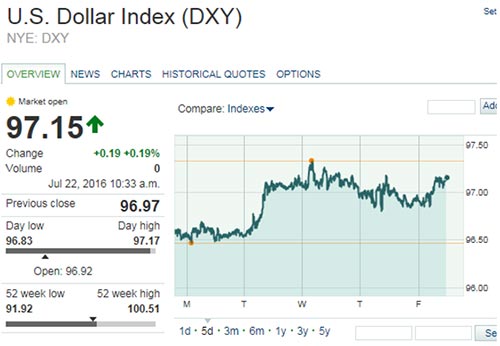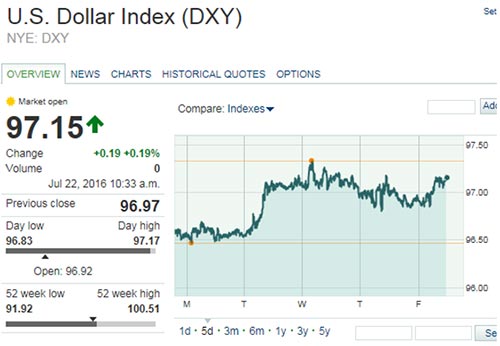 Silver prices sold off even further on Wednesday, July 20, as the dollar held its recent strength.  Prices saw a sharp 2.6% decline to close the session at $19.37.
By Thursday, it was the DXY's turn to give back a little. As the dollar fell below 97 basis points, the price of silver climbed 1.9% to settle at $19.73.
On Friday, July 22, silver prices were trading around $19.60 earlier in the morning. They recovered a bit but still closed 0.2% lower from Thursday's settlement at $19.69. That marked a weekly decline of 2.4%.
Editor's Note: Stocks that pay dividends deliver triple the returns of nonpayers. And these "dividend kings" have boosted payouts 50 years in a row…
And that brings us to the silver price today, which is currently seeing more weakness and is down 0.9% to $19.50.
In the very near term, I think the silver price could continue to weaken. We've already seen it back off from its recent early July highs.
But there are four factors that will dictate how silver prices move in 2016…
Despite the Drop in the Silver Price Today, Watch These Four Factors in 2016
The first factor is the DXY, which has been gaining strength since late April.
The dollar is currently trading above its 200-day moving average. It could still head higher from here, which would make it more difficult for the silver price to rise.
As for the price of silver itself, it does look somewhat toppy right now. Over the last six months, silver has experienced a huge 43% rise from the sub-$14 level to its current $20 level. To expect those kinds of returns to continue through the end of the year would be unrealistic.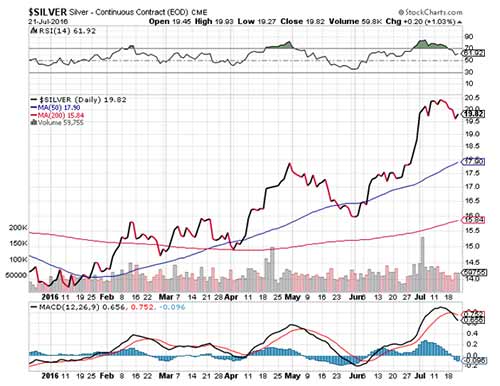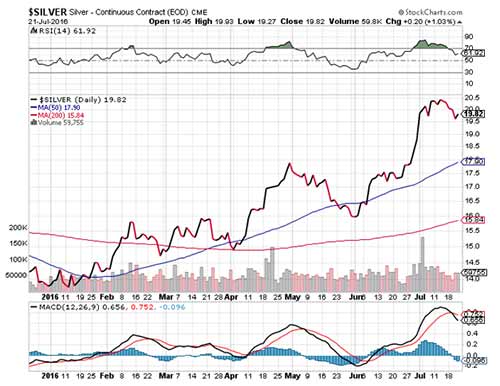 The second factor is silver's strength indexes, which include the relative strength index (RSI) and moving average convergence divergence (MACD). These indicators have turned downwards recently. Silver futures volumes have also retreated over the last month. Both of these suggest a possibly lower silver price in the near term.
The third factor affecting the price of silver is the gold/silver ratio, which tells us how many ounces of silver are needed to buy one ounce of gold.
The ratio hit 84 in February, and I warned you back then that was likely a peak. I projected it would probably begin correcting, meaning silver would gain in value relative to gold. That's exactly what happened…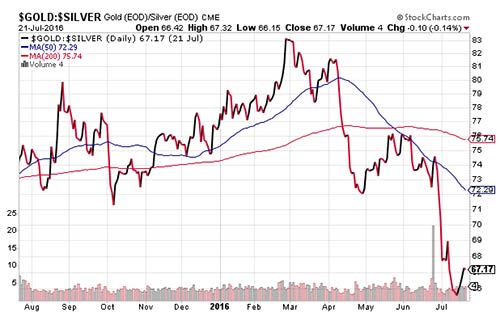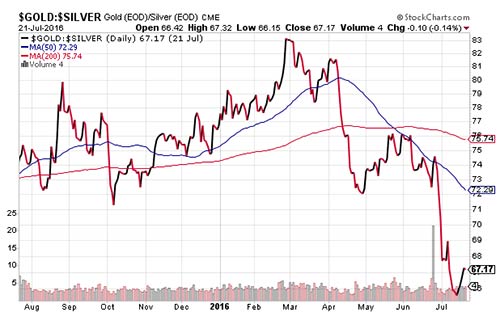 In April, the ratio dropped dramatically from 81 to 72. Between late June and early July, it fell again from 74 to 64. The entire gap from 81 to 64 may also prove to be too much too soon. It would not surprise me to see this ratio move back around 71 before it resumes its downward trend.
And the fourth factor I want to look at is the behavior of futures traders. Commercial hedgers, like silver miners, are considered the smart money in this market. The latest reading of the Commitment of Traders (COT) pegs their net short position at 100,000 contracts. That's the largest net short position for commercial hedgers in 23 years.
That means as smart money hedges, it's probably wise to consider they may be signaling an interim peak for silver prices.
According to research service Sentimentrader.com, silver appears to be backing off from a position of excessive optimism by the public. That's a contrary indicator, pointing again to a possible interim top in the silver price at recent levels.
Where could silver prices be headed from here? Given the four influencing factors I've outlined above, I think we could see silver retreat to the $18 level before it bottoms out and eventually heads higher once again. That's very close to its current 200-day moving average, which could act as support. If it breaks that level, $16.50 could be the next stop.
Of course, there's no way to know for sure if this will transpire. But the indicators are pointing to increasing odds of a correction. Now's your chance to prepare and perhaps pick up some silver at better prices.
Next Up: This Is Our New Gold Price Target After Last Week's Performance
Follow Money Morning on Twitter.
Join the conversation. Click here to jump to comments…
About the Author
Peter Krauth is the Resource Specialist for Money Map Press and has contributed some of the most popular and highly regarded investing articles on Money Morning. Peter is headquartered in resource-rich Canada, but he travels around the world to dig up the very best profit opportunity, whether it's in gold, silver, oil, coal, or even potash.