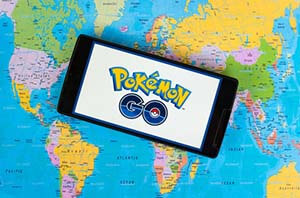 After nearly doubling over the last three weeks and adding more than $17.6 billion to its market cap, the Nintendo stock price is crashing today. That's leaving investors asking what's next for shares of NTDOY stock.
We've been saying since Nintendo stock began rallying after the Pokemon Go release that investors need to tread cautiously. And there are two main reasons why we see the Nintendo stock price heading lower in 2016. [Editor's Note: The Internet of Things (IoT) will create a $6 trillion market – and these five stocks are the best way to grab a piece of those gains.]
First, here's what you need to know about the stock's recent performance…
Why the Nintendo Stock Price Has Plunged 13% in the Last Week
As of 12:10 p.m., the Nintendo Co. Ltd. (OTCMKTS ADR: NTDOY) stock price today (Monday, July 25) was down 10.6% to $29 a share. This comes on the heels of last week's dismal performance, which saw shares fall by more than 13%.
On Japan's Nikkei 225 index, Nintendo stock saw its largest drop since 1990. Shares plummeted 18% to 23,220 yen by Tokyo's close. That was the biggest one-day move allowed by the exchange.
Today's drop wiped out 708 billion yen ($6.7 billion) in market value, which came as Pokemon Go launched in its native land. The game launched in the United States earlier this month and in Hong Kong today.
The biggest reason behind the fall in NTDOY stock is the firm's press release last week, which said the game won't have a big impact on the company's financial performance. Nintendo added it's not necessary to alter its yearly forecast after accounting for current conditions. It went on to say revenue from Pokemon Go Plus, a Nintendo-produced accessory for the game expected to go on sale soon, has already been factored into the current guidance.
Editor's Note: These five companies will have an incredible impact on the IPO market in 2016. Check them out here.
SBI Securities senior market analyst Nobuyuki Fujimoto said it was surprising the company made the announcement on Friday instead of during its earnings report this week. Since the game has been released in Japan, Fujimoto mentioned there do not seem to be any more catalysts for the Nintendo stock price.
And here at Money Morning, we found two catalysts that could drive NTDOY stock lower this year.
Here's what we found…
2 Reasons Why the Nintendo Stock Price Could Keep Falling in 2016
The first reason is Nintendo's projected Q1 earnings report.
The quarter, which ended before the Pokemon Go release, will not include any benefit from the game. The company is projecting an annual net profit of 35 billion yen ($330 million) in the current fiscal year. That's up from 16.5 billion yen ($155 million) earned last year.
But Wedbush Securities believes Nintendo faces an uphill battle to achieve its full-year guidance. The firm also remains unconvinced about the company's ability to become a top mobile player. Wedbush said the next gaming console, the Nintendo NX, does not appear to be the solution to company's hardware problem this fiscal year.
The second sign the Nintendo stock price could head lower is surging short interest. According to IHS Markit, roughly 2.6% – or $940 million worth – of NTDOY shares are being shorted as of July 20. That means a large number of short sellers are betting Nintendo stock will decline.
After Wednesday's earnings, Morgan Stanley said the next key focal point will be if Pokemon Go enjoys a China launch outside of just Hong Kong. That looks unlikely since access to geographical data necessary for the game is restricted by the nation's government. Other key statements to watch include announcements on Nintendo's other upcoming mobile games and its next-generation NX console expected to be released next year.
Evan Lucas, a market strategist at IG, said market speculation around Pokemon Go has been "amazing." Still, the company needs to do much more to justify the Nintendo stock price's 68% rally over the last month.
Last week, Deutsche Bank downgraded Nintendo from "Buy" to "Hold." While the firm said there is potential for its NX console down the road, it needs further hard evidence to model in significant further upside for the Nintendo stock price.
Next Up: Investing in This Top Tech Trend Is the Best Way to Get Rich Now
Like Money Morning on Facebook.
Related Articles: