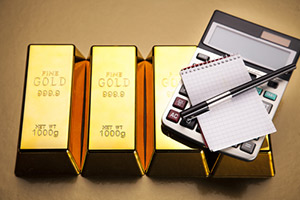 Buying Gold in 2016: The gold price today (Tuesday, July 26) was up 0.37% and trading at $1,321.20 an ounce. Gold prices are up 25% in 2016, putting the metal among the top 10 best-performing assets this year.
But that's just the start of gold's rally...
In fact, our Money Morning experts recommend buying gold today because we see gains as high as 278% for the precious metal by 2020.
Editor's Note: Looking for the best gold exchange-traded funds to buy this year? Find all five of our picks in our new gold investing guide.
Before we reveal our gold price prediction, here's why the price of gold is rallying this year...
Why Investors Have Been Buying Gold in 2016
Gold prices have enjoyed a strong and steady rally this year thanks to stock market volatility. The worst ever start for U.S. stocks and unprecedented volatility in global markets drew investors to safe-haven gold. Market uncertainty has kept investors interested in the yellow metal. The 5.5% plunge in the S&P 500 during the first two months of 2016 pushed gold prices up 16.5% over the same period. The first quarter saw gold's best quarterly performance in 30 years.
The use of negative interest rates and lack of confidence in global central banks has investors piling into gold. On July 13, Germany became the first Eurozone nation to sell bonds with a negative yield. Bank of America Corp. (NYSE: BAC) reported there's now $13 trillion worth of global negative-yielding debt. That's up from $11 trillion post-Brexit and close to none in mid-2014.
The UK's decision to leave the European Union has created a great deal of uncertainty that will affect global markets for years. The actual impact of the Brexit vote is a scary unknown for the global trade and financial sectors.
Don't Miss: The best dividend stocks continue to raise their payouts. The best of the best do so for 50 years in a row... like these "dividend kings"...
Central banks around the world continue to be robust buyers of the yellow metal. According to Capital Economics, central bank gold demand in Q1 2016 increased 28% from the year-ago quarter. The major reason why banks are buying gold is to diversify away from the U.S. dollar, with several economies looking for protection against currency volatility. Russia has been the most active gold buyer, purchasing 46 tons of the yellow metal during the first quarter. China was the second-largest buyer with 35 tons.
While these four factors have driven gold prices higher, there are two more that will keep the rally going.
Here are the two most bullish reasons why gold prices will rally 278% in the next three and a half years...
These Two Factors Will Push Gold Prices Toward This Target in 2016
Reason for Buying Gold No. 1: Low Interest Rates in the United States. The U.S. Federal Reserve's lower-for-longer interest rate stance has been a key gold price catalyst. When the Fed initiated its first interest rate hike in nearly a decade last December, policymakers penciled in four interest rate hikes for 2016. As the year unfolded, the Fed trimmed that number to two. Now, traders are placing greater odds on an interest rate cut before the next rate hike.
Reason for Buying Gold No. 2: Rising Consumer Demand. Retail interest in gold bullion has been steadily rising. The U.S. Mint reported sales of the one-ounce American Buffalo gold coins hit 112,500 during the first half of 2016. That's a big jump from 96,500 during the same period in 2015. Not to mention demand in Asian countries has also been surging in recent years. India beat China last year as the world's largest buyer of physical gold, importing over 1,000 metric tons. That's an 11% increase from 900 in 2014.
The gold price rally has settled in the last couple of weeks as investors have steered back into stocks, which sent U.S. markets to record highs. Gold market action will be guarded today and tomorrow as traders await a decision from the Fed on interest rates.
Yet there is nothing guarded about Money Morning Resource Specialist Peter Krauth's latest gold prediction. Krauth sees the price of gold hitting $5,000 an ounce by 2020.
That means buying gold now will yield gains of 278% over the next three-and-a-half years.
Up Next
Marijuana stocks have been ignored by investors for years.
But that's all starting to change as the marijuana market grows into a $7.1 billion industry. And that's just the beginning.
Go here for our new marijuana investing report - free of charge.
Like us on Facebook.
Related Articles: