The crude oil price today (Tuesday, July 26) plunged to its lowest level since April 18 as worries of increasing U.S. supply return to the energy market.
While some investors are worried about today's drop, this is actually in line with Money Morning Global Energy Strategist Dr. Kent Moors' expectation of a "range-bound" price climate. According to Moors, crude oil prices are stabilized in the $40 range.
Editor's Note: Saudi Aramco is valued at $3 trillion, but that number alone doesn't do it justice. These two charts show just how big this oil behemoth really is.
That's why he just recommended the best oil ETF to profit from this narrow price environment. Of the 25 oil stocks held in this exchange-traded fund, its top three holdings alone are expected to see a combined return of 45.2% over the next year.
Before we discuss Moors' oil ETF pick for this price environment, here's why oversupply concerns are lowering crude oil prices today…
Why the Crude Oil Price Today Is Down Nearly 2%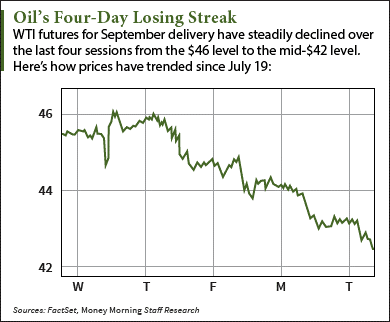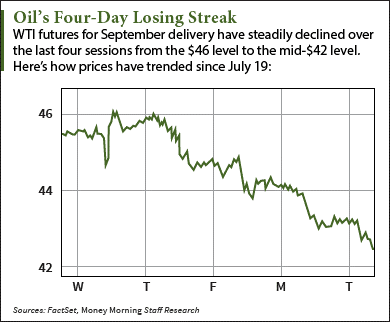 At 8:50 a.m., the West Texas Intermediate (WTI) crude oil price was down 1.7% and trading at $42.41 a barrel. According to data from FactSet Research Systems Inc. (NYSE: FDS), that loss puts the benchmark on track for its lowest close since April 18, when it settled at $39.78. Futures have now fallen 12.2% in July.
The Brent crude oil price today was also trending lower. The global benchmark declined 1.1% to $44.22 a barrel. It's now down 11% so far this month.
The big reason for today's drop is analyst expectations of growing U.S. inventories…
After Baker Hughes Inc. (NYSE: BHI) reported a fourth straight weekly rise in active rigs last week, firms like Commerzbank and Sweden's SEB bank called the data a bearish turning point in this year's price rally. Around this time last year, the rig count followed the same pattern and started consistently rising. That led to crude oil prices falling by 50% over the following eight months. [Editor's Note: Most Americans don't realize it, but falling crude oil prices influence our spending habits. This chart shows how.]
The biggest oil bear on Wall Street right now is Morgan Stanley (NYSE: MS). The bank said in a research note that supply disruptions earlier this year are starting to fade, which will result in rising non-OPEC supply. It predicts crude oil prices will hit a bottom of $35 this year.
But Moors – a veteran of the oil market with over 40 years of experience – says WTI crude oil prices already bottomed and $40 will be the minimum in 2016.
Despite short-term declines like we're seeing today, WTI will reach the low $60s by next year. For Brent crude oil prices, Moors sees it hitting the mid-$60s in 2017.
And you can profit from this gradual rise by investing in oil ETFs. These funds don't require investing in futures or individual stocks, which are usually more volatile.
Here's one of the best oil ETFs to buy right now…
Buy This Oil ETF to Profit from Crude Oil Prices Today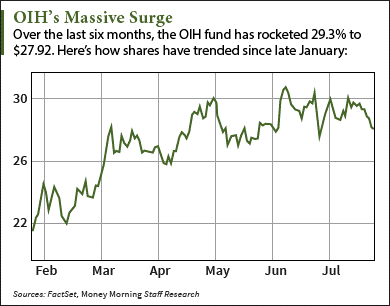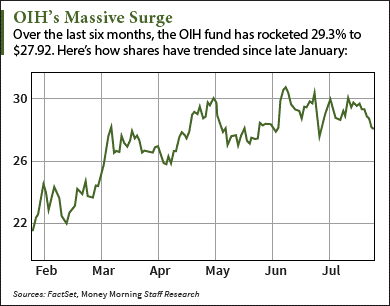 One of the best oil funds to invest in right now is the VanEck Vectors Oil Services ETF (NYSE Arca: OIH).
OIH tracks the MVIS U.S. Listed Oil Services 25 Index, which follows the 25 biggest U.S. oil field services (OFS) firms. Several of these companies are the most dominant OFS players in the world with market caps exceeding $100 billion. These include Schlumberger Ltd. (NYSE: SLB) and Halliburton Co. (NYSE: HAL).
ETFs like OIH are great for the $40 range-bound price climate because they don't hold small oil firms. Bigger OFS companies are strong investments right now because they're better positioned to weather the ongoing debt crisis better than smaller companies.
"A rule to follow when buying ETFs in this price environment is to avoid funds holding a lot of small companies," Moors explained on July 15. "These small firms are high-risk given the debt crisis occurring in the U.S. energy market right now."
OIH's biggest holdings are all poised for big returns in the next 12 months. Of OIH's 25 holdings, its top three are Schlumberger, Halliburton, and Baker Hughes. They have one-year target estimates of $90.29, $50.61, and $50.05, respectively. Those represent gains of 11.8%, 18.9%, and 14.5%.
The Bottom Line: Despite the big banks' bearish views, the decline in the crude oil price today is in line with our range-bound view. Prices have stabilized in the current $40 range and will move into the $60 range by the end of 2016. We recommend OIH as one of the best ways to play this price movement.
Next Up: This Country Will Be the Center of Oil Demand Through 2040
Alex McGuire provides oil price coverage for Money Morning. Follow him on Twitter for constant updates on the oil market.