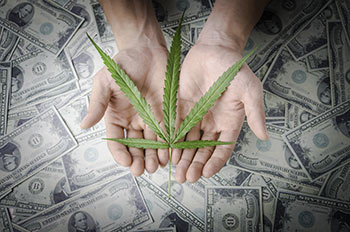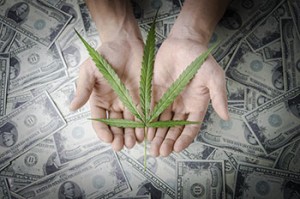 Marijuana stocks, although still in their nascent stages, are poised to take off in the next few years.
In fact, the U.S. marijuana market could be worth upwards of $30 billion annually by 2020, according to a 2015 report from Bank of America Merrill Lynch.
We're bringing this to our readers' attention now, so they can be ahead of the curve – where there's the most upside.
There are over 80 marijuana stocks out there and most of them are penny stocks, a fact that shows just how young the marijuana industry is.
Don't Miss: The Internet of Things revolution will create a $6 trillion market – and these five stocks are the best way to grab a piece of those gains for yourself.
But don't discredit pot stocks just because most of them trade for pennies per share. In fact, that's one of the reasons why they're so appealing.
Investors are scooping up these marijuana stocks for cheap, hoping to bank on their rise in the next few years.
These investors see the marijuana industry as "the next big thing," comparing it to similar emerging industries like cloud computing or 3D printing.
And right now, we've found the three biggest catalysts that will propel the marijuana market into a $30 billion market annually by 2020.
Let's take a look at these catalysts now, including one that's right around the corner…
3 Catalysts That Will Cause Marijuana Stocks to Surge by 2020
Catalyst No. 1: The 2016 Presidential Election
The 2016 presidential election will be good for marijuana stocks, no matter who wins.
On July 10, the Democratic Party officially included marijuana legalization as a part of its national platform. That means Democrats, including Democratic nominee Hillary Clinton, fully endorse the decision to change the federal status of marijuana.
In addition, the Democratic Party said it also wants to ease the regulatory environment around marijuana research, which will boost marijuana biotech companies.
[Editor's Note: Later this summer, we'll be releasing a full report about the best marijuana stocks to buy, so stay tuned!]
But it's not only Hillary Clinton and the Democrats who support marijuana legalization in some form.
Republican nominee Donald Trump does, too.
Although the Republican Party hasn't officially adopted marijuana legalization as a part of its platform, Trump said on Fox News' "The O'Reilly Show" in February that he stood for medical marijuana legalization.
Trump also said, however, that he wants to see more research about the health effects of marijuana before advocating for recreational use. Still, Trump's words revealed that the candidate has an open mind when it comes to marijuana legalization.
Back in 1990, Trump stood in favor of legalizing all drugs, including marijuana for adult use, according to the Marijuana Policy Project.
A president Clinton or Trump would help the marijuana industry's legitimacy – and certainly do nothing to hurt the growth of the marijuana market.
Don't Miss: Voters unhappy with both Donald Trump and Hillary Clinton are clamoring for a third option. They may not know it, but they already have one…
This second catalyst could have an even greater long-term impact on the marijuana industry's growth than the 2016 presidential election…
Catalyst No. 2: Growing Public Acceptance
In a lot of ways, the fight for marijuana legalization can be compared to the fight for gay marriage legalization.
Back in the late 1990s, only about 35% of Americans thought gay marriage should be recognized by law, according to Gallup. But in the next decade, that number surged to 53% in 2010. And today, nearly 61% of Americans support gay marriage.
Marijuana legalization could follow a similar trend. Marijuana was first seen as a dangerous gateway drug with unpredictable psychological effects. But that's changing – rapidly.
Back in the late 90s, only a little over 34% of Americans supported marijuana legalization, according to Gallup. Now fast forward to 2015, where 58% of Americans support legalization. In addition, more than seven in 10 of today's young adults support marijuana legalization.
With this amount of positive momentum behind marijuana legalization, it's no longer a question of if but when marijuana will be downgraded to a Schedule II or III drug.
This huge jump in public acceptance of marijuana, along with the growing number of states legalizing marijuana in some form (we're up to 25 now), will propel the marijuana market.
Finally, our third catalyst today shows how marijuana is making its way into dozens of industries in 2016…
Catalyst No. 3: Widespread Growth of Subsectors
Many investors don't realize that the marijuana industry isn't only made up of businesses that sell pot.
Some companies grow marijuana, while others make applications for distributors and users. Many even sell tools and supplies to help people cultivate marijuana.
The marijuana industry's wide scope gives investors a lot of options.
One of the fastest-growing subsectors in the marijuana industry is big data. Companies in this subsector collect information about marijuana users for other businesses.
Big data is seeing fantastic growth right now. The analytics firm IDC puts the valuation of the industry at $187 billion by 2019. That's a 50% jump from its $125 billion valuation last year.
Many existing data firms already use marijuana-tracking software to help companies comply with state laws. Others have helped sellers collect transaction data.
Future applications for big data include tracking marijuana user trends, giving sellers more influence over their customer base, and helping sellers more easily meet buyer demand.
Other subsectors within the marijuana industry include biotech, health and wellness, and real estate.
Up Next: The real reason Congress gets nothing done isn't partisan gridlock. It's that the primary duty of our elected representatives is no longer making laws – it's this…
Follow Money Morning on Facebook and Twitter.