Vermont Sen. Bernie Sanders may not be the Democratic Party's nominee, but he's not letting go of his "political revolution" either.
During Sanders' DNC speech last night (Monday), he even added a coded message to his delegate supporters in attendance…
Of course, the Independent senator first took the opportunity to rehash his accomplishments this campaign cycle before giving Democratic presumptive nominee Hillary Clinton her obligatory nod.
But then he said something that piqued the interest of pundits, politicians, and viewers worldwide:
"And delegates," he said, "thank you for being here, and for all the work you've done. I look forward to your votes during the roll call on Tuesday night."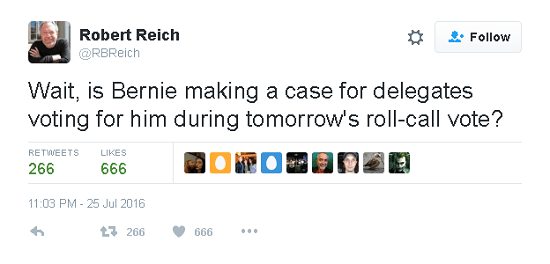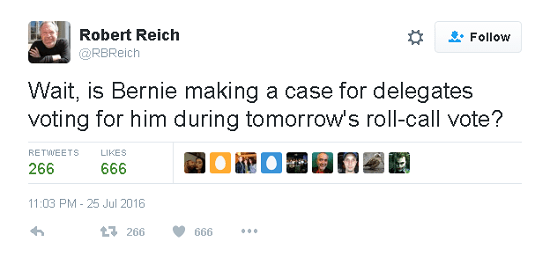 That's right, there will be a roll call vote at the Democratic Convention this evening, thanks to swaths of Bernie supporters who fanned out across Philadelphia yesterday. They amassed enough signatures to ensure the Vermont senator would get to hear every single delegate's vote, one by one.
Exposed: The real reason Congress gets nothing done isn't partisan gridlock. It's that the primary duty of our elected representatives is no longer making laws – it's this…
Had the petition failed, then the vote count would have resulted in the typical routine: an announcement of how many delegates both candidates would receive from each state. This happened last week at the Republican National Convention in Cleveland. Donald Trump Jr. – son of GOP presidential nominee Donald Trump – formally announced that 89 New York delegates were for the real estate mogul. This number pushed Trump past the 1,237 delegates needed to secure the nomination.
In the 2008 presidential election, Hillary Clinton's campaign also succeeded in petitioning a roll call vote forward, but midway through, she made a motion to halt the voting, which gave then Sen. Barack Obama the nomination.
But that won't be the case this evening. Not with Sen. Sanders' hive of supporters so packed in attendance at the DNC that many of them managed to boo and jeer overtop last night's keynote speakers.
In fact, those loud-mouthed dissenters weren't the infamous Bernie bros; they were the delegates themselves.
They were also the intended recipients of Sanders' coded message.
Here's how they could upend the Democratic convention…
Sanders DNC Speech May Have Revealed His Contested Convention Plans
Tonight's roll call has the potential to reveal Bernie support previously unreported.
Right now, Hillary Clinton has the majority of the popular vote. However, the Democrats also have superdelegates – officials who are unbound and can vote for anyone at the convention (unlike the regular delegates, who are pledged to vote the popular vote in their respective states).
Hillary did not win the popular vote by such a majority that she doesn't need these superdelegates' support. She currently has 2,807 delegates — 602 of whom are superdelegates (though, technically, they haven't voted).
May Day, May Day: It's been 20 years since TWA Flight 800 went down off the coast of Long Island. But there are many skeptics still out there who aren't convinced it wasn't the U.S. government's fault. Here's the evidence they've spent two decades gathering…
Bernie has 1,848 delegates – 48 of whom are superdelegates (again, even though they haven't technically voted).
There are also 64 undecided superdelegates.
Now, it's a stretch, but if 425 (70%) of Hillary's superdelegates flipped and decided to vote for Sanders, he could win tonight's nomination, fair and square.
That will be a tall order for Bernie and his supporters to attain.
However, there's another route the Vermont senator could take to win the nomination. It would involve contesting the convention at this crucial point in the voting process.
[Editor's Note: The mainstream media has no idea what a "contested convention" actually is, but we do. Here's exactly how such a political rout happens…]
After the roll call vote.
You see, presidential candidates can't contest a convention until the first ballot is complete.
Think back to Bernie's coded message: "I look forward to your votes during the roll call on Tuesday night."
Bernie could be looking for a reason to contest the convention in the form of superdelegate roll call votes.
If Sanders winds up getting more of these unbound votes on the first ballot than he expected, he could easily turn around and contest the convention.
This would require a second vote.
It would also unbind all delegates at the DNC, freeing them up to vote for whomever they so choose.
Up Next: These Sectors Will Thrive Following the 2016 Presidential Election
Follow Money Morning on Twitter @moneymorning and on Facebook.