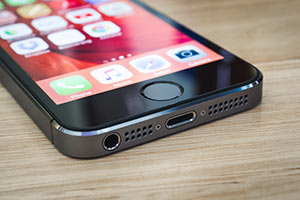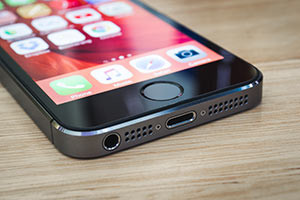 The Apple stock price is soaring today (Wednesday), up 8% to $104.35 in morning trading after an earnings beat. That puts the AAPL stock price on track for its best day in more than two years.
Before we get to our Apple stock price outlook, here's a look at Apple Inc.'s (Nasdaq: AAPL) results for the quarter ended June 25.
Apple Stock Price Today Soars on Earnings Beat
The iPhone maker reported earnings per share (EPS) of $1.42 on revenue of $42.4 billion. That beat EPS expectations of $1.38 and revenue of $42.09 billion.
While those were both beats, they were down sharply from last year's figures of $1.85 per share on $49.61 billion in revenue.
Don't Miss: Stocks that pay dividends deliver triple the returns of nonpayers. And these "dividend kings" have boosted payouts 50 years in a row…
Still, Apple turned in an impressive quarter in what is traditionally a week one. Apple was expected to report its second consecutive quarter of year-over-year (YOY) revenue declines. Last quarter, Apple saw its first YOY quarterly sales drop since 2003.
Soft iPhone sales caused the drop last quarter. It also broke an eight-year run of growing iPhone sales. But that was not the case this quarter.
Apple shipped 40.4 million iPhones in its fiscal Q3, above the 40.02 million analysts expected.
Boosting sales was the launch of the iPhone SE launch in March. The phone has a price tag of $399 for the 16GB model, which is much lower than a traditional iPhone debut. Analysts were worried that the iPhone SE was more basic than other new iPhones and that it might chip away at higher-end model sales.
CEO Tim Cook said the phone was well received in emerging and developed markets. He noted the iPhone SE is attractive to customers who love a four-inch phone.
People are also changing carriers frequently. According to Cook, the percentage of phone sales to people switching carriers was its highest in company history.
Apple reportedly sold its one-billionth iPhone this week.
Analysts surveyed by FactSet think Apple sold 40 million iPhones this quarter. That drives total sales to roughly 988 million by the end of June. They estimated Apple sold 43 million iPhones during the current quarter, or roughly 500,000 per day. By their estimates, Apple crossed the 1 billion iPhone milestone on Monday. Apple introduced the iconic smartphone on June 29, 2007.
And iPhone sales are not the only reason the Apple stock price today is soaring…
The iPad posted its first revenue growth in 10 quarters. More than half of iPad Pro sales were made by businesses. IPad shipments totaled 10 million in the quarter versus the 9.14 million expected.
Mac shipments totaled 4.3 million, close to the 4.39 million estimated.
Another bright spot was Apple's services division. Revenue in the space generated $23 billion over the last 12 months. Cook told The Wall Street Journal he expects the services business next year will generate enough revenue that it would be a Fortune 100 company if it was an independent company.
Don't Miss: The Internet of Things revolution will create a $6 trillion market – and these five stocks are the best way to grab a piece of those gains for yourself.
Looking ahead, Apple is projecting it will earn $45.5 billion to $44.75 billion in revenue next quarter. StreetAccount consensus estimates had projected $45.94 billion.
Now, a number of analysts have revised their Apple stock price predictions. Here's what to expect from the Apple stock price in 2016…
What's Next for the Apple Stock Price in 2016
Raymond James upgraded Apple to "Outperform" from "Market Perform." The firm said the Apple stock price weakness earlier this year was caused by slowing iPhone sales, but this report put some of those concerns to rest.
Maxim group raised its Apple stock price target to $173 from $168. The firm said Apple's September guidance was slightly ahead of consensus and they think Apple is at the beginning of a multiyear investment cycle.
Cowen & Co. says anything below $100 a share is a buy trigger level. But the firm wants to own a full position by mid to late fall. They are very bullish on 2017 and the impact from a new Apple iPhone7.
Needham & Co. said Apple's fundamentals momentum should improve further in the fourth quarter.
Stifel said focus now shifts to iPhone7 potential. The firm has a $120 Apple stock price target.
At $104.14, the Apple stock price is up 13% over the last month. Year-to-date, the Apple stock price remains down 1%.
Next Up: What Big Banks Won't Tell You About Their Oil Price "Forecasts"
Follow us on Twitter @moneymorning and like us on Facebook.
Related Articles: