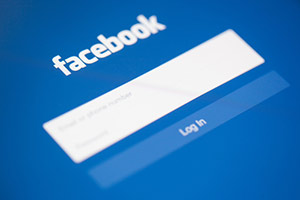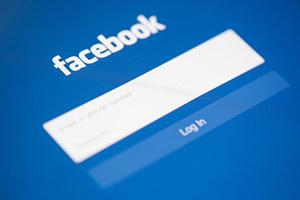 The Facebook stock price is trading near an all-time high today (Wednesday) as investors anxiously await for Facebook Inc. (Nasdaq: FB) to report Q2 2016 earnings.
That makes it an expensive purchase right now. And investors are wondering if an earnings beat will be a good buying opportunity as Facebook stock trades at such high levels.
Trending: A Backdoor Way to Profit Now on a New $240 Billion Market
We'll get to our long-term outlook for FB stock in just a bit. First, here's everything you need to know about Facebook's Q2 earnings.
Facebook Q2 2016 Earnings Estimates
FactSet has a consensus earnings per share (EPS) estimate of $0.81 on $6 billion in revenue. In Q2 2015, Facebook reported $0.50 on $4 billion in revenue. If Facebook meets expectations, EPS would have increased by 62% and revenue by 50% year over year.
But the most important number to watch today is monthly active users (MAUs).
Wall Street judges social media companies on MAU growth because that's how they increase revenue. The more users Facebook and its platforms have, the more money advertisers will spend.
For Q1, Facebook reported 1.65 billion MAUs, beating Wall Street's estimates of 1.63 billion. That was a 3.77% increase from the 1.59 billion MAUs Facebook reported in Q4 2015.
FactSet expects Facebook to report 1.68 billion MAUs for Q2, which would be a 1.8% increase from the previous quarter.
For this quarter, FB shareholders should pay attention to:
Updates on Oculus Rift sales
Monetization plans for Facebook Live
How Brexit has affected earnings
Even if Facebook posts bullish numbers, is it worth buying Facebook stock at this week's high prices?
Here's everything you need to know before adding FB stock to your portfolio...
Here's How to Play Facebook Stock After Q2 2016 Earnings
In the last 12 months, the Facebook stock price has climbed over 24%. That compares to a gain of just 4.86% for the Dow Jones.
And Money Morning expects the FB stock price will climb even more.
That's partly because of the massive amount of money the virtual reality device Oculus Rift will bring in.
Right now, virtual reality (VR) and VR headsets are mainly used in gaming. But when Zuckerberg paid $2 billion for Oculus VR in 2014, he was looking at the bigger picture for the industry.
Eventually, Zuckerberg believes the capabilities for VR will greatly advance. He believes you will be able to use VR to:
Have face-to-face meetings with your doctor
Have front-row seats to sports games
Have teachers connect with students across the world
And when VR is used outside of gaming, it will make Zuckerberg a lot of money...
By 2020, market research firm Tractice projects sales from VR accessories, content, and head-mounted displays will reach $21.8 billion.
But Zuckerberg is not satisfied with making billions of dollars just through Oculus VR...
Zuckerberg's two messaging apps, WhatsApp and Messenger, will also be huge catalysts. They don't make money yet, but the 32-year-old CEO is getting each platform ready to earn him money. Messenger hit 1 billion users as of July 20, and WhatsApp is closing in on 1 billion. That will make it very easy for Zuckerberg to sell ad space on each platform.
By 2020, analysts from Deutsche Bank AG (NYSE: DB) project WhatsApp and Messenger will generate a combined total of $10 billion in revenue.
While Oculus Rift, WhatsApp, and Messenger are still in the early stages of making money, Instagram is already earning the social media giant hundreds of millions of dollars.
Instagram only had 30 million users and made no money when Zuckerberg bought it in 2012. Today, Instagram has over 500 million MAUs, and analysts believe it generated as much as $750 million in revenue in 2015.
Research provider eMarketer believes Instagram could account for as much as 10% of Facebook's total global revenue.
All of this makes FB stock very popular among analysts. Of the 49 brokers who cover FB stock, 87.76% give it a "Buy" or "Overweight" rating.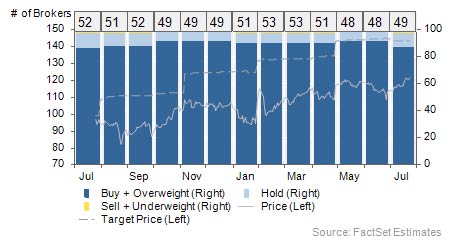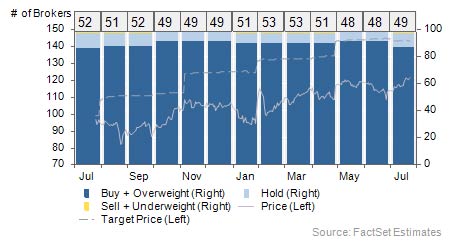 And for long-term investors who add FB stock to their portfolios today, the returns could be huge...
By 2020, Money Morning Director of Tech & Venture Capital Michael A. Robinson projects Facebook stock will trade for $250 per share. From today's opening price of $122, that's a potential profit of 104.9%.
The Bottom Line: The Facebook stock price is trading at all-time highs ahead of earnings. But because Oculus Rift, WhatsApp, Messenger, and Instagram are expected to generate billions of dollars for Facebook, FB stock still offers plenty of upside. By 2020, Facebook stock could climb another 104.9%.
Exposed: The real reason Congress gets nothing done isn't partisan gridlock. It's that the primary duty of our elected representatives is no longer making laws - it's this...
Follow us on Twitter @moneymorning and like us on Facebook.