To say I love cars is a huge understatement. When I'm not picking stocks or reading history, I'm working on any one of several hot rod restoration or rebuild projects I've got going on at all times.
So naturally I'm familiar with the old gearheads' joke: "Know what 'Ford' stands for? Fixed or Repaired Daily!"
Once upon a time, I might have laughed along with the crowd. But not so much these days.
That's because I know Ford has gone beyond "cleaning up its act" and become an indisputable industry leader in that all-important profit generator: innovation.
In fact, this "car" company is fast becoming virtually indistinguishable from the hottest, most valuable Silicon Valley players.
Its shares are starting to act the part, too - they're up nearly 13% over the past six months alone.
But the company has some new technology hitting the streets soon that could act as a shot of "nitro" to the share prices.
Let me show you what's in Detroit's secret sauce, and why I think every investor should own this American classic right now.
This Isn't Your Grandpa's Ford
Ford Motor Co. (NYSE: F), the "Blue Oval," that Rust Belt icon with the Detroit address was a stodgy, quality-crimped, cost-bloated "enterprise" in years past.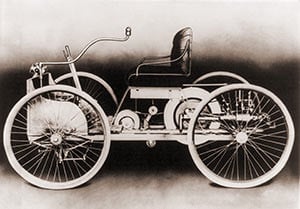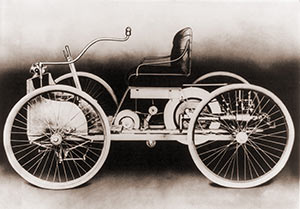 But times have changed, of course. We got our first inkling of the new "stuff" Ford was made of when it refused the Great Recession-era bailout cash Washington gave to other on-the-brink U.S. companies, including its rivaling Big Three automakers, General Motors Co. (NYSE: GM) and Chrysler Corp., now Fiat Chrysler Automobiles NV (NYSE ADR: FCAU).
And Ford has wholeheartedly, unreservedly embraced both innovation and a new mindset. It's using new materials - including specialized glass and big percentages of lightweight aluminum - in its vehicles. And it recommitted to performance and racing - culminating with a stunning class win by the Ford GT Supercar at the 24 Hours of Le Mans race in France last month.
"Yeah, yeah - all de rigueur for a car manufacturer," I can hear you saying...
Perhaps, but I would argue that these are examples of Ford confronting, head-on, the changes hitting its sector - and embracing those changes.
And Ford isn't just embracing these changes. It's driving them.
We're already seeing the results of those efforts.
Long term - investors will reap the hefty benefits.
Thanks, in particular, to one move... a move we told you to watch very closely.
Building a (Much) Smarter Car
In a report in mid-March, we told you about the launch of Ford Smart Mobility LLC, a standalone startup created to advance the parent company's interests in nascent (but critical) areas like ridesharing, driverless autos, and the "connected car."
Big companies are making moves like this all the time, and this one didn't seem to "move the needle" much in terms of media interest when it was first announced.
Incredibly, that blasé media response hasn't changed in the four months since. The media is asleep at the wheel.
We, of course, have a very different view of this move by Ford - just check out the one-man profit catalyst behind the "car of the future."
We said that Ford Smart Mobility will be a difference-maker: It'll drive change inside the parent company. And, as Pollard might have said, it will drive change across the auto sector.
There are at least three signs this is a big, big deal, including...
This was set up as a standalone unit, a lot like the legendary and highly effective "Skunk Works" unit run by Lockheed Martin Corp. (NYSE: LMT). That will free Ford Smart Mobility up from a lot of the innovation-squelching corporate bureaucracy that comes with being a small piece of a big division.
The subsidiary reports directly to Ford CEO Mark Fields - meaning the company's top leader wants to monitor this personally... the single-biggest sign you can find that this is viewed as a critical venture.
And noted innovator Jim Hackett - a former corporate CEO who'd been on the Ford board since 2013 - was appointed to launch and run the new unit. As CEO of Steelcase Inc. (NYSE: SCS), Hackett transformed the company from a humdrum maker of desks to a designer of flexible, output-enhancing workspaces. Hackett also served as interim athletic director at the University of Michigan, where he was hailed for wooing former San Francisco 49ers Head Coach Jim Harbaugh to Ann Arbor to coach the Wolverines - a recruiting coup nobody predicted.
Ford Smart Mobility, based in Dearborn, Mich., will work closely with the Ford Research and Innovation Center, the company's Silicon Valley-based R&D center focused on connected cars, mobility, and driverless vehicles. And while Ford corporate will still direct the company's main autonomous-vehicle initiatives, the lessons learned and even the technology itself is likely to flow to Smart Mobility - especially as it looks at ridesharing opportunities.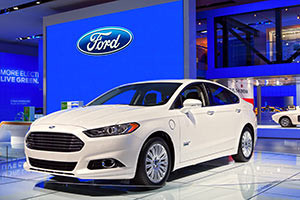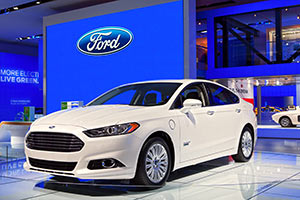 Over the last few years, Ford has run more than 30 "mobility" experiments and pilot projects around the world. One example: Ford's "Dynamic Shuttle" pilot program, which it ran in London last year. This was a mix between personal vehicles and public transportation whose goal was to give commuters comfortable "lifts" in a ridesharing format. The program was so well received that Ford brought it to the United States and is running it on its Dearborn campus.
At the core of this effort is an honest acknowledgement of reality: Because of these innovations - and others to come - the auto market is changing. Use and ownership patterns of cars and trucks will shift as those vehicles become more "connected" - or reach the point where they can navigate without a driver.
As Pollard might have said, that points to a future where the things that worked in the past might work no more.
With Smart Mobility - and other innovative efforts - Ford isn't merely acknowledging that fact. It's actually pushing it... and in a way that will give it some "say" in the form that future takes.
We're already seeing some of the early returns from these initiatives, where Ford is saying it's no longer just a "car company" - it's a technology firm, too.
Have You Texted a Ford Lately?
Just this week, Ford announced that all of its 2017 model cars, trucks, and SUVs will come with both Apple CarPlay and Android Auto installed. These two software packages - which let a vehicle's driver and passengers bring the function of their smartphones onto the "infotainment center" screen on their dashboard - are rivaling standards, meaning they compete with each other.
That means they also compete with Sync 3, the latest version of Ford's own software system. But Ford says that will be installed, too.
Sync 3 allows users to text, make music selections, and perform other tasks by both voice and touchscreen commands. Apps such as Spotify, Pandora, AccuWeather, and AAA-member services have also been added.
Ford also said it will start using "over-the-air" streaming technology to update its systems - a strategy that Tesla Motors Inc. (Nasdaq: TSLA) pioneered and made popular. Tesla, Bayerische Motoren Werke AG (ETR: BMW), and others are using these streamed software fixes to update navigation maps and other offerings.
At the Mobile World Congress Shanghai, Ford unveiled new Smart Mobility developments that make its vehicles more useful - by tailoring them to the market the driver is navigating.
In Dalian, China, for instance, Ford is working with the innovative Panda Shuttle so the firm can operate its Ford Transit shuttle buses in ways that cut ride times for commuters, while also giving them more information about traffic conditions and other parts of their journey. Riders can book a seat in advance and share where they'll get on and off, letting the Panda Shuttles choose the most efficient routes and drop-off points, cutting travel times by 35% from standard shuttle services.
Yet another Smart Mobility innovation demonstrated at the MWC Shanghai trade show demonstrated an app-enabled valet service that will let drivers drop off their cars wherever they want - knowing the vehicles will be parked at a secure location... and knowing they can be summoned, at the touch of a button, to any convenient nearby meeting spot.
Another bit of mobility technology - known as FordPass - is being demonstrated in Australia. As "smart cities" become a reality, the connected world will allow for an automobile version of the "timeshare."
"Imagine," Ford Smart Mobility said in a recent whitepaper, "as our cities grow more connected, you might not even need to own a car by yourself. Lease-sharing is a whole new take on vehicle ownership - imagine, through your smartphone, being able to organize the time that you need to use your car, as well as share the cost of fuel and maintenance without any extra effort or inconvenience."
As cars learn to "talk" to one another, telemetry data about traffic flows, accidents, and alternate routes can be "pooled," allowing commuters to get through urban congestion in a minimum amount of time.
Some of these offerings - elements of FordPass, for instance - are already a reality and are available now. Others will be coming soon.
Clearly, Ford is seeking to make this technology part of the "differentiating" features shoppers peruse and consider when choosing what car or truck to buy.
All of this - the new materials, the new technologies, and the sexy branding that accompanies a commitment to high performance and racing - rolls into the overall corporate strategy.
Ford is positioning itself - as a winner.
Special Report: America's "Frontrunners" Can Help Boost Stocks in as Little as 30 Days
An elite group of 7,524 millionaires and billionaires are piling their money into some of the smallest stocks on the market. They've recently seen prices jump by as much as 300%, 1,135%, and1,400% in just six months. And now you can invest in the same companies they do and potentially watch as the prices continue to climb up. Click here for the full story.
Follow Money Morning on Facebook and Twitter.
Join the conversation. Click here to jump to comments…
About the Author
Before he moved into the investment-research business in 2005, William (Bill) Patalon III spent 22 years as an award-winning financial reporter, columnist, and editor. Today he is the Executive Editor and Senior Research Analyst for Money Morning at Money Map Press.