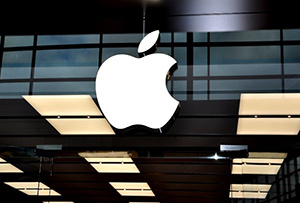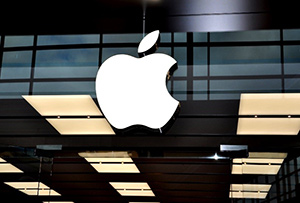 Down 15% over the past 12 months, Apple stock has been a victim of ruthless scrutiny by analysts and the financial news media.
But what the Apple Inc. (Nasdaq: AAPL) skeptics don't see is an impending Apple stock rally.
We'll talk about this rally in just a moment. But first, let's briefly look at Apple's third-quarter earnings results.
After Apple reported its earnings Tuesday, the bears were already crawling back to their dens.
Apple beat both revenue and earnings-per-share estimates handily, according to FactSet. And investors responded positively, boosting Apple stock more than 7% after hours, where it's still hovering as of Thursday morning.
Don't Miss: The Internet of Things revolution will create a $6 trillion market – and these five stocks are the best way to grab a piece of those gains for yourself.
Apple's much-talked-about iPhone slump did show in its third quarter. Profit fell 27% largely on the back of lower iPhone sales, which declined to 40.4 million from 47.5 million a year earlier.
Despite this hiccup, Apple still has a lot going for it in the near future, including new advances in one of its most secret projects.
And these developments make Apple stock well poised for a rally…
Why Apple Stock Is Due for a Rally – and Soon
Although Apple's iPhone sales disappointed this quarter, there's optimism that iPhone sales will rebound.
Analysts forecast iPhone unit sales will rise 3.2% for the next fiscal year ending in September, according to FactSet.
Additionally, sales of the Apple Watch are also expected to increase 30% in fiscal 2017, according to FactSet.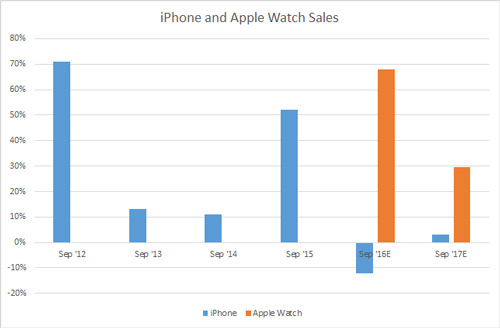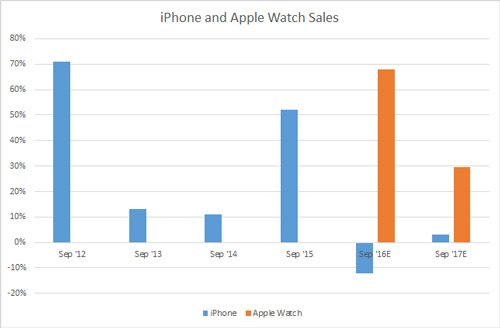 Another bright spot in Apple's near future is growth in its services segment, which rose a record 19% year over year in Q3. Services like Apple Music, AppleCare, and Apple Pay continue to be popular with consumers.
Looking even farther ahead, developments in Apple's secret self-driving vehicle program, called Project Titan, could also boost Apple stock.
The electric car project diversifies the company's product line. It also takes the pressure off Apple's flagship product, the iPhone.
The company just made a new hire for the program: Bob Mansfield, a former hardware development engineer who originally joined Apple in 1999, according to The Wall Street Journal.
Mansfield was one of the top executives under former Chief Executive Steve Jobs. And being Jobs' disciple through and through, many expect Mansfield to bring some of the late Apple CEO's magic vision to the audacious project.
Project Titan currently has hundreds of employees and is expected to be fully completed by 2021, according to the Journal.
Finally, Apple stock has an incredibly attractive valuation right now.
And not even the most bearish tech investor can deny that…
Apple Stock Is Trading at a Bargain Now
Apple shares are priced at just 11 times earnings right now. That's a nearly 56% discount compared to the S&P 500, considering its current price/earnings ratio of 25. By this measure, Apple is the cheapest it's been in over a decade.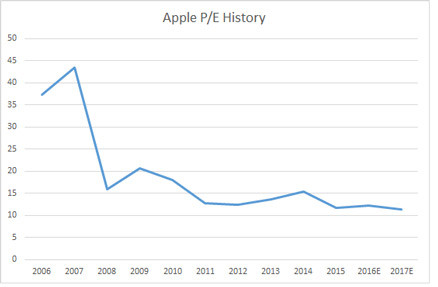 It's also trading at a discount compared to its tech competitors.
For example, Microsoft Corp. (Nasdaq: MSFT) has a P/E ratio of 26, while Sony Corp. (NYSE: SNE) has a P/E ratio of 30.37. That puts Apple stock at a 57% discount compared to Microsoft stock, and a 63% discount compared to Sony stock.
As of Wednesday intraday, at $103 per share, Apple stock is trading about $20 shy of its 52-week high.
Plus, the company plans to divvy out $250 billion in dividends and buybacks by March 2018, The Wall Street Journal reports.
It also features a dividend yield of 2.2%, which is well above that of the 10-year Treasury at 1%.
So for prospective Apple stock buyers, now is a great time to grab shares of the tech behemoth. And for current Apple investors – hold on.
The Bottom Line: Apple stock is well undervalued, which puts it in a good position for a rally. Apple's slowdown in iPhone sales is being weighed too heavily against its stock. Apple has a lot of promising growth ahead, including a rebound in iPhone sales and Apple Watch sales. Project Titan is also a promising boon for Apple stock.
Next Up: These "dividend kings" have boosted payouts 50 years in a row…
Follow us on Twitter @moneymorning and like us on Facebook.