The mosquito-borne Zika virus is now an epidemic throughout many parts of Latin America and the Pacific Islands. That epidemic status means the virus has affected a disproportionately large number of individuals within a very short time frame…
It's no wonder the World Health Organization (WHO) declared Zika a global public health emergency in February 2016. This puts it in the same category of danger as Ebola — a virus that has taken more than 11,000 lives in the past decade.
The exact number of global Zika cases is unknown, but many believe it could range in the thousands: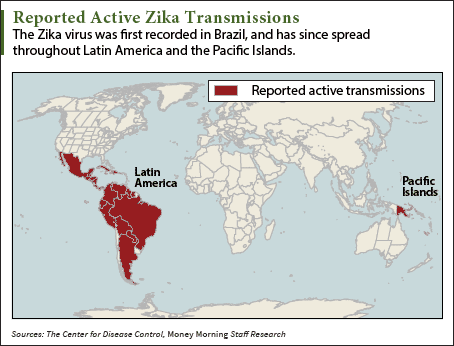 Here in the United States, there have been 1,404 reported cases of the Zika virus so far, according to the Centers for Disease Control and Prevention. To be clear – all of these cases were contracted by Americans who traveled abroad. The Zika virus has yet to be transmitted by mosquitoes on U.S. soil…
But that could change.
You see, Zika-carrying mosquitos are already roaming up from Latin America to Mexico. From there, they could easily enter contiguous Texas or New Mexico, percolating throughout the rest of the southern United States in the summer months. The mosquitoes are particularly attracted to rapid urbanization and humid climates, which makes southern U.S. cities ideal breeding grounds.
Breaking: NYC just reported its first case of Zika spread through sexual transmission…
When Zika-carrying mosquitos do hit U.S soil — and they will — it's best to be prepared.
Here's how to tell if you have Zika…
How to Tell If You've Contracted Zika
The sheer commonness of Zika's symptoms — which could just as easily derive from a common cold or flu — makes the virus very deceptive. They include:
Mild fever
Conjunctivitis (sore, red eyes)
A rash
Joint pain
A headache
What's worse, 20% of people infected with Zika actually experience no symptoms at all, according to the WHO.
In one U.S. case back in June, a University of Pittsburgh researcher accidentally infected herself. She mistakenly pricked herself with an infected needle while working on an experiment. The researcher was one of the 20% that did experience symptoms, including a fever. She has since fully recovered, according to Time.
Another important thing to note: Although Zika is mostly transmitted through the Aedes aegypti mosquito, it can also be spread through sexual contact.
And that can lead to the most damaging consequence of the virus…
The Most Harmful Consequence of Zika
One of the greatest fears about Zika is the potential threat it poses to pregnancies. The virus is suspected of causing babies to be born with severely underdeveloped brains — a syndrome called microcephaly — according to the WHO.
Researchers found that as many 1.65 million women in Latin American could contract the Zika virus while pregnant, according to a joint study from the University of Notre Dame and Britain's University of Southampton.
Children that survive microcephaly often face severe intellectual disabilities and developmental delays.
Zika stays in the blood for about a week, according to the CDC. But in semen, the virus may persist for two weeks. So the CDC recommends abstaining from all sexual contact for that time period at a bare minimum if you think you've been exposed.
Up Next: The Best Investment Opportunity in the Zika Virus Outbreak
Do you think the WHO is doing enough the treat and contain the Zika outbreak? Let us know on Twitter @moneymorning and Facebook.