Earnings Update, 4:15 p.m., July 28: Amazon easily beat Q2 earnings expectations. The firm earned $1.78 per share on $30.4 billion, topping the $1.11 and $29.6 billion estimates.
Shares of Amazon stock are up 2.6% to $772 in after-market trading.
The original story is below.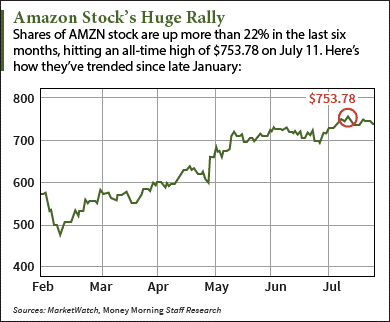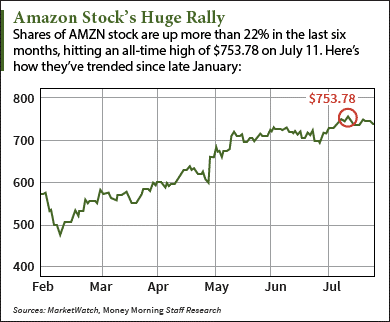 The Amazon stock price today (Thursday, July 28) is trading near $738 a share as investors await Amazon.com Inc.'s (Nasdaq: AMZN) Q2 earnings report after the bell.
But over the last two weeks, AMZN stock has been sliding. The Amazon stock price has retreated 2.1% from its all-time high of $753.78 reached on July 11. This has investors concerned shares of the retail giant have peaked. If the company misses earnings estimates today, investors could panic and sell off their shares.
Don't Miss: The Internet of Things revolution will create a $6 trillion market. These five stocks are the best way to grab a piece of those gains for yourself.
That's why we're going to discuss whether or not you should buy Amazon stock after the company reports its Q2 earnings.
First, here's what analysts expect from the Amazon earnings report today…
What Analysts Think About Amazon Earnings and Amazon Stock
The 44 analysts polled by FactSet Research Systems Inc. (NYSE: FDS) expect Amazon to report $1.11 per share on revenue of $29.6 billion. That would be a massive increase from $0.19 per share on revenue of $23.2 billion in Q2 2015.
But one of the biggest figures analysts watch in Amazon's earnings reports is revenue from Amazon Web Services (AWS)…
AWS is Amazon's cloud-computing subsidiary and the biggest cloud infrastructure provider in the world. It offers more than 70 services, including storage, analytics, and data management. One of AWS' most popular services is video streaming, which boasts big clients like Netflix Inc. (Nasdaq: NFLX) and Amazon's own Prime Video service.
Editor's Note: Five companies are set to rock the IPO market in 2016. One of them is the last big social media company to go public. Check out all five here.
It also happens to be Amazon's biggest source of revenue. AWS raked in $2.6 billion during the first quarter. That was up 8.3% from $2.4 billion the previous quarter and up 64% from $1.6 billion the year-ago quarter. Its first-quarter revenue accounted for 56% of Amazon's total operating income.
But some analysts worry AWS can't maintain its incredible growth. One example is Goldman Sachs Group Inc. (NYSE: GS), which thinks the service's year-over-year revenue growth will come in at 58% for Q2. That's down from the 73% average.
With high expectations for both overall earnings and AWS revenue, investors want to know if Amazon stock is a good long-term investment.
Here's how you should play AMZN stock after today's earnings report…
Should I Invest in Amazon Stock After Q2 Earnings?
Money Morning Director of Tech Investing Michael A. Robinson thinks Amazon stock is one of the best long-term investments on the market today.
And there are two reasons why the Amazon stock price could gain another 12.6% over the next year…
The first reason is the visionary leader at the helm – founder and CEO Jeff Bezos. He's considered a global e-commerce pioneer thanks to his role in making Amazon the biggest Internet retailer in the United States. Barron's even included Bezos in its 2016 list of the 30 top CEOs.
And the second bullish factor for Amazon stock is Bezos' move into the Internet of Things (IoT) market. The IoT is the initiative to connect all electronic devices to each other via the Internet. Cisco Systems Inc. (Nasdaq: CSCO) reports the IoT industry will reach $14.4 trillion in sales by 2022.
Amazon will enter this lucrative market with AWS IoT. This new service was launched in October 2015 and allows users to connect their devices to cloud-based apps and interact with other users. AWS IoT costs $5 for every 1 million messages sent over the cloud service.
"The company says the service can support 'billions of devices and trillions of messages,'" said Robinson – a tech analyst with 34 years of experience in Silicon Valley. "Once again, Bezos has broken ground and created another multibillion-dollar web business."
The Amazon stock price is up 9.2% in 2016. FactSet analysts place a one-year target price of $830.63 per share. That would be a gain of 12.6% from the current price of $738.
Although it's one of the pricier tech stocks on the market, Amazon is expensive for a reason. It's one of the fastest-growing tech firms in the world and shows no signs of stopping anytime soon.
Next Up: The Backdoor Way to Profit Right Now from a New $240 Billion Market
Like us on Facebook: Money Morning