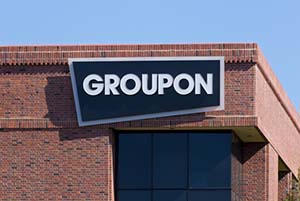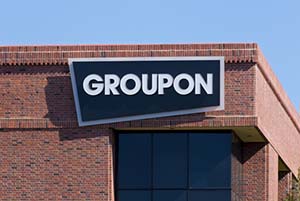 The GRPN stock price is soaring 30% to $4.92 today (Thursday) after the company beat earnings and posted optimistic guidance. The GRPN stock price in 2016 has now gained more than 60%.
Before we get into the Groupon Inc. (Nasdaq: GRPN) stock price outlook for 2016, here's what is moving the stock today:
Groupon reported a net loss of $51.7 million, or $0.01 per share, yesterday. That was better than the expected $0.02 per share loss.
Revenue came in at $756.03 million, beating the $710.94 million Wall Street was anticipating.
Don't Miss: Stocks that pay dividends deliver triple the returns of nonpayers. And these "dividend kings" have boosted payouts 50 years in a row…
Groupon added 1.1 million new customers in Q2 2016, more than any quarter in the last two years.
North America had 27.9 million active customers as of June 30, 2016.
Gross billings were $1.49 billion in Q2, down 2% from $1.53 billion in the second-quarter 2015. The company said gross billings were impacted by dispositions and country exits tied to some restructuring.
North America local billings grew 9% year over year. The company says this boost was the result of new customer partners that were acquired through the firm's new marketing initiatives.
The company raised its full-year 2016 guidance. Groupon now expects FY16 revenue of $3 billion to $3.10 billion, up from prior guidance of $2.75 billion to $3.05 billion. The Street's consensus estimate was for FY16 revenue of $3.02.
One of the biggest stories from the earnings report was the success of Groupon's newest market campaign. The company recently launched its first nationwide advertising campaign since 2011, which CEO Rich Williams said has been well received.
Williams also downplayed speculation that he is priming Groupon for a takeover.
Still, rumors persist that Groupon is an attractive acquisition for a successful e-commerce company.
Don't Miss: Voters unhappy with both Donald Trump and Hillary Clinton are clamoring for a third option. They may not know it, but they already have one…
In 2010, Groupon turned down a $5.75 billion offer from Alphabet Inc. (Nasdaq: GOOGL).
Instead, Groupon went public on Nov. 4, 2011, in a highly anticipated IPO. Shares were priced at $20, opened at $28, and rose as high as $31.14 before closing at $26.11. Groupon raised $700 million in its IPO. That made it the second-biggest tech IPO ever at the time, behind the $1.7 billion raised by Google.
Since then, Groupon has struggled. Even with today's bounce, shares are still down 71.26% over the last five years.
The Groupon stock price got a boost earlier this year when Alibaba Group Holdings Ltd. (NYSE: BABA) regulatory filings revealed the Chinese e-commerce giant bought 33 million GRPN shares. That was roughly a 5.6% stake. That makes Alibaba GRPN's fourth-largest shareholder. It also fueled the takeover rumors.
Now that we've covered what has driven the GRPN stock price rally today, here's what investors can expect from Groupon stock going forward…
What's Next for the Groupon Stock Price Now
Maxim Group has a "Buy" rating and $5 price target on Groupon stock. The firm believes Groupon stock can climb if the company keeps developing relationships with local businesses. With more than 127 million cumulative downloads to date, the firm believes Groupon's mobile efforts are underappreciated.
Earlier this month, Piper Jaffray updated GRPN stock to "Overweight" from "Neutral" and boosted its Groupon stock price target to $6 from $4. The firm thinks new management's market spend will drive customer acquisitions.
Evercore ISI maintains a "Hold" rating on Groupon stock today.
Topeka Capital notes that more streamlining of international and shopping operations are helping Groupon's margins. The firm has a "Hold" rating on GRPN stock.
Wedbush Securities says GRPN remains a strong e-commerce brand and a top location for consumers. They are encouraged by restructuring progress but expect at least a few more quarters before growth returns. The firm has a "Neutral" rating on GRPN stock.
At $4.92, the GRPN stock price is up 60.12% year to date.
Up Next: The Internet of Things revolution will create a $6 trillion market – and these five stocks are the best way to grab a piece of those gains for yourself.
Follow us on Twitter @moneymorning and like us on Facebook.
Related Articles: