The gold price today (Friday, July 29) is edging higher as it hopes to end a volatile week on a high note. As of 8:45 a.m., it was up 0.5% to $1,348.30 – the highest level since July 13.
Gold prices have averaged above $1,300 ever since the UK voted to leave the European Union on June 23.
Since then, the price of gold has been backing off after peaking at $1,370, just recently touching a low of $1,311.
But in the last couple of days, it got another small jolt lifting it to $1,340. The U.S. Federal Reserve and the dollar were the most likely drivers of that action.
The Fed's decision to leave interest rates unchanged pulled the U.S. Dollar Index (DXY) down about 100 basis points. That pushed gold prices higher.
Editor's Note: You can bank profits on gold prices no matter where they move. All you need to know is how to trade gold, which we've outlined in our 2016 gold and silver report.
It seems the market is also coming to grips with the Fed keeping interest rates unchanged at the September FOMC meeting. The CME FedWatch tool suggests the odds of a rate hike in September are roughly 24%.
Fed Chair Janet Yellen has been suggesting the economy is stabilizing and global risks have eased. But the market isn't buying that scenario and increasingly sees interest rate hikes being delayed further.
These and three other forces have been acting on the gold price lately, and will continue to do so this year.
First, let's look at gold's action this week. Then we can delve into the three biggest factors that will influence the price of gold in 2016…
Why the Gold Price Today Is Pushing Higher
The gold price kicked off the past trading week with a loss. On Monday, July 25, gold prices opened sharply below the previous $1,331 close and trended lower throughout the day. They settled at $1,315 for a loss of 1.2%.
Trading was mostly flat throughout the following session. The price of gold opened higher at $1,320 and stayed there until the close for a 0.4% gain.
The real action began on Wednesday, July 27, at the conclusion of the July FOMC meeting. Gold prices opened slightly lower before exploding higher into the afternoon after the Fed announced it wouldn't hike rates. Prices gained 1.6% to close the day at $1,341 – their highest level in two weeks.
Here's how those gold price gains looked on a chart…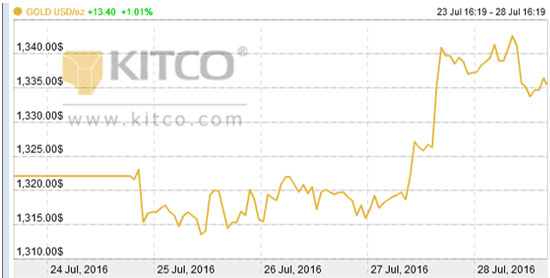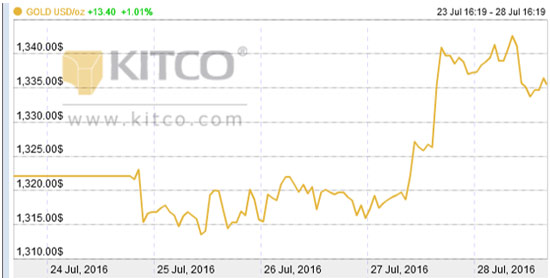 Meanwhile, the dollar took a sharp plunge…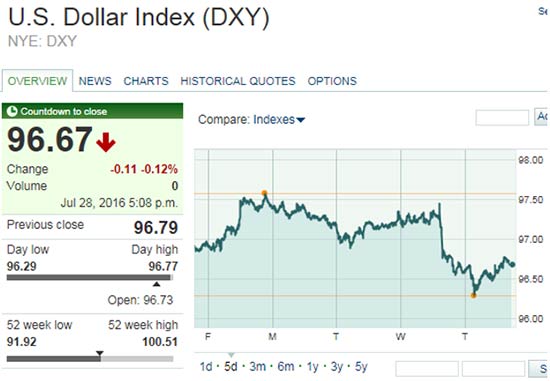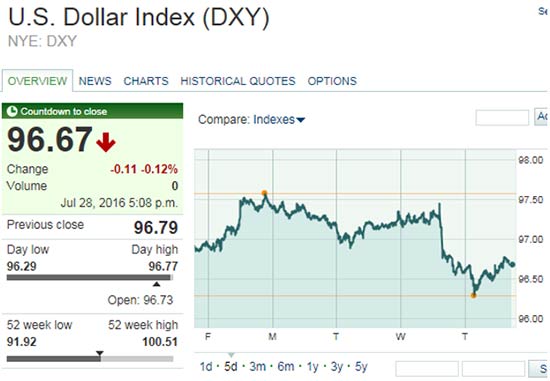 You can clearly see the DXY drop around the same time gold shoots higher.
The Election Fiasco Unravels: Voters who dislike both Donald Trump and Hillary Clinton are desperate for a third candidate. They might not know it, but they have one already…
By Thursday, July 28, the price of gold managed to erase some of Wednesday's gains. It opened higher at $1,343 but eventually weakened to $1,335 for a loss of 0.4%.
That brings us to the gold price today, which is up 0.5% to $1,348.30 in early morning trading. Today's performance put gold prices on track for a weekly gain of 1.3%.
Now, let's look at the three biggest forces acting on the gold price – and how they'll influence its 2016 outlook…
Three Factors Moving the Gold Price Today and Gold Prices in 2016
The first factor affecting prices is gold purchasing in India.
Last week, I told you how Indians recently witnessed the biggest discounts on gold they'd ever seen. They've stayed away from the metal they love because they love a bargain even better.
But that's going to have to change at some point. Either gold gets cheaper or they cave and start buying because they don't expect it to get any cheaper.
The second factor is increasing demand in Western nations, which is affecting various 2016 gold price predictions.
In its Q2 Gold Survey and Outlook report, GFMS Thomson Reuters increased its average gold price for 2016 to $1,279. That's a big bump up from its previous estimate of $1,184.
Its analysts pointed out a revival in Western investment demand, which has ballooned so far this year. The surge in U.S. investing in gold exchange-traded funds (ETFs) has likely offset the absence of Indian buying. In the first half of 2016, ETF demand established a record, with ETF holdings increasing by 568 tonnes.
GFMS analysts also believe the uncertainty surrounding the Brexit vote will remain supportive for gold prices through the end of 2016.
And the third factor that could be boosting the gold price is the state of European banks.
Italian banks are in particularly bad shape. Roughly 18% of Italian bank loans are considered "nonperforming," meaning the person borrowing money isn't paying the lender back. That 18% level is more than triple the levels experienced in the United States at the worst point of the financial crisis.
Now, this chart from U.S. Global Investors shows gold's average monthly gains and losses dating back to 1975…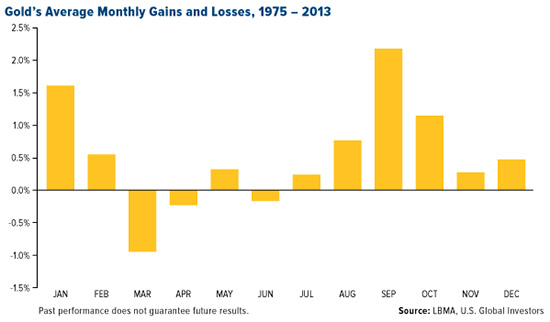 As you can see, the weakest period on average tends to be the summer months. This is better known in gold market lingo as the "summer doldrums."
According to the chart, we could start to see gold prices stabilize and increase as we exit July and enter August. But keep in mind this is an average, which means every year will be different.
What could be next? There's no denying central bank policies continue to be supportive for gold, especially the gold price today and this past week.
But I still think there's a chance we'll see gold dial back a bit in the near term and test its 200-day moving average close to $1,300. If it plays out this way, we could see this happen over the next month or so.
Once that's behind us, I'd expect the upward climb in the gold price to resume.
Next Up: Investing in This Top Tech Trend Is the Best Way to Get Rich Now
Follow Money Morning on Twitter.
Join the conversation. Click here to jump to comments…
About the Author
Peter Krauth is the Resource Specialist for Money Map Press and has contributed some of the most popular and highly regarded investing articles on Money Morning. Peter is headquartered in resource-rich Canada, but he travels around the world to dig up the very best profit opportunity, whether it's in gold, silver, oil, coal, or even potash.