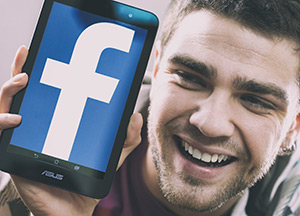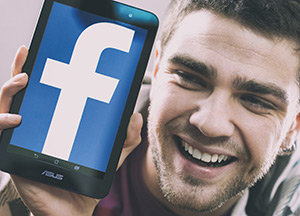 The Facebook stock split vote passed on June 20, but no official split date has been set. Investors expected an update during CEO Mark Zuckerberg's Q2 2016 earnings call yesterday (Wednesday), but they weren't given any additional details about the Facebook stock split date.
The date is crucial because Facebook Inc. (Nasdaq: FB) shareholders will receive a 3-for-1 split of their shares.
Trending: Can You Get Rich from Weed Stocks?
Today, we're bringing readers our strategy for investing in Facebook stock ahead of the split.
But first, let's analyze the split of another tech company to determine when we could potentially expect a set Facebook stock split date: the Google stock split.
Google co-founders Larry Page and Sergey Brin controlled roughly 70% of the voting power for Google, now Alphabet Inc. (Nasdaq: GOOGL, GOOG), back in 2012. Page and Brin structured a 2-for-1 stock split to create a new class of stock that would allow them to maintain that power, much like Facebook is doing now.
The new class of stock given to investors would not have voting power.
"We have protected Google from outside pressures and the temptation to sacrifice future opportunities to meet short-term demands," Page said in a shareholder letter in 2012.
But a pension fund sued Google, claiming that type of split was unethical. Google settled with the plaintiffs in June 2013. This caused the split to be delayed until April 3, 2014. And exactly like Google, Facebook is now facing a lawsuit over its split...
On April 30, a shareholder filed a class-action lawsuit against Facebook, claiming the stock split is unfair to shareholders. Similar to Google, Facebook will have to settle or fight this lawsuit before moving forward with the split.
Don't Miss: Most people remember the Bill Clinton economy as a "boom" they'd like to see again. But that's a false and dangerous myth. Read more...
That means we may have to wait up to two years for the Facebook stock split.
Until the Facebook stock split happens, though, this is how you want to play FB stock...
Before the Facebook Stock Split, Here's What You Do
Facebook is one of the best long-term stocks to buy now. And if you want to buy, this is a good time to get in. In fact, our expert sees the FB stock price climbing another 96%.
And Facebook showed off just how good of a company it is in Q2 2016.
In Q2, Facebook crushed Wall Street's expectations:
Expected earnings per share (EPS): $0.82
Actual EPS: $0.97
Expected revenue: $6.02 billion
Actual revenue: $6.44 billion
Expected monthly active users (MAUs): 1.69 billion
Actual MAUs: 1.71 billion
You see, the 32-year-old CEO has shown an ability to anticipate trends and the direction of entertainment.
Analysts scoffed at Zuckerberg when he paid $1 billion for picture app Instagram in 2012. At the time Facebook purchased Instagram, it only had 30 million users and didn't make money.
But Zuckerberg knew people wanted to share more photos and fewer text posts on social media sites. Today, Instagram now has more than 500 million MAUs. Analysts believe that in 2015, Instagram brought in as much as $750 million in revenue.
And Zuckerberg has already made his next bet on what people want: virtual reality (VR).
In 2014, Facebook purchased VR company Oculus VR for $2 billion. Right now, the VR industry is mainly associated with gaming. Oculus' headset, Rift, allows users to currently play up to 30 compatible PC launch games, according to Wareable.com.
But it's the future applications of VR technology that Zuckerberg has his eyes on...
Zuckerberg believes you'll eventually be able to use the Rift headset to:
Watch live events from front-row seats
Meet with people face-to-face
Connect children and teachers all across the world
And when VR is used for more than gaming, it will make Facebook a lot of money.
Market firm Tractice projects that by 2020, sales from VR content, accessories, and head-mounted displays will reach $21.8 billion.
The Facebook stock price has already climbed 30% in the last 12 months. But Money Morning Director of Tech & Venture Capital Michael A. Robinson sees even more gains ahead for long-term investors.
By 2020, Robinson projects Facebook will trade for $250 per share. From today's opening price of $127.52, that's a potential profit of 96%.
While the Facebook stock price may seem expensive trading at all-time highs today, it is actually trading at a 48% discount from where Robinson sees it heading.
The Bottom Line: There is not an official date for the Facebook stock split. It took Google two years to complete its stock split, and it could take Facebook a similar amount of time. But Money Morning readers should not wait for the split to buy FB stock at a cheaper price. Facebook has already climbed 30% in the last 12 months, and Money Morning guru Michael Robinson believes it will trade for $250 per share in less than four years.
Up Next: A Backdoor Way to Profit Now on a New $240 Billion Market
Follow us on Twitter @moneymorning and like us on Facebook.