Three new IPOs this week kick off the August IPO calendar. Renaissance Capital, which manages IPO-focused ETFs, reports the three companies will generate a combined $629 million in IPO proceeds.
July was a stellar month for the IPO market. There were 10 companies that went public last month, making July the third highest-volume month of 2016. These deals brought in total proceeds of $2.7 billion. That makes July the biggest month of the year for IPOs in terms of funds raised.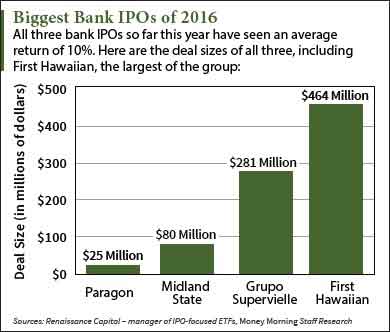 And leading the upcoming IPOs during the first week of August is First Hawaiian Inc. (Nasdaq: FHB)…
First Hawaiian is the Hawaii-based subsidiary of French banking giant BNP Paribas. It's the state's biggest bank, with 62 branches and roughly $19 billion in assets. Ratings agency Fitch gave the bank a strong credit rating of "A-" due to its strong profit and liquidity levels.
Editor's Note: There are five IPOs that will have a huge impact this year. One of them is the highest-valued startup in the world…
The First Hawaiian IPO will be the biggest bank IPO since September 2014. That was when Citizens Financial Group Inc. (NYSE: CFG) raised $3 billion in its debut to become one of the biggest U.S. bank offerings ever.
Although the S&P 500 financial sector is down 3.5% this year, new banking stocks have outperformed. Renaissance Capital reported all three 2016 bank IPOs have returned an average of 10%. Bank of Hawaii Corp. (NYSE: BOH) – First Hawaiian's closest peer – is also up 8.6% in 2016.
First Hawaiian is set to raise $464 million by selling 21.09 million shares at a $21 to $23 price range. The company is valued at $3.1 billion and will start trading on Friday, Aug. 5.
Now, here are two more deals on the upcoming IPO calendar, including the first big-box retail IPO in over a year…
Two More New IPOs This Week (Aug. 1 – Aug. 5)
At Home Group Inc. (NYSE: HOME) is a home décor retail chain based in Texas. The specialty retailer sells items across a range of categories, including furniture, patio, seasonal décor, and garden. The company has 115 superstore locations and plans to open a total of 600 over the long term. At Home Group will be the first big-box retailer – a type of store occupying a large building and selling thousands of different products – to go public since Ollie's Bargain Outlet Holdings Inc. (Nasdaq: OLLI) in July 2015. Its sales have seen a compound annual growth rate of 20% since 2013.
The At Home Group IPO will raise $130 million by offering 8.67 million shares for $14 to $16 each. It commands a $920 million valuation and will hit the market on Thursday, Aug. 4.
Motif Bio Plc. (Nasdaq: MTFB) is a biotech developing an antibiotic that targets bacterial infections. Its lead candidate, Iclaprim, is about to complete phase 3 trials and is used to treat resistant strains of pneumonia. Shares of Motif Bio already trade on the London Stock Exchange. They've surged more than 44% so far in 2016.
The Motif Bio IPO will generate $35 million in proceeds by selling 2.8 million shares for $12.42 each. It has a $110 million valuation and will debut on Friday, Aug. 5.
Next Up: You Can Make Money from This "Unicorn" with Just Three Easy Steps
Alex McGuire covers initial public offerings for Money Morning. Follow him on Twitter for the biggest IPO updates.