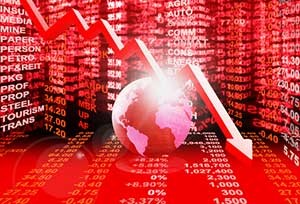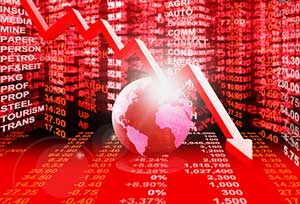 A major new stock market crash warning sign just flashed today (Tuesday) after Australia cut its interest rate to a record-low level.
This is part of a larger trend that Money Morning Global Credit Strategist Michael Lewitt has said could lead to a stock market crash in 2016.
Here's what every single investor needs to know now...
The Reserve Bank of Australia (RBA) trimmed its cash rate by 0.25% to 1.50% today. It was the bank's first cut since May. The move is in response to record-low inflation and a slowing jobs market.
Up Next: Record Stock Market Highs Don't Mean Smooth Sailing - Make These Protective Moves Now
Official data last week showed annual inflation of just 1.5% last quarter in Australia. That's far below the RBA's 2% to 3% target range. Current central bank forecasts don't see inflation returning to that target until mid-2018 at the earliest.
Australia's policymakers are concerned about the effects low inflation will have on wages and price-setting behaviors of businesses and households.
Slowing job growth is another major concern. Just 7,000 jobs were created per month this year. That compares to 30,000 a month in Q2 2015.
The RBA did not rule out further easing in the coming months, which only adds to the fears of a potential 2016 stock market crash.
Australia isn't the only nation turning to aggressive easing measures. Right now, there is a troubling trend among big banks around the world that could lead us to the next major stock market crash...
Big Banks Around the World Are Making a Grave Mistake
Also on Tuesday, Japanese Prime Minister Shinzo Abe's cabinet approved a 28 trillion yen ($274.4 billion) stimulus package in the latest attempts to spur the nation's economy.
Next Up: Why We Never Trust Big Bank Oil Price "Forecasts" (Especially Now)
The government will allocate money to infrastructure projects for things like upgrading ports to accommodate foreign cruise ships and building food-processing facilities to increase exports of farm products. The package also aims to provide more help to Japanese citizens who say they haven't felt any benefits from more than three years under Mr. Abe's growth program dubbed "Abenomics."
Japan's government will hand out cash payments of 15,000 yen ($147) each to 22 million low-income people. It will also bring more people into a public-pension system by easing admission conditions based on premium payments. More college scholarships will also be offered.
Today's stimulus package ranks among Japan's largest since the 2008 global financial crisis.
An aggressive monetary move from Japan has been expected for weeks. Japan's stimulus today comes just days after the Bank of Japan eased monetary policy and announced plans to review its monetary stimulus program in September.
Today's rate cut from the RBA was also widely expected. So, market reaction to both was muted.
But investors should be worried. Today's moves from the RBA and Japan are more major warning signs and symptoms of a larger global concern.
Money Morning experts say it's time to start preparing for a potential stock market crash...
Stock Market Crash 2016 Worries Are Real
Italy's banks are in serious trouble, and the Eurozone is on fragile ground after the UK's vote on June 23 to leave the European Union.
The Bank of England is expected this week to cut interest rates for the first time since the financial crisis and lower its UK growth forecasts by the biggest margin on record in the wake of Brexit.
Further easing is also expected from the European Central Bank in the coming weeks.
The ECB was the first major monetary institution to venture into negative rates in 2014. The ECB cut rates again in March and now charges banks 0.4% to hold their cash overnight.
Denmark, Norway, Sweden, and Switzerland all have negative interest rates.
In 2015, U.S. Federal Reserve Chair Janet Yellen sent a tremor through markets when she said a change in circumstances could put negative rates on the table in the United States.
"Central banks are actively debauching the value of fiat currencies with QE and money-printing," Lewitt said. "Everybody's buying power is being demolished. Inflation is raging. "Meanwhile, central banks are artificially suppressing interest rates to levels that actually confiscate savers' capital."
Lewitt says governments are effectively stealing savers' money.
"All this was done in the name of stimulating growth, but all it did was suffocate growth," Lewitt continues. "Now central banks have no cards left to play. This is the terminal stage of monetary policy."
But just because central banks are acting recklessly doesn't mean you need to lose all of your hard-earned money. Find out how to protect yourself from a looming stock market crash with Lewitt's full stock market crash report...
Follow us on Twitter @moneymorning and like us on Facebook.
Related Articles: