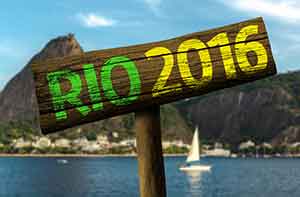 The 2016 Summer Olympic Games kick off Friday, Aug. 5, in Rio de Janeiro, Brazil.
Already the global sports event has been plagued by controversy - toilets are blocked up in many of the competitors' dorms, sewage and trash continue to contaminate Rio's bay, and the threat of the Zika virus remains an ever-present concern.
Editor's Note: Combatting the Zika virus is expected to cost the United States an astounding $3.5 billion. Here's a breakdown of the numbers...
But if stock market history has taught us anything, it's that no matter how dire the surroundings may be, markets love the Olympics.
In fact, since 1900, an impressive 68% -- or 15 out of 23 games -- have seen a positive return for the Dow Jones Industrial Average (DJIA).
Here's a deeper look at how the market has performed amid the Olympics over the years, even in the worst of times...
The DJIA Makes Stock Market History Almost Every Four Years
There have been 26 Summer Olympic Games since 1900, with three canceled due to world wars.
The average rate of return for the DJIA during each was 4% from the opening ceremonies to the closing ceremonies. Pretty impressive, considering each Games lasts an average of only two weeks.
Some of the more notable years include:
1904 Games hosted by St. Louis. The Dow realized a whopping 41% gain during these games.
1932 Games hosted by Los Angeles. The Dow saw a 17% gain.
2008 Games in Beijing. The Dow only dropped -0.91% during the "Great Recession" Games. That was comparatively positive market activity considering the Dow lost a whopping 33.8% total that year.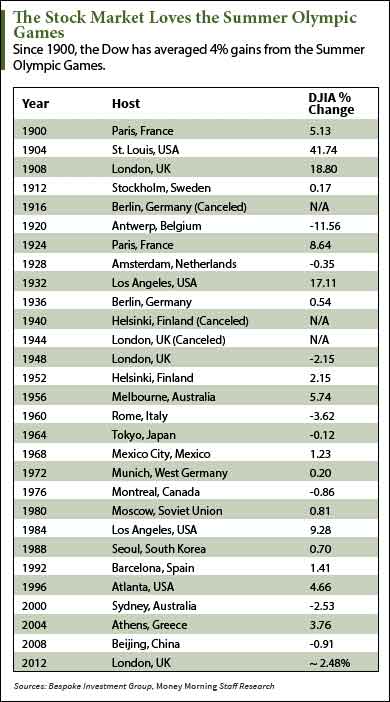 There are two main factors that contribute to market optimism surrounding the worldwide athletic event. They are:
General pre-game optimism, and
Athletic corporate sponsorship.
In fact, some investors even take positions in companies affiliated with the Games ahead of time to net hefty profits...
Corporate Sponsors Have Never Lost at the Summer Olympic Games
One contributor to Olympic market optimism is corporate sponsors, such as Nike Inc. (NYSE: NKE) and The Coca-Cola Co. (NYSE: KO).
Nike
Since 1984, Nike has been a sponsor of the worldwide games and has boasted an average gain of 6.4%.
1984 Los Angeles: +19.1%
1988 Seoul: +4.0%
1992 Barcelona: +6.5%
1996 Atlanta: +7.6%
2000 Sydney: +6.1%
2004 Athens: +9.2%
2008 Beijing: -2.9% (Great Recession)
2012 London: +4.6%
Average Gain: +6.7%
Coca-Cola
The Rio 2016 Olympic Games mark 88 years of partnership between The Coca-Cola Co., the International Olympic Committee, and the Olympic Movement.
In the past 28 years of that partnership (since 1988), Coke stock has realized gains in five of the seven games that took place. Most notably during the 1992 Barcelona Summer Games, when the stock rose 11% in just 12 days, from around $100 per share to $113.
A general feeling of optimism also contributes significantly to market surges amid the Summer Olympics.
Don't Miss: Most people remember the Bill Clinton economy as a "boom" they'd like to see again. But that's a false and dangerous myth. Read more...
This is happening right now in Brazil in particular, despite the country's ongoing economic and political woes. The Brazilian stock market started to see significant gains over the past month, and analysts expect the good times to continue through the games...
Market Optimism Against a Devastating Backdrop
"There is increasing optimism about Brazil's outlook right now, probably due to a combination of higher risks in the global economy that makes Brazil look relatively better, but also due to the signals so far from the new administration," said Arthur Carvalho, an economist at Morgan Stanley (NYSE: MS), in a July 8 report.
The International Monetary Fund (IMF) said on July 27 that it expects Brazil's economic growth to recover 0.5% in 2017 from a contraction of 3.3% this year. Carvalho was even more bullish and projected the Latin American country's GDP to grow 0.9% next year.
In the past 31 days alone, the Índice Bovespa (Brazil's chief market index) has risen 9% from 52,233 on July 1 to 57,108 yesterday (Aug. 1). It's still climbing as well, albeit in minuscule steps. Over the past week (since Tuesday, July 26), the index has seen a .04% gain.
But any increase matters. Especially ahead of the Olympic Games in Rio, as morale in the Latin American country has been at an all-time low thanks to a 9.23% inflation rate and interest rates at a whopping 14.25%.
Up Next: Here are five easy-to-own stocks to buy today in order to achieve financial freedom for the rest of your life...
For more fascinating tales of stock market history and how it's made, follow Money Morning on Twitter @moneymorning or like us on Facebook.
Related Articles: