Despite a slight rebound today (Tuesday, Aug. 2), the WTI crude oil price recently entered correction territory. That means oil prices have declined at least 20% in less than two months.
But oil prices won't stay low for long…
While analysts think oil's heading lower, Money Morning Global Energy Strategist Dr. Kent Moors believes this downward trend is the short-term result of trading activity. Oil futures traders have been driving crude oil price movements more than supply-demand fundamentals.
That's why Moors just recommended an oil exchange-traded fund (ETF) whose top four holdings are projected to return a combined 51.1% in the next 12 months.
Before we get to that oil fund, here's exactly how far crude oil prices have fallen in recent months…
Why Analysts Worry the WTI Crude Oil Price Will Enter a Bear Market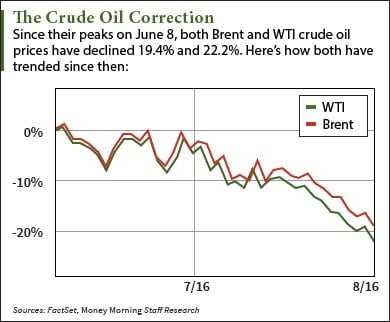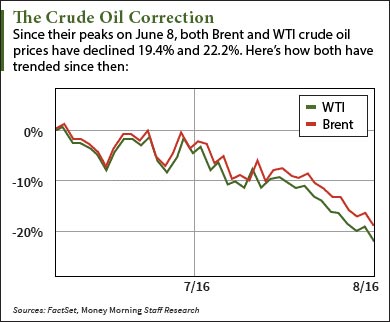 At 10:10 a.m., the West Texas Intermediate (WTI) crude oil price today was up 1.6% and trading at $40.69 a barrel. In London, the Brent crude oil price – which is the global price benchmark – gained 1.8% to $42.91 a barrel.
But WTI crude oil prices have dropped 22.2% since their June 8 highs. Since that peak was just short of two months ago, the drop technically constitutes a correction rather than a bear market. The latter has to be a decline of 20% or more over at least two months.
Still, many analysts expect prices to remain low and enter a bear market. Oil research firm ClipperData sees oil prices falling below $40 due to the rising U.S. supply glut. Last week, Morgan Stanley (NYSE: MS) said it thinks the WTI crude oil price will fall to $35 due to U.S. oversupply and OPEC output.
Take on Wall Street and Win: It's no secret the Wall Street system is rigged. But outsiders have taken on the system and won. Here's how they did it – and how you can do it, too…
Moors – a 40-year veteran of the oil and gas industry – says these bearish estimates are wrong because prices aren't falling due to supply and demand. They're falling because of "bandwagon" trading activity.
You see, traders buy and sell futures contracts by guessing where prices will go next. When oil prices are rising, they bet the next month's contract will be more expensive. When prices are falling, they bet next month's contract will be cheaper. They jump on the bandwagon and trade in the direction that other traders are trading.
In other words, the presumption of the oil traders is causing the sell-off rather than oil itself. Traders have been pulling prices lower more aggressively than normal supply and demand factors can.
But Moors sees crude oil prices leveling off from here thanks to the drop-off in U.S. output…
Most producers right now get their output from "drilled but uncompleted" (DUC) wells, which is a well not drilled to peak output level. These are used to recover supply without drilling new wells that can cost millions of dollars to operate and maintain.
Editor's Note: One of the countless consequences of the Brexit vote is surging natural gas prices. But the worst has yet to come. Here's when the crisis could boil over…
Although they bring more supply online, DUCs don't recover as much supply as new wells. That means they represent gradually falling supply, which will boost prices by the end of 2016.
"I don't think we're getting close to $35 a barrel," Moors said on CNBC's "Power Lunch" on July 26. "I think we'll start going up to about $45, and once that balance hits, we're going to see a price of oil that's going to be north of $50 well before the end of this year."
And Moors advises investing in oil ETFs to bank profits from this WTI crude oil price rebound. They don't require buying futures or specific oil stocks, which are usually riskier.
This is one of the best oil ETFs to buy in 2016, with four of its top holdings set to surge 51% in the next year…
Make Money from the WTI Crude Oil Price with This Oil ETF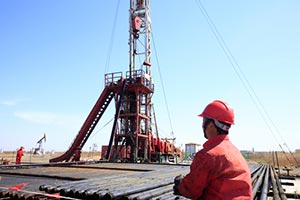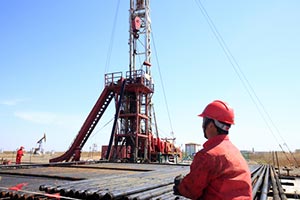 The best oil ETF to buy this year is the VanEck Vectors Oil Services ETF (NYSE Arca: OIH).
The VanEck ETF follows the MVIS U.S. Listed Oil Services 25 Index, which tracks 25 of the biggest U.S. oil field services (OFS) firms. These are companies that offer exploration and production services without actually producing oil themselves.
Many of the firms held in the fund are the biggest OFS providers in the world and boast market caps over $100 billion. These include Halliburton Co. (NYSE: HAL) and Schlumberger Ltd. (NYSE: SLB).
OIH is perfect for the current price environment since it doesn't hold small oil stocks. Bigger OFS firms are safer investments because they have more capital to get them through the ongoing debt crisis bankrupting smaller firms.
"A rule to follow when looking at an oil ETF when prices are this low is to avoid ETFs holding a lot of smaller firms," Moors said last month. "These companies can be risky as the debt crisis in the energy sector continues to unfold."
The fund's top holdings are expected to see big gains in the next year. Of OIH's 25 stocks, the top-weighted ones are Schlumberger, Halliburton, Baker Hughes Inc. (NYSE: BHI), and Tenaris SA (NYSE ADR: TS). As of today, they have 12-month price targets of $91.30, $50.84, $50.72, and $27.33, respectively. Those represent gains of 16%, 20.2%, 9.1%, and 5.8%.
Next Up: This Trillion-Dollar Time Bomb Could Ruin Energy Infrastructure Forever
Follow Alex McGuire on Twitter for the biggest updates on the oil market.