Democratic presidential nominee Hillary Clinton emerged from last week's DNC with a nine-percentage-point lead over GOP candidate Donald Trump.
In a two-way head-to-head matchup, Clinton now tops Trump 52% to 43%, CNN reported Monday (Aug. 1).
This isn't surprising news, considering these kinds of popularity bumps usually happen in the wake of a political convention. On July 25 – the Monday following the RNC – Trump had a six-percentage-point lead (44%) over Clinton (39%), according to Politico.
However, Clinton's post-powwow jump is noticeably larger. And she can thank her recently acquired "billionaire boys' club" partly for that – each of whom is currently working to take down Trump…
You see, over the past week Clinton has campaigned one-on-one with three of America's most powerful multi-billionaires:
Former NYC Mayor Michael Bloomberg last Wednesday at the Democratic National Convention;
Dallas Mavericks owner Mark Cuban on Saturday; and
"Oracle of Omaha" hedge fund investor Warren Buffett on Monday.
Editor's Note: Here are five Warren Buffett quotes to get you through times of economic uncertainty…
Now, there are two chief reasons Clinton has roped these members of the moneyed elite into her campaign.
First, they can argue that Donald Trump is a bad businessman as uniquely credible sources.
And second, they can each put Trump on the defensive, stifling his attacks on Clinton.
Here's a look at how each of "Clinton's billionaires" is helping the former first lady…
3 Billionaires Take Down Trump by Falling on Their Own Swords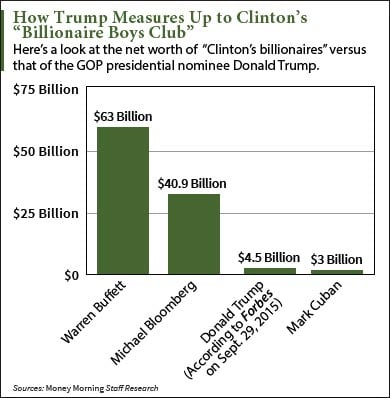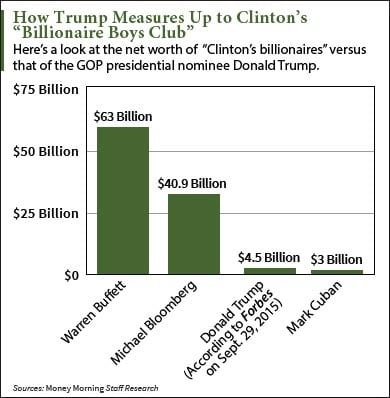 Michael Bloomberg, who has at least four times as much wealth as Trump claims to have (Bloomberg's net worth is $40.9 billion; Trump alleges he's worth $10 billion, but Forbes says $4.5 billion), was the first to swipe at the real estate magnate during last week's DNC.
"Most of us [businessmen] who have our names on the door know that we're only as good as our word. But not Donald Trump," Bloomberg said. "Trump has left behind a well-documented record of bankruptcies, thousands of lawsuits, angry shareholders, contractors who feel cheated, and disillusioned customers who feel ripped off. Trump says he wants to run the nation like he's run his business. God help us."
Bloomberg's words did their job. The crowd at the DNC burst into thunderous applause while social media outlets erupted as well.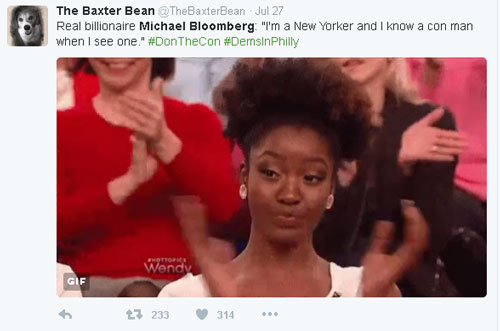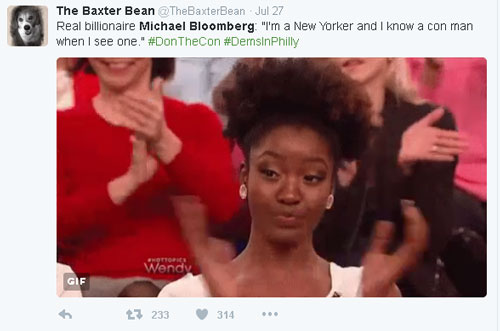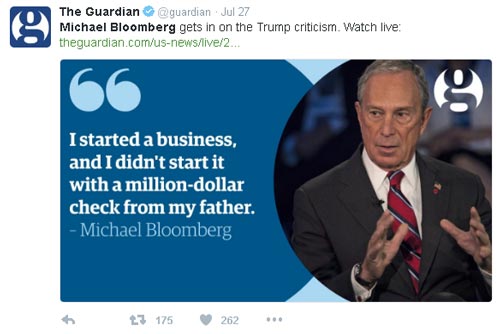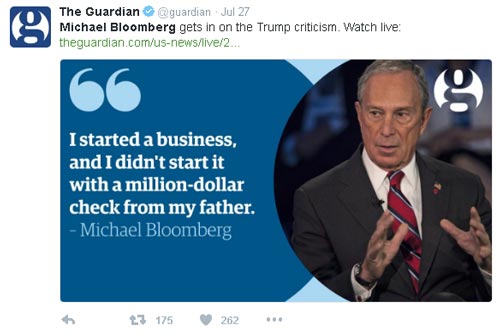 The Trump camp issued no response the day after Bloomberg's DNC speech – last Thursday, July 27.
But then Friday came…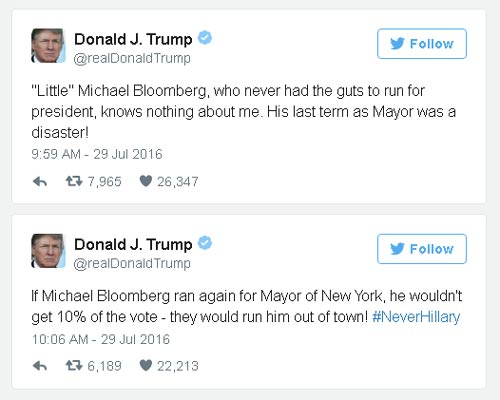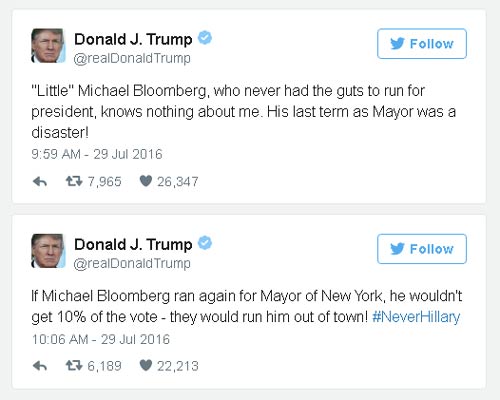 Trump's response on Twitter arrived just hours after Clinton's own big DNC speech the night before. He didn't attack her presentation — a sign that Clinton's strategy to use Bloomberg to put Trump on the defensive might have worked.
And that was just the first billionaire to poke the Trump bear within the past week. There are still two more to go…

Mark Cuban Riles the Mainstream Media
Dallas Mavericks owner Mark Cuban officially endorsed Hillary Clinton on Saturday night.
Don't Miss: Voters unhappy with both Donald Trump and Hillary Clinton are clamoring for a third option. They may not know it, but they already have one…
Now, Cuban has taken a number of shots at Trump over the last few months. But Cuban took this one-man anti-Trump troll show to his hometown of Pittsburgh, PA.
He made a point of mentioning Trump's failure to adhere to and learn necessary policy measures.
"I told him directly, at some point you have to learn, at some point you have to read and that that job is all about uncertainty and if you don't do the work, that is not good for this country," Cuban said. "And he just doesn't do the work."
Mark Cuban Endorses Hillary Clinton & Trashes Donald Trump, Les Grossman News, July 30, 2016
The mainstream media went haywire after Cuban's endorsement of the former first lady while likewise headlining Cuban's criticisms of Trump:
"Mark Cuban Endorses Hillary Clinton, Calls Donald Trump a 'Jagoff' at Pittsburgh Rally" – CNBC, July 30
"Mark Cuban Endorses Hillary Clinton, Calls Donald Trump 'Bats— Crazy'" – CNN, July 31
"Billionaire Mark Cuban Endorses Hillary Clinton, Rips Donald Trump" – NBC News, July 31
This kind of negative exposure, coupled with Trump's controversial statements made on ABC on Sunday that Russian President Vladimir Putin is not going to "go into Ukraine" (Russian troops are already there), again left the GOP nominee struggling to defend himself in lieu of upping his attacks on Clinton.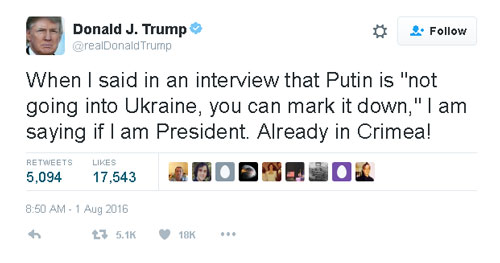 And then hedge fund billionaire Warren Buffett jumped into the brawl…
Warren Buffett Offers Trump a Menacing Proposition
Warren Buffett is the wealthiest of the three prominent "Clinton billionaires," with a net worth of over $63 billion.
He lambasted the GOP nominee Monday by focusing on the 1995 public offering of Trump's Hotels & Casino Resorts in Atlantic City, New Jersey.
Here's what Buffett said about the business after its IPO:
The next 10 years, the company loses money every year. Every single year. He takes out $44 million in compensation during that period. If you, in 1995, when he offered this company, if a monkey had thrown a dart at the stock page, the monkey on average would have made 150%. But the people that believed in him, that listened to his siren song, came away losing well over 90 cents on the dollar. They got back less than a dime.
Then Buffett presented Trump with a televised proposition: Show me your tax returns and I'll show you mine.
Warren Buffett to Donald Trump: Show Your Tax Returns, I'll Show Mine, NBC News, Aug. 2, 2016
Tuesday morning Trump responded to Buffett's call-out, once again on the defensive from Hillary's billionaire trifecta…
"I don't care much about Warren Buffett," he told FOX Business Network's "Varney & Friends" before defending his business record in Atlantic City.
"I had great timing, I got out and I made a lot of money in Atlantic City over the years," Trump told the channel. "I took, you know, a lot of money out of Atlantic City, which is what I'm supposed to do. I'm a business person."
Up Next: Warren Buffett made this one crucial financial move that the mainstream media missed. Here's why it will make the Oracle of Omaha even richer two years from now…
Do you know of other big names out there attempting to take down Trump? Let us know on Twitter @moneymorning and Facebook.
Related Articles: