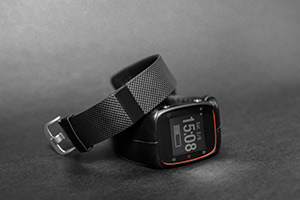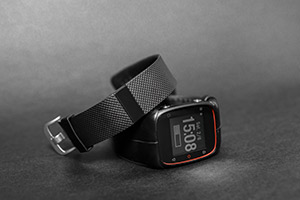 The Fitbit stock price soared 9% to $14.65 today (Tuesday) after the company beat on earnings and revenue yesterday. Is this the time to buy Fitbit stock, or is this just a one-day pop?
Before we get into our Fitbit Inc. (NYSE: FIT) stock recommendation, here are the numbers that pushed the Fitbit stock price higher today…
What You Need to Know About Fitbit Earnings
Fitbit has now beaten earnings estimates in all five of its quarters as a public company.
Editor's Note: Five companies will have a huge impact on the IPO sector this year. One of them is arguably the most popular messaging app in the world. Here are all five…
After Tuesday's close, the market leader in wearable fitness tracking products reported adjusted earnings per share (EPS) of $0.12 on revenue of $586.5 million. Revenue was up 46% year over year (YOY). Analysts were looking for EPS of $0.11 on $578.5 million in revenue.
That's the first reason the Fitbit stock price is soaring today…
Fitbit's new Alta and Blaze products, launched earlier this year, accounted for more than half of the company's Q2 revenue. Still, the Fitbit Charge HR remains the company's best-selling product.
Roughly 76% of FIT's revenue in Q2 came from U.S. domestic sales, which surged 42.4% to $445.2 million. International sales kicked in 24% of overall revenue, a 22% YOY increase despite the closing of a key Australian retailer.
Fitbit recently collaborated with Alibaba Group Holdings Inc.'s (NYSE: BABA) TMall online retailing platform. The deal reportedly drove 100 million consumer impressions last quarter. The company also launched products aimed at native Chinese, Japanese, and Korean speakers. That's expected to boost sales growth in those regions going forward.
Guidance for Q3 was in-line with consensus estimates.
Fitbit projects Q3 EPS between $0.17 and $0.19 on revenue of between $490 million and $510 million. Consensus estimates were for EPS of $0.17 on revenue of $498.5 million. Those goals represent a 22% YOY increase.
Fitbit CEO James Park said the company's strong profitability is a reflection of careful management of operating expenses while also investing in future growth.
But the biggest catalyst for the Fitbit stock price in 2016 will be the holiday season.
Fitbit promises it will have more new products for this holiday season than ever before. But details were sparse.
Urgent: The IoT (Internet of Things) is creating a massive $6 trillion market. And five stocks will be the best ways to bank profits from this tech revolution…
Additionally, every existing product the company makes is now undergoing "substantial R&D." That means customers can expect some kind of refresh to existing products. The company will also be launching more interactive software.
Fitbit continues to spend heavily on R&D. That has been a concern for some analysts, but it's imperative for any innovative company.
R&D spending climbed 162% to $79.9 million in Q2. Sales and marketing expenses jumped 69.5% to $118.1 million. In Q1 2016, R&D spending was up 222% to $72.2 million, while sales and marketing expenses jumped 144% to $107.1 million. So even though spending is high, it is actually slowing.
Still, some analysts continue to worry about Fitbit's competition. But what they ignore is the incredible growth the industry is experiencing at the moment…
As the Fitbit Stock Price Soars, Should I Buy Now?
Increased competition has trimmed Fitbit's market share in the wearable space to 24.5% from 32.6% in Q1 2015, according to IDC.
While Fitbit's piece of the pie is shrinking, the pie is rapidly growing…
In Q1 2016, IDC estimates the wearables market grew 67.2%. And Fitbit still ships more wearable products than anyone in the world.
The Apple Inc. (Nasdaq: AAPL) Watch has been pegged as a formidable rival to Fitbit. Yet Apple's pricey watches, which sell for $299 up to $17,000, have not made a huge impact on Fitbit's market share yet.
Fitbit's most expensive device, the Surge, sells for $250, while several other Fitbit products retail for less than $100.
"Fitbit looks to remain ahead of the pack for some time to come," Money Morning Director of Tech & Venture Capital Michael A. Robinson said ahead of the Q2 earnings report. "I'm looking forward to seeing more about their sales momentum and aggressive outreach in addressing a growing market."
Dougherty & Co. says the Fitbit stock price is inexpensive by any multiple. But for FIT stock to go substantially higher, the firm believes Fitbit has to show re-accelerating growth in international markets. That, or Fitbit needs a larger overall opportunity in corporate wellness and digital health areas.
Mizuho Securities believes with a solid Q2 beat and in-line Q3 guidance, Fitbit continues to demonstrate dominant market positioning. The firm also said the company is poised for international growth.
A robust wearable market outlook, uninspiring Apple Watch sales, and a new product pipeline are all bullish factors for the Fitbit stock price in 2016.
However, Fitbit is still a volatile stock and is down more than 52% in 2016. That's why we recommend FIT stock at these depressed prices only to investors willing to take on some risk in the long term.
We see FIT stock rising to $21.59 a share within the next year. That's based on FactSet analysts' similar price projection and expected 2016 EPS of $1.17. That would be a gain of nearly 47% from today's Fitbit stock price.
Follow us on Twitter @moneymorning and like us on Facebook.
Next Up: How to Profit Today from Amazon's Record Q2 Earnings Report
Related Articles: