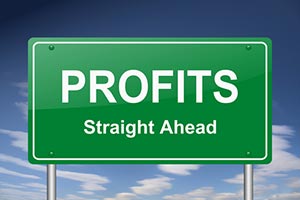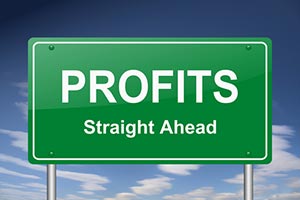 Historically, the stock market has been flat during the summer months. Since 1950, the Dow Jones Industrial Average has an average return of just 0.3% from May to October, according to the Stock Trader's Almanac.
But Money Morning's goal is to make investing profitable, no matter what the market is doing. That's why we're bringing our readers three of the best stocks to buy in August for long-term growth. And all three are in the tech industry.
Trending: A Backdoor Way to Profit Now on a New $240 Billion Market
Right now, tech stocks are vastly outperforming the markets…
Over the last 12 months, the Dow is up 3.23% and the Nasdaq is down -0.22%. However, the United States Internet Software/Services Price Index has climbed 6.4%.

That's because in today's economy, major tech companies provide goods and services that people can't live without.
And technology falls into one of Money Morning Chief Investment Strategist Keith Fitz-Gerald's "Six Unstoppable Trends."
"Part of knowing how to beat the market means knowing where the money will flow," Fitz-Gerald said.
And in their last quarterly earnings reports, the companies behind our three favorite stocks to buy had revenue of $6.44 billion, $17.5 billion, and $30.4 billion, respectively.
While each of these stocks is trading near 52-week highs, they all still have double-digit upside.
According to FactSet estimates, all three of these stocks could still climb between 15% to 23%. And our experts see one of these stocks doubling in the next three years.
And because of how well these companies did in Q2, this might be the last time you see these stocks trading at these prices ever again.
Here are the three best stocks to buy in August for long-term gains…
The Best Stocks to Buy in the Tech Industry Today
Best Tech Stocks to Buy No. 1: Facebook Inc. (Nasdaq: FB)
Before Facebook Inc. (Nasdaq: FB) was launched in 2004, social networks were viewed as just a fad. Social media site Friendster once had a valuation of $53 million. Friendster shut down in 2015.
But CEO Mark Zuckerberg turned his dorm-room creation into a business worth $353 billion today.
Facebook has thrived because of Zuckerberg's investments in the future. In 2012, Facebook purchased picture app Instagram for $1 billion. At the time, Instagram didn't make money and had just 30 million users.
Today, the picture app has over 500 million users. Analysts project it earned up to $750 million in 2015.
And Zuckerberg's next big bet is in virtual reality (VR).
Facebook purchased Oculus VR for $2 billion in 2014. VR is mainly used for games right now, but Zuckerberg purchased Oculus for its future capabilities…
"After games, we're going to make Oculus a platform for many other experiences," Zuckerberg stated in a 2014 Facebook post. "Imagine enjoying a courtside seat at a game, studying in a classroom of students and teachers all over the world, or consulting with a doctor face-to-face – just by putting on goggles in your home."
Oculus will be a massive revenue source. By 2020, market firm Tractice projects sales from VR head-mounted displays, accessories, and content will reach $21.8 billion.
FactSet has a price target of $152.98 for FB stock. From today's opening price of $124.06, that's a potential profit of 23%.
But those estimates may be too conservative.
Money Morning Director of Tech & Venture Capital Michael A. Robinson believes Facebook stock will trade for $250 by 2020. That's a potential profit of 101%.
It's also a good time to consider buying Facebook because it has beaten earnings expectations for three straight quarters. Facebook crushed earnings per share (EPS) and revenue estimates in Q2 of $0.82 and $6.02 billion, reporting $0.97 and $6.44 billion.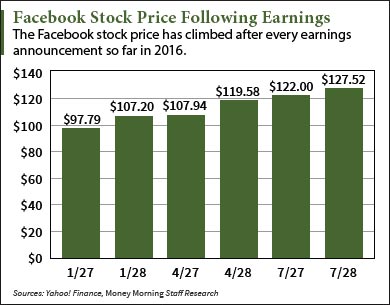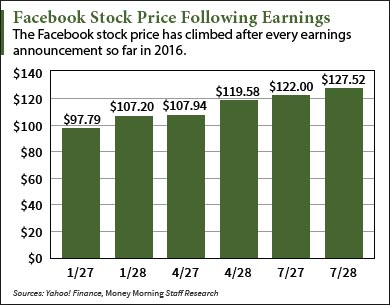 Best Tech Stocks to Buy No. 2: Alphabet Inc. (Nasdaq: GOOGL)
Since its 2004 IPO price of $85 per share, the Alphabet Inc. (Nasdaq: GOOGL) stock price has climbed 838%.
And there will be even more gains in the future…  
FactSet has a price target of $934.51 for GOOGL stock. From today's opening price of $797.33, that's a potential profit of 17.2%. Money Morning Technical Trading Specialist D.R. Barton calls GOOGL a "legacy stock." That means it's a stock you want to buy and hold forever.
That's because of Alphabet's current and future profitability…
The tech giant is still the most dominant search engine on the planet and still appeals to advertisers. In its Q2 2016 earnings report, website revenue was $15.4 billion. That's a 24% gain year over year.
But what's really exciting is Alphabet's future revenue in its "Other Bets" sector.
Alphabet is working on:
Google Fiber (a project to make the Internet faster for users)
Self-driving cars
Artificial intelligence
Fitz-Gerald states that Fiber could end up as a competitor for Comcast Corp. (Nasdaq: CMST), Google's self-driving cars could challenge Tesla Motors Inc. (Nasdaq: TSLA), and the artificial intelligence program could become a standalone network.
Editor's Note: The best dividend stocks continue to raise their payouts. The best of the best do so for 50 years in a row… like these "dividend kings"…
For Q2 2016, Google's "Other Bets" revenue was $185 million. That's an increase of 150% from the $74 million in revenue reported in Q1 2015.
But nearing $800 per share, it's true that GOOGL stock appears expensive.
Fitz-Gerald wants you to focus on the profitability of GOOGL stock, though, and not today's price.
"Some people gripe that at $780 a share, it's too expensive," Fitz-Gerald said. "Yet, there's no reason you can't buy a couple of shares at a time and tuck them away for a rainy day."
In Q2, analysts expected Alphabet to report $8.03 on $16.9 billion in revenue. Instead, Alphabet reported $8.42 on $17.5 billion.
Best Tech Stocks to Buy No. 3: Amazon.com Inc. (Nasdaq: AMZN)
Amazon.com Inc. (Nasdaq: AMZN) started out as just a bookseller in 1995.
Today, Amazon accounts for 50% of all sales growth in the U.S. e-commerce market. It now does everything from selling groceries to streaming original television programming.
In Q2, Amazon reported $1.78 on $30.4 billion in revenue. Analysts had expected $1.11 on $29.55 billion.
And we expect more quarter-beating performances from Amazon in the future…
That's because of Amazon's dominate position in the emerging Internet of Things (IoT) market.
The IoT is a system designed to connect all electronic devices via the Internet. Currently, there are some very exciting real-life examples of IoT technology being used:
Smart trash cans let municipal services know when they're full, helping communities adjust pickup times and municipal services save on gas.
OnFarm uses real-time sensor data to show moisture levels, weather forecasts, and pesticide usage to farmers in a consolidated dashboard.
The Mimo monitor, designed to prevent Sudden Infant Death Syndrome, allows parents to monitor real-time information on their phone about a baby's breathing, skin, body position, activity level, and temperature.
This market is still developing. But by 2022, Cisco Systems Inc. (Nasdaq: CSCO) projects the IoT industry will report $14.4 trillion in sales.
Amazon has entered this lucrative market with Amazon Web Service (AWS) IoT. AWS was launched in October 2015. It allows users to connect devices to cloud-based apps and interact with other users.
"The company says the service can support 'billions of devices and trillions of messages,'" said Robinson – a tech analyst with 34 years of experience in Silicon Valley. "Once again, Bezos has broken ground and created another multibillion-dollar web business."
FactSet has a price target of $884.95 for AMZN stock. From today's opening price of $763.81, that's a potential profit of 15.85%.
The Bottom Line: The three best tech stocks to buy in August are Facebook, Alphabet, and Amazon. According to FactSet estimates, all of these stocks are currently trading for less than what they should be. From today's opening prices, you could make profits of 23% on Facebook, 17% on Alphabet, and 15% on Amazon.
Don't Miss: Most people remember the Bill Clinton economy as a "boom" they'd like to see again. But that's a false and dangerous myth. Read more…
Follow us on Twitter @moneymorning and like us on Facebook.