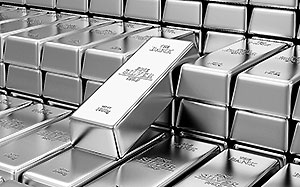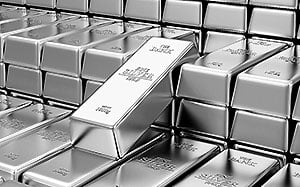 It wasn't surprising the U.S. Federal Reserve announced on July 31 it was keeping interest rates unchanged, sending silver prices soaring 3.8% that day. But if you missed out on those gains, don't panic.
Money Morning Resource Specialist Peter Krauth projects silver prices in 2016 will climb even higher.
Top Stories: These are the three best dividend stocks to buy in 2016…
Today, we'll share Krauth's prediction. But first, we wanted to make sure Money Morning readers understand why the Federal Reserve has such a big impact on the price of silver.
When the Fed raises interest rates, precious metals like gold and silver are seen as less desirable investments.
"The thinking is that higher interest rates make stocks and gold less attractive since they compete with bonds for investment dollars," Krauth said. "Higher rates should mean new bond issues are suddenly more desirable."
When the Fed doesn't raise interest rates, it's an indication that the global economy is weak.
When the economy is weak, investors want to purchase something that can hold value in times of uncertainty. That's called a safe haven, and gold and silver are two of the biggest safe-haven investments. It's why investors have been frantically purchasing silver in 2016.
In the first three months of 2016, more than 14 million ounces of American Eagle silver coins were sold. In the same time period during 2015, 12 million ounces of American Eagle silver coins were sold. That's an increase of 22.95%.
This increased demand is part of the reason silver prices have climbed 47% in 2016.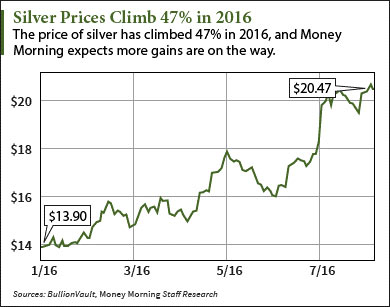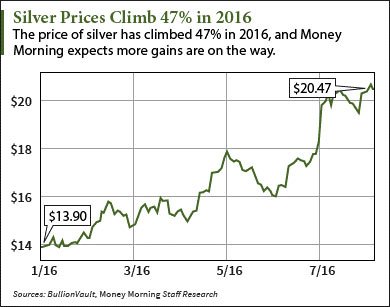 And the global economic uncertainty that has prevented the Fed from raising rates hasn't gone away. In fact, Krauth has analyzed this economic uncertainty, finding two specific reasons silver prices in 2016 will continue to climb….
Why Silver Prices Can Still Bring Double-Digit Profits
The first reason Krauth sees silver prices climbing for the rest of 2016 is slowing U.S. GDP growth.
On July 29, the Bureau of Economic Analysis released U.S. GDP numbers: 1.2% actual growth versus 2.6% expected.
So even though the Fed offered a hopeful outlook on the economy at the July FOMC meeting, the real picture is bleak.
"The Fed consistently issues optimistic economic forecasts that are so inaccurate that they make weathermen (and women) look good," Money Morning Global Credit Strategist Michael Lewitt said. "It's now been forced to lower those forecasts (which we expected) because the economy it imagines exists has no relationship to the one on Planet Earth."
Here are some of the real stats:
The Commerce Department reported U.S. business sales of $1.284 trillion in April, the lowest level since 2012.
The U.S. trade deficit (the difference between exports and imports) widened from $61.1 billion in May to $63.3 billion in June.
Commercial bankruptcy filings increased by 34% in June year over year (YOY).
As long as these dismal numbers keep coming out, investors will continue seeking the relative safety of silver.
The second reason Krauth sees silver prices climbing is the Bank of Japan (BoJ).
Editor's Note: The BoJ is conducting a very unstable experiment with its economy, which you can find out more about here.
The Japanese government approved a 28 trillion yen fiscal package to stimulate the economy. This has helped the yen become stronger than the dollar.
Precious metals like silver and gold are priced in U.S. dollars. So when the dollar drops, the demand for gold and silver can go up because it costs foreign investors less money to purchase precious metals.
When the demand goes up, prices can go up.
While Krauth sees a long-term run for silver prices, he does warn that a short-term pullback may happen soon.
"I still think silver could correct down to its 200-day moving average around $18," Krauth said on Aug. 1.
But by the end of 2016, Krauth sees silver prices trading at $22 per ounce. At the current price of $20.47, that's a potential gain of 7.47%. If silver prices do fall to $18 and you buy on the dip, you could have profits of 22.22% by the end of the year.
The Bottom Line: By the end of 2016, Krauth sees silver prices trading for $22 per ounce. He does see prices potentially dropping to $18, but poor economic growth in the United States and the strength of the yen against the U.S. dollar are catalysts to help the silver price climb in the long term.
Next Up: Investing in This Top Tech Trend Is the Best Way to Get Rich Now
Follow us on Twitter @moneymorning and like us on Facebook.